You are here
Taxis to file lawsuits against ride hailing app, authorities
By Mohammad Ghazal - Feb 21,2018 - Last updated at Feb 21,2018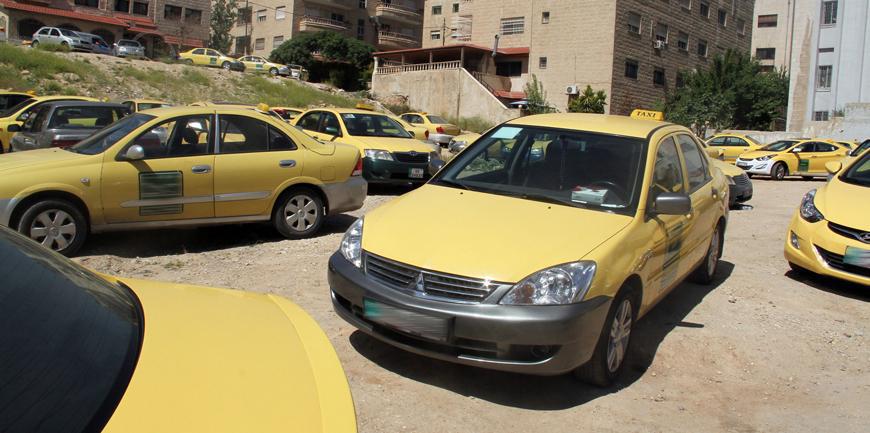 Taxis park in Amman in this recent photo (JT photo)
AMMAN — Owners of thousands of yellow taxis will file lawsuits against ride-hailing app companies and authorities, demanding compensation for losses incurred due to increased reliance on those apps.
The owners of the yellow taxis will file lawsuits to demand banning the use of these apps in Jordan, and seeking JD100 million in compensations due to losses caused by the drop in use of yellow taxis and the decline in prices of yellow cabs after regulations were issued allowing the licensing and use of ride-hailing apps, Mahmoud Kharabsheh, one of the lawyers hired by several owners of yellow taxis' offices, told The Jordan Times on Wednesday.
"The authorities' decision to allow these apps hurt the sector, which employs tens of thousands of Jordanians who support thousands of families," the lawyer said, noting that lawsuits will be filed next week.
Kharabsheh stressed that investors in the sector lost millions of dinars after giving permission to companies representing Uber and Careem to operate in the Kingdom.
"Uber and Careem caused major losses for investors…they are competing with the licensed yellow taxis that pay the necessary registration and licensing fees annually,"said Eid Abu Al Haj, chairman of the Noor Jordan for Transport — Taxi Moumayaz.
"There is a huge decline in revenues for owners of yellow taxis and we as investors estimate that the losses have reached around JD100 million since these apps started to operate in the country," he added.
"It does not make sense as my company, for example, pays JD500,000 for the Greater Amman Municipality [GAM] every year in 'investment fees' and, as an investor, I should get protection as such apps are hurting the entire business," Abu Al Haj continued.
The prices of taxis dropped from JD60,000 to around JD40,000-JD45,000 after the the apps were allowed and started to be used by passengers.
There are around 17,000 yellow taxis currently operating in Jordan.
"Around 80 per cent of yellow taxis are owned by individuals and families, who took loans or sold properties to invest in taxis and make revenues," Abu Al Hajsaid.
Abdel Haleem, who preferred to keep his last name anonymous, said he bought three taxis last year after selling some plots of land in Amman.
"I bought each taxi for around JD63,000 and if I want to sell now I will lose a lot," he told The Jordan Times.
"After Careem and Uber were licensed, prices of yellow taxis dropped as it is not profitable anymore to own a taxi for investment. There is no demand if I want to sell it as well," he added.
Abla Weshah, director of the Land Transport Regulatory Commission's (LTRC) media and communications department, said the LTRC is ready to look into the demands of yellow taxis owners.
She noted that not all private cars will be allowed to use these apps and several instructions will be issued to regulate the process.
Cars that will use these apps will have to meet several conditions to be set by the LTRC, she told The Jordan Times.
Some users of ride-hailing apps said they provide a better alternative to yellow cabs.
"I personally prefer to use these apps instead of yellow taxis as I believe they are more efficient and the cars are better and cleaner," said Ghada Abu Mousa, a Maths teacher at a private school in Shmeisani.
"If yellow taxis were efficient and abided by the law when they drive or took me to places I want, I would use them," she added.
Mervat Ameen, an English teacher at a school in Tabarbour, said she uses yellow taxis because they are cheaper.
"Some drivers of yellow taxis are annoying and keep talking all the time, but I use them because they are cheaper than cars affiliated with Careem and Uber. I wish that the service would improve in yellow cabs," she stated.
Last year, the LTRC issued an initial approval for the licensing request of the ride hailing apps.
The approval granted these companies a six-month grace period to rectify their status, including complying with local regulations, registering the company, creating a bank account and establishing an office with a specific address.
According to the 2010 Public Transport Law, it is mandatory to obtain a special license to operate a public transport vehicle.
Related Articles
Sep 26,2017
AMMAN — Drivers of yellow taxis on Tuesday held protests across Amman, demanding an increase in fares and to reserve the use of ride-hailing
Jan 05,2017
AMMAN — Cabs, service taxies and public buses began to charge new fares from Thursday, despite their "dissatisfaction" with the new tariffs.
Feb 15,2017
AMMAN — Licensing requirements for ride-hailing apps Uber and Careem are at the final stages, and will be announced imminently, an official