You are here
Uber 'not licensed in Jordan' — officials
By Suzanna Goussous - Jul 16,2016 - Last updated at Jul 16,2016
Uber was launched in Jordan in April 2015 and Amman was the 300th city in the world to be added to the app, but authorities say the service is not licensed to operate in the Kingdom (Photo courtesy of Uber Facebook page)
AMMAN — Although mobile transport apps are popular in Jordan, officials on Saturday warned that they have "not been licensed yet" and drivers using the apps will face legal consequences.
Uber is a ride sharing service, and users can log on to the Uber app and request low-cost rides from registered drivers nearby, whose location appears on an on-screen map via a GPS service.
Uber was launched in Jordan in April 2015, and Amman was the 300th city in the world to be added to the app, but Land Transport Regulatory Commission Director General Marwan Hmoud said the service is not licensed to operate in the Kingdom.
"We do not have an official agreement for cars using Uber or other services to work as a means of transport," Hmoud said.
The commission and the Central Traffic Department have held several meetings with the Uber service providers, he said, without reaching an official agreement to settle the issue.
"Cars currently operating in Amman and other governorates are violating traffic rules and regulations," Hmoud added.
Mohammad Habarneh, from the Greater Amman Municipality's (GAM) traffic department, said the Uber app affects the flow of work for other means of transport.
"Uber cars in Jordan are usually unlicensed vehicles that hold green licence plates. We contacted the authorities involved to reach an agreement," he said.
Green licence plates are reserved for public transport vehicles or rental cars.
GAM has contacted Internet service providers in the Kingdom to ban the app until it is officially licensed, the Habarneh said.
"Using the application also holds security concerns since the application serves tourists and residents, but when an incident occurs, authorities cannot act upon the issue since the service is not legal in Jordan," he told The Jordan Times.
Amman Traffic Department Director Col. Bassem Kharabsheh said detecting residents using the unlicensed service "is not an easy procedure" as the drivers mostly use green-plated cars.
"It takes time to track down all the drivers since all the work is done through the application," he told The Jordan Times.
Kharabsheh added: "Police officers have to provide evidence that a driver is offering an illegal service to others, either by catching him red-handed, or when getting paid, which is not easy."
For drivers using Uber or similar applications, the department said authorities will seize the motorist's vehicle for one week, transfer him to an administrative governor and issue a fine of JD50, according to Kharabsheh.
Related Articles
Feb 22,2017
AMMAN — A new smartphone application for taxis will be launched soon, mimicking other high-tech apps for transportation services, an informe
Apr 12,2018
AMMAN — In light of the repeated strikes by yellow taxis' owners demanding the ban of ride hailing apps due to "the incurred financial losse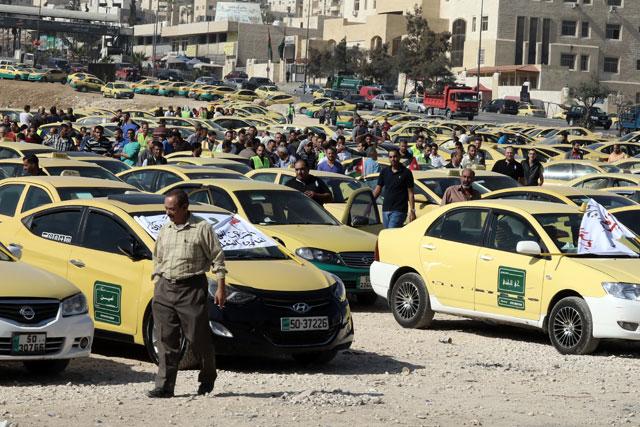 Nov 15,2016
AMMAN — Taxi drivers in Jordan protested on Tuesday against what they called "unfair" competition from ride hailing apps such as Uber and Ca