You are here
Under Crown Prince initiative, Jordanian students to fly mini satellite with NASA
By Mohammad Ghazal - Mar 15,2015 - Last updated at Mar 15,2015
AMMAN — A group of Jordanian university students will develop a CubeSat by this summer that will be flown on rockets planned for upcoming launches by NASA into the space.
The young scientists, Zeid Kawar, Firas Mestrihi and Sanad Haddad, said they obtained the necessary skills to create a CubeSat following a two-month training at NASA's Ames Research Centre upon an initiative launched by HRH Crown Prince Hussein last year.
The students are part of the first batch to be sent under the initiative.
They will work with NASA experts and the King Abdullah II Design and Development Bureau to create the CubeSat, which will be the first to be developed by Jordan.
CubeSats are a class of research spacecraft called nanosatellites. The cube-shaped devices are approximately 10.15cm long, have a volume of about one quart and weigh about 1.36kg. These CubeSats are flown as auxiliary payloads on previously planned missions, according to NASA.
"The two-month training that we received contributed greatly to improving our skills. We learnt a lot from NASA experts and did several experiments at their labs and facilities," Kawar, an energy engineering student at the Princess Sumaya University for Technology, said at a meeting with the press last week.
"The training we received in the US helped us acquire the skills needed to start working on building the CubeSat," said Kawar.
Mestrihi, a university student majoring in mechanical engineering at the Jordan University for Science and Technology, said taking part in the initiative helped him learn new skills that added to his university experience.
"We used the devices at the NASA facilities. They provided us with intensive training and gave us a mission to develop underwater communication radio originally used for submarines to be upgraded for detecting life on Jupiter's moon Europa. We succeeded in preparing three prototypes," Mestrihi said.
Haddad, a communication engineering student at the Mutah University, said the training provided him with the skill of planning.
"The training also boosted our self-confidence. We were a little bit afraid at the beginning, worried that we would not be able to do anything at NASA labs, but we succeeded and the experience helped us a lot in applying effective thinking and implementing scientific research," said Haddad.
The three students started a tour that will cover the country's universities to brief students on the initiative and skills they learnt.
Four students from the country's main universities will be selected each year to receive the training at NASA.
Universities will ask students to submit applications to take part in the initiative as well as their graduation projects. Each university will name two students each year and the list will be sent to NASA, which will make the selection, according to the initiative's literature.
Related Articles
May 23,2017
AMMAN — The experience and skills that Zeid Kawar gained through his participation in a two-month training at NASA's Ames Research Centre tr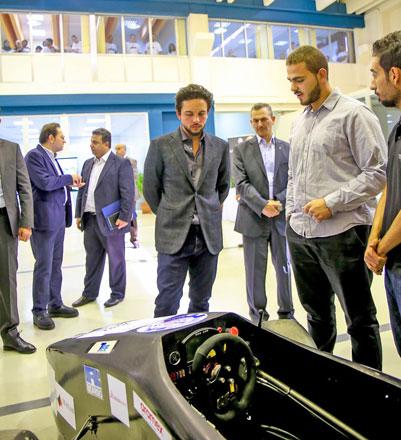 Oct 24,2017
AMMAN — HRH Crown Prince Hussein on Monday took part in the final touches to the first Jordanian miniature satellite (JY1-SAT) project, a Ro
May 31,2016
AMMAN — HRH Crown Prince Hussein has urged excelling Jordanian students to benefit from internships they have been offered at the US Nationa
Newsletter
Get top stories and blog posts emailed to you each day.