You are here
Crown Prince puts final touch on mini satellite project
Locally designed and implemented model to add Jordan to world's space-tech map
By JT - Oct 24,2017 - Last updated at Oct 24,2017
HRH Crown Prince Hussein visits the Nanotechnology Institute, where a mini satellite was built by young Jordanian engineers, on Monday (Photo courtesy of Royal Court)
AMMAN — HRH Crown Prince Hussein on Monday took part in the final touches to the first Jordanian miniature satellite (JY1-SAT) project, a Royal Court statement said.
The JY1- SAT was designed and built by young engineering students in Jordanian universities under the supervision of the Crown Prince Foundation (CPF).
His Highness, who made a visit to the Nanotechnology Institute, participated in the installation of the last piece of the mini satellite, which comes within CPF's "Masar" initiative aimed to guide young people towards space science and related research, and provide training and research opportunities in the field of satellite engineering and design of space missions.
The satellite is scheduled to be launched in the first quarter of next year, and is designed to achieve educational research objectives in the first place. It is also aimed to promote the Kingdom to tourists by broadcasting images of touristic and heritage sites, and communicate wirelessly with earth stations around the world.
The Crown Prince recorded an audio message in the Nanotechnology Institute, which will be later uploaded to the satellite's memoryand broadcast in space, to be available for reception by all terrestrial receivers in the world.
The satellite carries the name JY1-SAT to commemorate His Majesty the Late King Hussein, for his radio call was JY1.
His Highness listened to a presentation by Masar initiative organiser Sanad Haddad, who said that the plan was proposed by Jordanian students who participated in the first batch of the cooperation programme with the US space agency NASA. The interns had suggested the design and launch of the first Jordanian satellite CubeSat, one of the smallest satellites made.
Haddad said that the mini satellite is the first Jordanian experience in the space world, and the only Arab mini-satellite that was designed and built locally by 19 students, academics and consultants from various engineering fields in Jordanian universities.
For his part, President of The Jordan University of Science and Technology (JUST) Omar Jarrah briefed the Prince on the university's achievements on the global and local scales.
Related Articles
Feb 06,2018
AMMAN — The Crown Prince Foundation (CPF) on Tuesday signed a Memorandum of Understanding (MoU) with telecom provider, Zain Jordan, under wh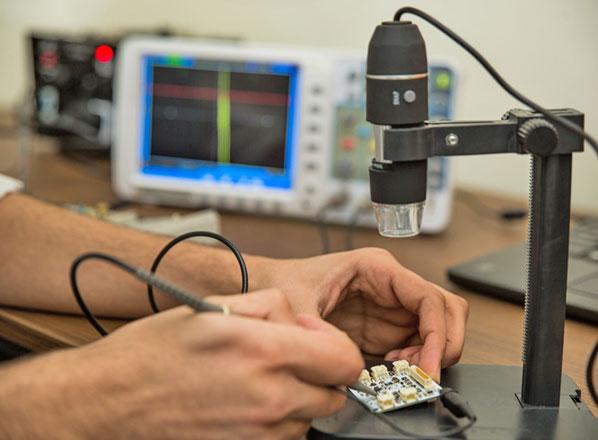 Jan 16,2018
AMMAN — The Crown Prince Foundation (CPF) on Tuesday signed a memorandum of understanding (MoU) with renewable energy solutions provider Fot
May 07,2017
AMMAN — The Crown Prince Foundation (CPF) on Saturday announced the admission of four new students at NASA's Ames Research Centre in the US
Newsletter
Get top stories and blog posts emailed to you each day.