You are here
Unemployment surges to 18.2% in Q1
By JT - May 31,2017 - Last updated at May 31,2017
AMMAN — Unemployment soared to 18.2 per cent during the first quarter of 2017, rising by 3.6 points compared with the same period in 2016, the Department of Statistics (DoS) said on Monday.
The agency said that the new figure is the result of a new mechanism and methodology used to measure joblessness in the country, heeding recommendations by the International Labour Organisation.
The DoS figures were based on a survey involving a sample of 16,000 families across Jordan.
By the end of March this year, unemployment among males stood at 13.9 per cent, according to the report, while 33 per cent of women surveyed were unemployed.
In the fourth quarter last year, the joblessness rate was 15.8 per cent according to DoS.
Related Articles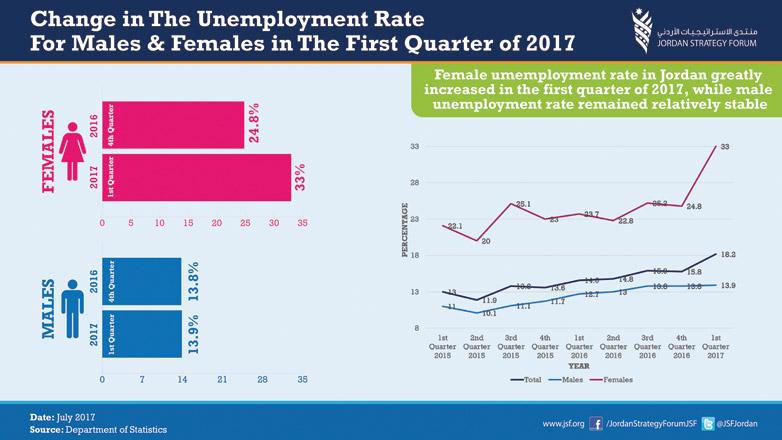 Jul 12,2017
AMMAN — Women unemployment accounts for most of the total unemployment rate increase, which stood at 18.2 per cent in the first q
Oct 24,2016
AMMAN — The unemployment rate in Jordan stood at 15.8 per cent during the third quarter of this year, according to Department of Statistics
Oct 18,2017
AMMAN — The unemployment rate in the second quarter of 2017 stood at 18 per cent, marking a 2.7 per cent increase when compared to the same