You are here
UNESCO tackles preservation of intangible cultural heritage in Jordan
Oct 12,2017 - Last updated at Oct 12,2017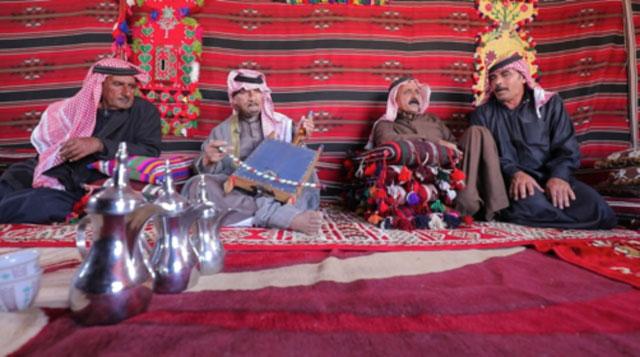 Bedouin men discuss Nabatean poetry (Photo courtesy of UNESCO)
AMMAN (UNESCO) — Intangible cultural heritage (ICH) is considered an important aspect of Jordanian cultural identity and an essential value of the local communities across the Kingdom.
UNESCO believes that preserving ICH sustains cultural diversity, community resilience, and encourages mutual respect for other ways of life. In order to enhance support for ICH, UNESCO and the Ministry of Culture have organised a series of training workshops across Jordan, adopting an inclusive approach of rural communities.
Jordan is particularly rich in intangible cultural heritage, which comprises the traditions or living expressions inherited from ancestors and passed onto descendants. These include oral traditions, performing arts, social practices, rituals, festive events, and traditional knowledge and practices.
In recognition of the ICH significance, the traditions and ways of life associated with "The Cultural Space of the Bedu in Petra and Wadi Rum" were inscribed on the UNESCO Representative List of the Intangible Cultural Heritage of Humanity in 2008.
The UNESCO Amman office and the Ministry of Culture recently facilitated a series of workshops on the safeguarding of ICH with a specific focus on training the local communities in creating a community-based inventory of intangible heritage in Mafraq, which was inaugurated as 2017's "city of culture".
One of the workshops, participant, Hisham, brought along his two daughters Katrine and Shahira to ensure the multi-generational transfer of knowledge.
He explained: "Mafraq is portrayed as a dusty desert town with many refugees and we shouldn't forget about the vibrant talents in this area. We are a family of artists interested in memorialising the culture that surrounds us and transmitting our traditions."
Some participants recorded interviews with local Bedouins discussing traditional coffee preparation. A local sheikh explained the elaborate process of coffee preparation in detail; from roasting the beans over fire, to grinding them in a traditional "meh-bash", to the use of the beautiful "della" when presenting the drink to company.
In bedouin culture, coffee is accompanied by a strong sense of meaning.
The sheikh explained that when a man is asking for a woman's hand in marriage, he approaches her family and they drink coffee. If the bride's family accepts his proposal, they signify this by drinking the coffee before it becomes cold.
Coffee conveys acceptance or rejection in a number of scenarios. If a guest is offered a full cup rather than the few small, strong sips usually poured, it symbolises dislike. And if no coffee is offered at all, an insult is perceived.
Participants also explored the complexities of Nabatean poetry with a passionate bedouin elder who recited his poems, pausing to explain that poetry does indeed help men to attract the attention of women.
Finally, during a visit to a Druze community near the Syrian border, participants interviewed Druze women and reported on the intricacies of their traditional dress. The women discussed how preserving this traditional clothing was linked to preserving their cultural identity.
The workshops aimed to emphasise that the preservation of cultural heritage, including intangible heritage, goes beyond monuments and collections of objects, serving as a bridge between generations and peoples.
ICH is a precious patrimony of Jordanian culture and safeguarding it for the future generations is a shared task contributing to enhancing the identity and resilience of the local communities.
Related Articles
Dec 12,2017
AMMAN — Intangible cultural heritage (ICH) is considered an important and integral aspect of Jordanian cultural identity and an essential va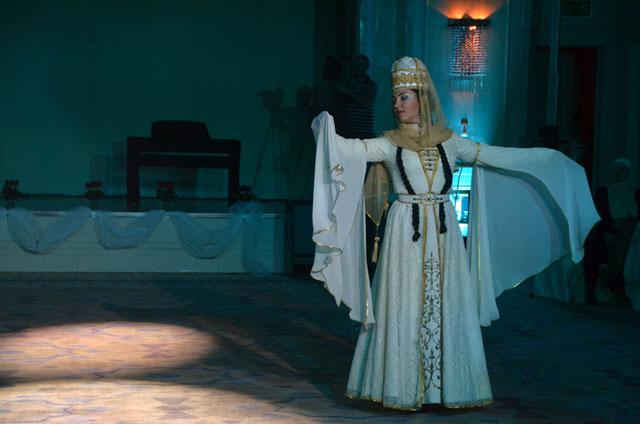 May 28,2016
AMMAN — The Ministry of Culture, in collaboration with UNESCO, is organising a five-day workshop on the implementation of the 2003 Conventio
Aug 20,2017
AMMAN — "I have long been fascinated by music from the Near and Middle East, and I really enjoy listening to it," said Kathleen Hood, a cell
Newsletter
Get top stories and blog posts emailed to you each day.