You are here
'Jordan's heritage needs to be preserved to educate generations to come'
By JT - Dec 12,2017 - Last updated at Dec 12,2017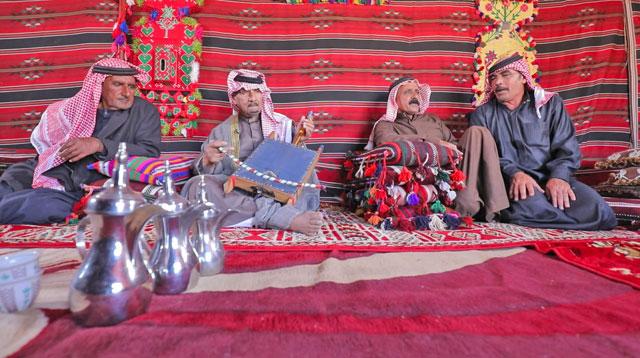 UNESCO recently documented the bedouin coffee traditions in Jordan as part of its efforts to preserve intangible cultural heritage (Photo courtesy of UNESCO Office in Amman)
AMMAN — Intangible cultural heritage (ICH) is considered an important and integral aspect of Jordanian cultural identity and an essential value of the local communities across the Kingdom, Constanza Farina, UNESCO representative to Jordan, said in a statement released on Tuesday.
"UNESCO believes that preserving ICH sustains cultural diversity, community resilience, and encourages mutual respect for other ways of life… ICH is a precious patrimony of the vast Jordanian culture and safeguarding this for future generations is a shared commitment contributing to enhancing the identity and resilience of the local communities," she noted.
In Jordan, one example of such preservation can be found in the recent documentation of bedouin coffee traditions.
With the support of the UNESCO Amman office, community residents in Mafraq chronicled the intricacies of the coffee culture, conducting video interviews with bedouin elders to ensure that the fine details and traditions attached to this practice do not become lost as time marches on, she added in the statement e-mailed to The Jordan Times.
In collaboration with Jordan's Ministry of Culture, UNESCO has been supporting local authorities to enhance the safeguarding of ICH, raising awareness in local communities and training people in collection and documentation techniques.
In order to enhance and broaden ICH support, the two parties have also been organising a series of training workshops across Jordan to ensure that local communities are actively involved in the safeguarding of their own traditional heritage.
The UNESCO official added: "This intangible cultural heritage, transmitted from generation to generation, is constantly recreated by communities and groups in response to their environment, their interaction with nature and their history, and this provides them with a sense of identity and continuity, thus promoting respect for cultural diversity and human creativity."
Since 2006, Jordan has been party to the Convention on the Safeguarding of the Intangible Cultural Heritage, ratified by UNESCO in 2003.
In 2008, the traditions and way of life associated with "The Cultural Space of the Bedu in Petra and Wadi Rum" were inscribed on the Representative List of the Intangible Cultural Heritage of Humanity.
Concerning challenges UNESCO is facing in the field, Farina said one main concern is the potential loss of traditional knowledge and practices.
"The value of this knowledge held by the bedouin communities throughout Jordan cannot be stressed enough. Preserving the intimate, unique details that define a people's identity can sometimes feel like a losing battle, though. We see the forces of rapid economic development and urbanisation at work today, affecting the traditional communities with variable outcomes to their wellbeing and preservation of cultural integrity," she said.
"We know that placing culture at the heart of development policies constitutes an essential investment in the world's future, acting as a pre-condition to successful globalisation processes. This is one reason that it is so important to see culture, for the first time, recognised as a key component of the international development agenda and enshrined in the 2030 Agenda for Sustainable Development. Within this framework, we are officially recognising that culture contributes to poverty reduction, paving as well the way for sustainable, inclusive an equitable development," Farina concluded.
Related Articles
Oct 12,2017
AMMAN (UNESCO) — Intangible cultural heritage (ICH) is considered an important aspect of Jordanian cultural identity and an essential value
May 28,2016
AMMAN — The Ministry of Culture, in collaboration with UNESCO, is organising a five-day workshop on the implementation of the 2003 Conventio
Mar 18,2018
AMMAN — Social Development Minister Hala Lattouf on Sunday discussed with UNESCO representative to Jordan Constanza Farina ways of enhancing
Newsletter
Get top stories and blog posts emailed to you each day.