You are here
US scholar explores effects of weather on Neolithic population
By Saeb Rawashdeh - Jul 10,2017 - Last updated at Jul 13,2017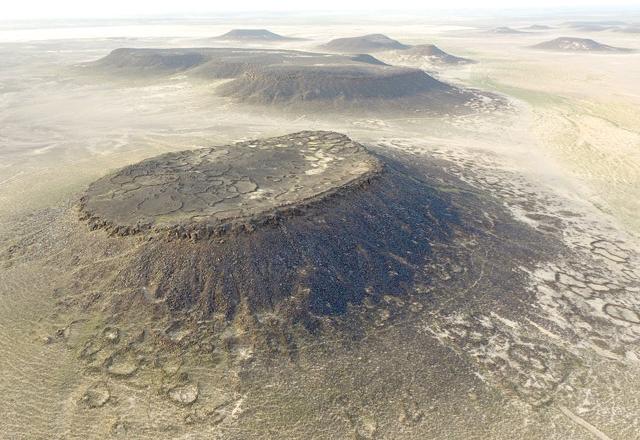 Wadi Al Qattafi mesas: Eight of the more than 20 basalt-covered mesas along the Wadi Al Qattafi (Photo courtesy of A.C. Hill)
AMMAN — After the sharp decrease of precipitation around 7000BC, all of the known large Neolithic sites such as Basta, near Petra, Es-Sifya in Wadi Mujib, Ain Ghazal and Wadi Shu'eib, west of Sweileh, were abandoned — or nearly so — and many of the thousands of residents migrated with their sheep and goats to the unfarmable Black Desert of eastern Jordan, noted a US scholar.
There is "no indication" that a sizeable population expansion in other parts of the western areas occurred, nor is there evidence that a massive migration northward to Lebanon and Syria ensued; evacuation to southwards into parts of the Arabian Peninsula also seems unlikely, according to Gary Rollefson, a professor of anthropology at Whitman College in the US.
"Research in the basalt desert [harra, or the 'Black Desert'] since 2008 has shown that by the middle of the 7th millennium there was a substantial new local population supporting themselves with a new economic base: hunter-herder exploitation of wild plants and animals in addition to caprine herding," Rollefson emphasised.
Excavations at Wisad Pools, Eastern Badia, and the basalt-covered mesas in the Wadi Al Qattafi, Eastern Badia,"have recovered evidence — including oak charcoal, burned figs, and pollen from oaks, elm and hophornbeam trees, as well as from Typha [bulrush] and Lemna [free-floating aquatic plant] — that the Stygian landscape of today was much better watered during the 7th millennium, and perhaps throughout the 6th, 5th and early 4th millennia as well, he added.
The Eastern Badia Archaeological Project has undertaken survey and excavations since 2008 at two locations in the Black Desert: Wisad Pools (at the eastern edge of the basalt field) and Wadi Al Qattafi (on the southwestern corner of the harra), the anthropologist said, stressing that aerial photos by the Aerial Photographic Archive for Archaeology in the Middle East team illustrate "how rich both locations are in terms of architectural remains".
More than 600 structures, not including animal pens, have been counted in Wadi Al Qattafi, and at Wisad Pools the count exceeds 250-300 houses, he said.
Artifacts recovered from the excavations at Wisad Pools and the mesas are consistent with groups hunting wild game (abundant arrowheads and animal bones) and processing plant foods, indicated by a wealth of grinding equipment, Rollefson pointed out.
"Although faunal analysis is still under way, it appears that there was a dominance of gazelle at approximately 50 per cent, followed by hare approximately 25 per cent and domesticated caprines making up approximately 10 per cent of the mammals; fox is present, as are small and large felids, including possible cheetahs, and there is a sizeable quantity of bird and micro-faunal bones as well," he noted.
An unexpected find was the charcoal from twigs of oak from one of excavated houses, he said, adding that currently the closest stands of deciduous oak are about 140km away in the area of Jabal Arab (also called Jabal Al Druze) in southern Syria.
"The presence of oak tress is important, not only for its use as fuel and perhaps as timber for roofing and other utilitarian uses," Rollefson continued, "but deciduous oak is one of the most prolific producers of acorns, which with dedicated leaching of the tannins in the fruit can provide a major source of nutrition".
In addition, oak bark tannins have been used for converting animal skins to leather since Neolithic times, according to the anthropologist.
Additionally, the excavations exposed a gritty red soil about 35-40cm thick, protected from later erosion/deflation by the presence of the architecture, he said.
The scholar noted that the soil is permeable, so that the seasonal rain would not run off as sheet wash, as is the case with the silt that covers the region today, but instead percolate into the ground to provide a reservoir of moisture for plant roots that would last long after the rainy season ended.
"Vegetation cover at Wisad Pools would have been relatively luxuriant and would have lasted far longer than the meager ground cover in today's harra. Browsers and grazers could have roamed over smaller territories and in larger herd sizes, including both wild and domesticated species," Rollefson remarked.
Evidence to support this greener landscape comes from the tooth of a cow recovered in 2014, as well as rock art that includes numerous depictions of long-horned cattle, he argued.
Preliminary palynological study shows presence of arboreal pollen, the professor explained, noting that "pine and juniper pollen can waft on air currents for hundreds of kilometres, but the rest are less far-reaching and the trees were probably located within a short distance from Wisad Pools".
It is important to stress that climatic conditions were more welcoming up to about 4,000 years ago, the scholar said.
"When rainfall was high for perhaps decades, if not centuries, the well-watered soils, vegetation cover and perhaps subsurface water availability may have provided the opportunity to remain in the basalt houses weeks and even months after the end of the rainy season," he claimed.
"While the emigration certainly entailed a major alteration in lifestyle from the traditional agricultural situation, the refugees were not facing utter danger," Rollefson explained.
The emigrants constituted groups with the same level of socioeconomic responsibilities and expectations as their ancestors had enjoyed, the scholar concluded.
Related Articles
Jan 04,2018
AMMAN — When a group of scholars in 2008 began to work together in the Black Desert (eastern Jordan), they found many piles of rocks that on
Oct 29,2015
AMMAN — Ain Ghazal (Spring of the Gazelles), near Marka in the capital, was "the Manhattan of the Neolithic period", according to an anthrop
Oct 26,2017
AMMAN — During a lecture last week titled "Who Were the People in the Neolithic Black Desert?" held at the American Centre of Oriental Resea