You are here
Piles of rocks in Jordan's Black Desert offer clues to ancient past
By Saeb Rawashdeh - Jan 04,2018 - Last updated at Jan 04,2018
Excavated Late Neolithic building with standing pillars, on slope of Mesa 7, at Wadi Al Qattafi (Photo courtesy of Yorke Rowan and Eastern Badia Archaeological Project)
AMMAN — When a group of scholars in 2008 began to work together in the Black Desert (eastern Jordan), they found many piles of rocks that once were structures.
"Initially it was easy to miss them," said Yorke Rowan, an anthropological archaeologist who received his PhD from the University of Texas at Austin.
He, and fellow scholars Alex Wasse and Gary Rollefson found doorways under collapsed basalt rubbles, Rowan recalled, noting that "we thought that perhaps they were similar to the burial structures in the Sinai known as nawamis [circular pre-historic stone tombs] that date to the 4th millennium BC".
"The first one we excavated at Maitland's Mesa [M-4] at Wadi Al Qattafi [ around 130km east of Amman], turned out to be a structure dated to the Late Neolithic, a type of structure that we didn't know from the region. It seemed to have a corbelled, low roof, with exterior storage space that was still standing [with roof and stone pillar]," the scholar explained.
As they excavated a few more of these structures at Qattafi and Wisad Pools [further to the east], they began to realise that there were hundreds of these structures, at Qattafi and Wisad Pools [and probably other places in the desert too], he elaborated.
"No one had ever studied these, or even commented on them, as far as I know. We started by taking notes, photographing, and taking GPS points," Rowan said.
However, most photos from the ground looked similar — piles of black basalt rocks — and to properly survey so many collapsed structures accurately would take years, the researcher noted.
"Our colleague, Austin 'Chad' Hill, suggested that he could begin to map these structures using inexpensive drones that he could build himself — he has been building model planes and flying them since he was a kid, " Rowan said, adding that by putting cameras on the model airplanes, flying methodically over an area and using the geolocation of the photographs, highly accurate maps can be constructed by orthorectifying the images (correcting them for distortion).
The team has completed the survey of an area along Wadi Al Qattafi, about 32 square kilometres. He stressed that they still must mark all the structures, but Chad has completed the processing of the thousands of images they collected from the UAVs.
"We knew that there were kites [the hunting traps] in the desert, as this have been noted by many flying over the area for many decades; we knew that there were some in and around the Wadi Qattafi area, but our aerial survey discovered more of these kites because they are so difficult to spot from the ground," he pointed out.
Furthermore, scholars have also used the drones, on a much smaller scale, at Wisad Pools to map the rock art.
There are over 400 petroglyphs (pecked rock art) in a small concentrated area right around the pools, where animals would have come for water, he continued.
The expert said: "The most prominent type of animals represented are ibex, followed by other horned animals. Only a few humans are represented. What is surprising is how many kites are pecked into the rocks!"
On the other hand, the ghura huts which they recognised at the top of Maitland's Mesa, are even more difficult, Rowan said.
"We excavated two of them, but found very little inside: No animal bones, no burned material, and no objects that could tell us when they were built. We also don't believe that they had a stone roof because the huts are built with very small basalt rocks, and the walls wouldn't have been more than half a metre high," he emphasised.
Possibly a skin was held in place by these rocks, and the ghura hut was a small, simple shelter with a skin roof, he speculated, adding that recently "our colleague Bernd Mueller-Neuhof excavated very similar structures to the north, and he found some carbonised material that suggests these date to the mid-4th millennium BC, or the transitional period between the Chalcolithic to the Early Bronze Age".
"Since most of what we have explored is not funerary, I can't really say too much yet about the burial of the dead; we do have evidence that later people would sometimes build their tombs on top of a collapsed Neolithic structure, presumably to increase the height and prominence of the later tomb," the scholar highlighted.
One of these included some nice objects, such as a bronze spear head, earrings, and beads that seem to date to the end of the Late Bronze Age or early Iron Age, Rowan stressed.
The Eastern Badia Archaeological Project scholars have long-term plans for the area that includes additional mapping of the buildings and kites, and they really want to supplement that with geomorphological study to understand if there used to be soils that would better support grasses and other plants, and animals, he underlined.
Ultimately, their team hopes to put together a website in Arabic and English so that people can appreciate the beauty of the remote region, since few can reach the area.
"In addition, we have to finish studying the animal bones [Alex Wasse is analysing those] and gather more data from residue studies and botanical traces. Our colleague Britz Lorentzen identified oak from our excavations at the largest building at Wisad Pools, suggesting that oak trees may have grown there during the Neolithic period. This small piece of wood is exciting, but we'll need more information before we can build a whole new story about prehistory in the Black Desert," Rowan concluded.
Related Articles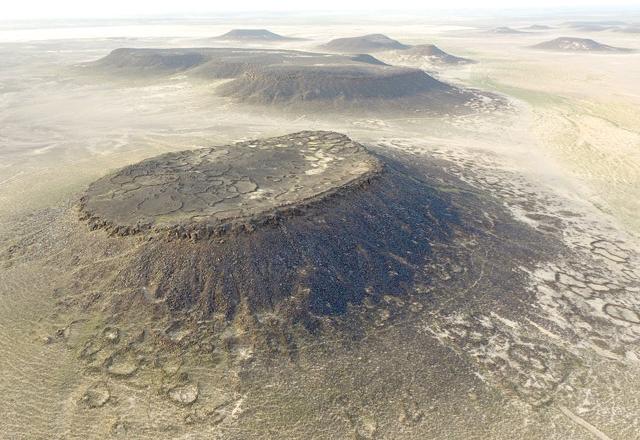 Jul 10,2017
AMMAN — After the sharp decrease of precipitation around 7000BC, all of the known large Neolithic sites such as Basta, near Pet
May 05,2016
WADI AL QATTAFI, Eastern Badia — For a brief time, Jordan's eastern desert blooms.
Oct 29,2015
AMMAN — Ain Ghazal (Spring of the Gazelles), near Marka in the capital, was "the Manhattan of the Neolithic period", according to an anthrop
Newsletter
Get top stories and blog posts emailed to you each day.