You are here
Vendors say moving Abdali market bad for business
By Muath Freij - Oct 07,2014 - Last updated at Oct 07,2014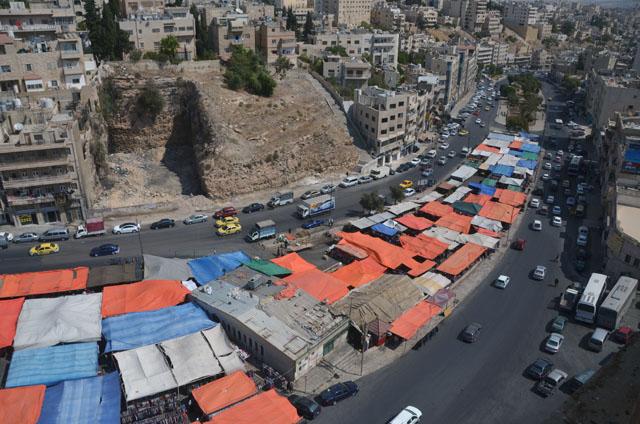 AMMAN – A number of vendors and customers at the Abdali market are against the Greater Amman Municipality's (GAM) plan to move it to the Ras Al Ain area in downtown Amman, with some arguing that the decision will discourage families from visiting the souk.
Abdali's Friday market will start operating in its new location in Amman on October 10, according to GAM.
Vendors and customers interviewed recently by The Jordan Times said the new location will not be convenient for both customers and merchants.
Vendors at the outdoor market, which first opened in 1988 and draws thousands of visitors every Friday, sell second-hand clothing and shoes in addition to vegetables and fruit.
One vendor who identified himself as Ali said the new location is much smaller than the current one, adding that it will not be enough to accommodate all vendors.
"GAM says that some stalls in Abdali are taking space on the pavement and street, but it can take some measures to organise the market properly without having to move its location," he told The Jordan Times as he decorated his stall last Thursday.
Ali, who has been at the market for more than 10 years, voiced concern that problems may arise at the new location.
"Many vendors will not be satisfied with the new location, and it will take them a long time to arrange their stalls and organise themselves," he added.
Basem Tarawneh, deputy director for districts and environment affairs, said in a recent phone interview with The Jordan Times that the step was taken by the municipality to alleviate traffic jams and safeguard public health in the Abdali area.
Tarawneh said the new location has three parking lots and the area is frequented by people, which will ensure that vendors will do good business.
"We will also carry out a huge media campaign to promote the location so that customers learn about the souk," the municipality official said, adding that the market will be open from Thursday until Saturday.
The new location will include medical facilities, and the new shuttle buses GAM will operate soon will also pass by the area, Tarawneh noted.
But Mahmoud Horani, another vendor at Abdali souk, said the new market is located near downtown Amman, voicing fear that many of the area's street vendors will move to it and take over the spaces allocated for Abdali vendors.
"This will result in traffic jams and new problems because the new location will not accommodate all vendors," he added.
Abdali area, Horani said, is a good location because it serves the residents of west and east Amman. "The location of the Abdali market is really strategic."
Around 1,200 stalls are located in the Abdali market, while the new venue will host a maximum of 400 stalls, he added, claiming that many people will lose their business.
Tarawneh said each vendor who has one stall or more in Abdali will get only one stall at the new location to curb the practice of "renting stalls".
Most vendors are guest workers who pay the Jordanian owner of the stall between JD200 and JD250 for a certain period of time that they agree on, he said.
"Sometimes you can find one person who owns between 10 and 25 stalls and 'rents' them to guest workers," Tarawneh noted.
Abu Mohammad, a customer who lives in east Amman, claimed that the new location will not have enough parking spaces to accommodate customers.
"Also, the new location will be far from my home. Abdali is close for everyone," he told The Jordan Times as he looked through the clothes on display at the market.
Abu Yazan said he has been frequenting the souk regularly for years.
"If the market is moved, I will stop visiting it because it will not be convenient for me and my family. The current location is vast and there is enough room for us to walk around and choose what we want," he added.
up
3 users have voted, including you.
Related Articles
Sep 15,2014
Abdali's Friday market will start operating in its new location in Ras Al Ain in downtown Amman on October 9, a Greater Amman Municipality (GAM) official said on Monday.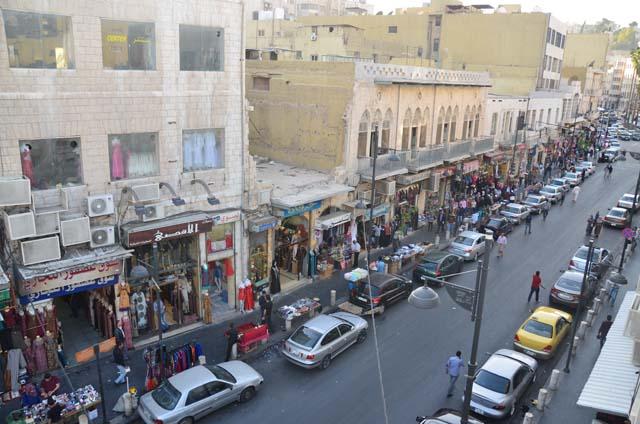 Jan 28,2014
The Greater Amman Municipality (GAM) has given street vendors until the end of February to stop displaying their goods on the capital's pavements, a GAM official said on Tuesday.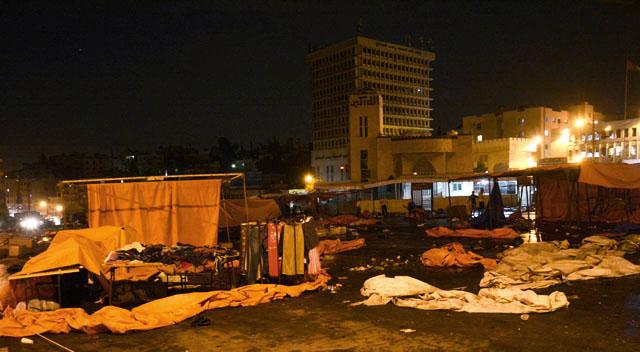 Oct 11,2014
Around 100 street vendors clashed with anti-riot personnel personnel at Hashemite Square in downtown Amman on Saturday in protest against a decision to move the Abdali Friday market to Ras Al Ain, the Public Security Department (PSD) said.
Newsletter
Get top stories and blog posts emailed to you each day.