You are here
Youth initiative helps budding artists find passion in street art
By Rayya Al Muheisen - Sep 22,2023 - Last updated at Sep 22,2023
Photo courtesy of Underground Amman Instagram page
AMMAN — Underground Amman, a youth-led initiative founded in 2019, is empowering street art enthusiasts with innovative workshops that serve as a stepping stone for budding street artists as well as offering them a unique platform to express their creativity.
The initiative is dedicated to shedding light on the vibrant world of youth street art and hip-hop in Jordan and celebrating the diverse expressions often concealed by traditional cultural norms.
Founders of Underground Amman Alaeddin Rahmeh and Hannah Redekop told The Jordan Times that their mission is to foster and uplift Jordan's burgeoning street art and hip-hop community as a catalyst for positive social change.
"Our initiatives include street art walking tours, community-led hip hop jams, gallery exhibitions, and a range of creative outlets," according to a statement from Rahmeh and Redekop.
One of Underground Amman's most recent projects is a series of street art workshops led by artist Yamen Hattab.
"These workshops are open to anyone with an interest in street art culture and practice, offering a gateway into this captivating world," Hattab told The Jordan Times.
Hattab added that during the workshop, participants embark on a journey to master the fundamentals of street art and graffiti, delving into areas such as colour theory, sketching techniques and scaling.
"Attendees are given the opportunity to put their newfound skills to the test, creating their very own wall murals," Hattab said.
"In our workshops, our aim is to equip individuals with the knowledge and practical experience they need to take their art to the streets and infuse Amman with a burst of colour," Hattab said.
The workshops take place in the vibrant F.A.D.A 317, located in the heart of Jabal Amman. All the murals created during these workshops are hung on the walls of the creative hub, providing participants with a supportive and nurturing environment in which to learn and grow.
Ban Hweidi, one of the attendees, told The Jordan Times that the workshop offered very interesting insights about the art of history and the way graffiti evolved.
"The workshop was very well organised and informative," Hweidi added.
Hweidi highlighted that Jordan is one of the few countries to legalise street art, and said that this is something that makes Jordanians and artists alike particularly proud.
Related Articles
Oct 03,2019
AMMAN — The Civil Peace Programme (CPS) organised an event titled "Hip-hop for Youth" in Amman in cooperation with the German embassy on Tue
Nov 08,2017
AMMAN — "I see street art as archives of social revolution.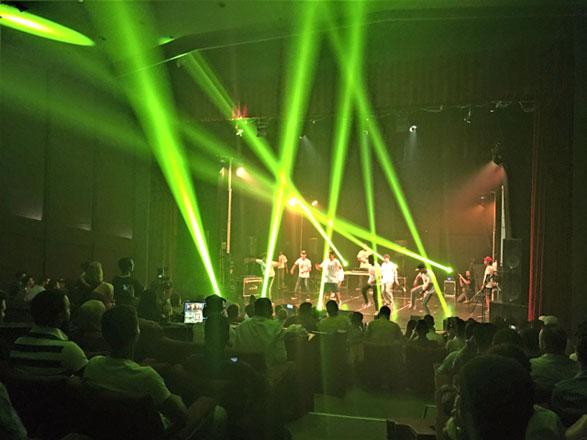 Aug 04,2019
AMMAN — Joining forces with the Jordanian hip hop scene, cultural initiative "Next Level" put on its final performance on Saturday at Shams