You are here
10 migrants dead, dozens missing off Libya coast
Libya is key launchpad for migrants trying to reach Europe
By AFP - Jan 08,2018 - Last updated at Jan 08,2018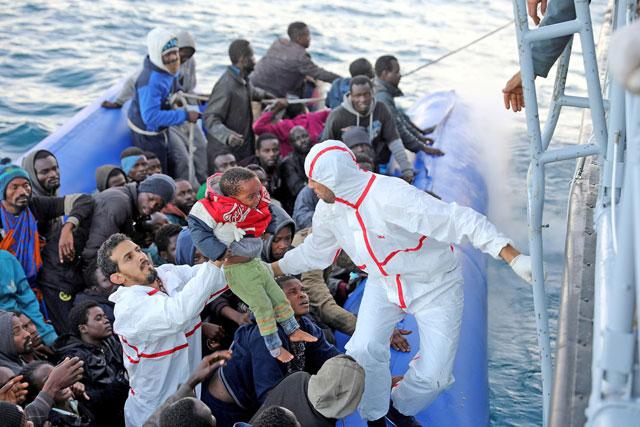 A migrant child is carried as other migrants in a dingy are rescued by Libyan coast guards off the coast of Garabulli, east of Tripoli, Libya, on Monday (Reuters photo)
CATANIA, Italy — Ten migrants perished over the weekend and dozens are missing, including children, after their boat sank off the Libyan coast, aid organisations said Monday.
An inflatable boat loaded with men, women and children left Garabulli, 50 kilometres east of Tripoli, on Friday night, but after eight or nine hours it began to deflate and take on water.
Several people fell overboard, while others clung on to what was left of the boat as the bodies of drowned victims floated in the sea.
The Libyan navy and Italian coastguard rescued 86 people and recovered the bodies of six women and two men.
When the survivors arrived in Catania in Sicily on Monday, they said the boat had left with 140 to 150 people on board, meaning dozens were missing, including 15 women and six children aged two to six, according to aid groups — the United Nations High Commissioner for Refugees (UNHCR), the International Organisation for Migration (IOM) and Doctors without Borders.
"We saved 86 migrants," Maria Rita Agliozzo, an Order of Malta doctor on the Italian coastguard vessel, told Radio Radicale.
"We did many resuscitations. We resuscitated two children — a two-year-old and a three-year-old — and also a woman."
The IOM and UNHCR said the migrants came from The Gambia, Guinea, Sierra Leone, Mali, Ivory Coast, Senegal, Cameroon and Nigeria.
The bodies of another two women were found on Sunday by the Libyan navy, which had rescued 290 others from two boats in distress.
Since the 2011 fall and killing of longtime dictator Muammar Qadhafi, Libya has become a key launch pad for migrants making desperate bids to reach Europe, often on unseaworthy vessels.
Last year alone, 3,116 people died attempting the crossing, according to the IOM.
There was a sharp drop in arrivals in Italy during the second half of 2017 following efforts by Rome to discourage migrants from attempting the crossing.
Related Articles
Mar 29,2017
ROME — About 146 migrants are feared missing after their boat capsized after leaving Libya, according to a Gambian youth who was rescued fol
Feb 28,2021
TRIPOLI — Almost 100 migrants were rescued off Libya's west coast on Sunday as they made failed attempts to reach Europe, while around 20 we
Jul 08,2017
GARABULLI, Libya — Thirty-five migrants, including seven children, were feared drowned after their inflatable boat sank on Saturday off the