You are here
35 migrants feared drowned off Libya — coastguard
2,247 people have died or are missing after trying to cross Mediterranean to Europe this year — IOM
By AFP - Jul 08,2017 - Last updated at Jul 08,2017
Migrants ride in a boat after they were rescued by Libyan coastguard off the coast of Gharaboli, east of Tripoli, Libya, on Saturday (Reuters photo)
GARABULLI, Libya — Thirty-five migrants, including seven children, were feared drowned after their inflatable boat sank on Saturday off the Libyan coast, the coastguard said.
Eighty-five migrants, including 18 women, were rescued with the help of fishermen who alerted the coastguard, said Issa Al Zarrouk, a coastguard official in Garabulli, 60 kilometres east of Tripoli.
Navy spokesman Ayoub Kacem said the boat sank 11 kilometres northwest of Garabulli, and 10 fishing boats took part in the rescue.
The rescued migrants were from countries including Nigeria, Senegal, Cameroon, the Ivory Coast and Ghana, Kacem said.
Nigerian hairdresser Vivian Effoussa described watching, horrified as fellow passengers fell into the sea.
"The boat we entered was leaking," said Effoussa, who attempted the crossing to Europe after struggling to support two children back home.
"All of a sudden... the water was [coming] inside. Everybody started shouting," she said, speaking in English.
"Gradually, gradually, we see ourselves inside the sea. Everybody, we're falling inside, dragging each other. They even pulled my hair, dragging me."
"Really, I didn't think the sea was big like this," Effousa said, adding that, had she known, she would not have come.
Human traffickers have exploited years of chaos in Libya since the 2011 uprising that toppled and killed dictator Muammar Qadhafi to boost their lucrative but deadly trade.
Tens of thousands of migrants have resorted to paying smugglers to cross the Mediterranean Sea from Libya to what they hope will be a better life in Europe.
Nearly 77,000 migrants have landed in Italy since January, up 15 per cent on the same period in 2016.
Altogether, at least 2,247 people have died or are missing after trying to cross the Mediterranean to Europe this year, the IOM says.
Related Articles
Jun 11,2017
GARABULLI, Libya — At least ten migrants have died after their Europe-bound boats sank off Libya's coast and some 100 people are missing, co
Mar 11,2018
ABOARD AQUARIUS RESCUE SHIP — International charity ships and Libya's coastguard and picked up several hundred migrants on Saturday as smugg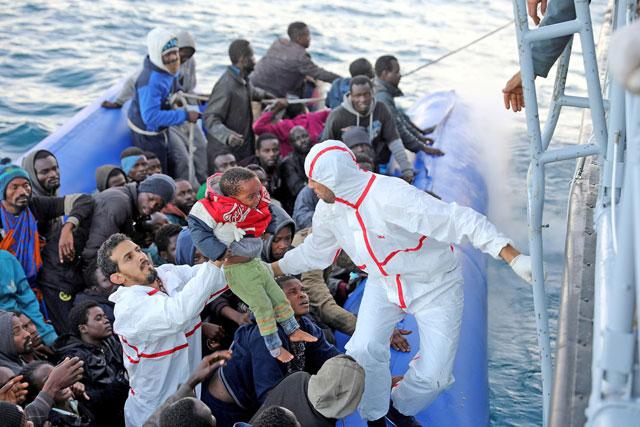 Jan 08,2018
CATANIA, Italy — Ten migrants perished over the weekend and dozens are missing, including children, after their boat sank off the Libyan coa
Newsletter
Get top stories and blog posts emailed to you each day.