You are here
AMAR Foundation battles recent cholera outbreak in Iraq
By Jacquie Lee - Oct 22,2015 - Last updated at Oct 22,2015
Raising awareness is one of the most crucial tools for AMAR to prevent further spread of the disease (Photo courtesy of AMAR Foundation)
AMMAN — The increase of more than a million internally displaced persons (IDPs) in Iraq since last October along with the recent outbreak of cholera and continued security concerns have made it a difficult place for humanitarian aid agencies to work, especially for smaller NGOs, like the AMAR Foundation, "that do not receive international funding".
"We have applied many times to national governments, West and East, and international institutions to continue and enlarge our work for the Syrian families in Lebanon and in Iraq but the funds seem all to go to the vast international NGOs," Baroness Emma Nicholson, chairman and founder of AMAR, told The Jordan Times in an e-mail interview.
Over 1,600 cases of cholera in Iraq were confirmed in a report released Tuesday by the UN Office for the Coordination of Humanitarian Affairs (UNCHA). Two Iraqis have died since the outbreak was declared last month, the report said.
The number of IDPs in Iraq as of October 2015 has also ballooned to 3.2 million people, according to the same report.
AMAR began an awareness campaign in Iraq to combat the recent cholera outbreak, and has distributed thousands of informative flyers, made over 600 house calls and held multiple community education meetings, according to its website.
Raising awareness is one of the most crucial tools for AMAR to prevent further spread of the disease.
"With cholera, it's vitally important for communities at risk to receive information and advice about the disease as quickly as possible," AMAR's regional manager in Iraq, Ali Muthanna, told The Jordan Times.
"Simple messages such as the importance of purifying water for drinking and using soap to wash hands, as well as how to recognise symptoms, can save lives and help prevent the outbreak further spreading."
Cholera is caused by ingesting the "Vibrio cholerae" bacterium that are found in contaminated food and water. Symptoms include vomiting and diarrhoea, and without medical attention can kill someone within hours due to severe dehydration, according to the World Health Organisation's website.
Along with prevention education, AMAR is monitoring water quality and initiating "cleaning campaigns" in central and southern regions of Iraq, which were hit hardest by the outbreak.
AMAR has worked in the Middle East since its foundation in 1991. It founded a primary health centre in northern Iraq that treats over 600 people a day and recently began construction on another centre in the same region, Nicholson said. The organisation provides healthcare, both physical and mental, along with education and job training for communities ravaged by violence and political upheaval.
"The imperative is to save lives, and to secure health for future human flourishing," Nicholson said.
But scarce financial resources make it difficult, she said. "We could do so much more with just a little more money."
up
69 users have voted, including you.
Related Articles
Oct 28,2015
LONDON — The World Health Organisation (WHO) is launching a campaign to vaccinate 255,000 people against cholera in Iraq over the next month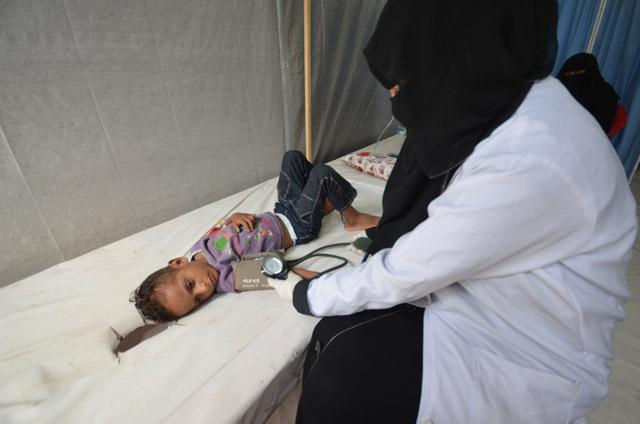 May 14,2017
SANAA — A cholera outbreak has rapidly spread in Yemen, killing 115 people in two weeks in the impoverished country where hospitals badly da
Nov 14,2016
GENEVA —Yemen is at risk of a significant cholera outbreak with the number of suspected cases doubling within 12 days to over 4,000, the Wor
Newsletter
Get top stories and blog posts emailed to you each day.