You are here
Egypt's Sisi launches reelection bid after arrest of main rival
By Reuters - Jan 24,2018 - Last updated at Jan 24,2018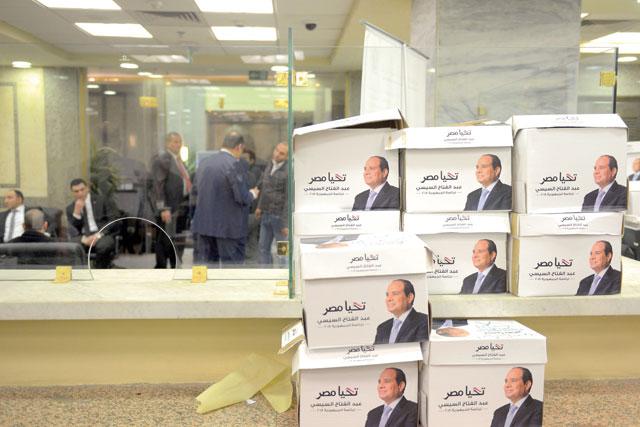 Members of Egyptian President Abdel Fattah Al Sisi presidential campaign staff stand next to boxes holding signed forms, needed to register for the elections, at the National Election Authority in Cairo on Wednesday (AFP photo)
CAIRO — Egyptian President Abdel Fattah Al Sisi officially launched his bid for a second term in office on Wednesday, registering himself as a candidate for the March election, state news agency MENA said, a day after his main potential rival was arrested.
Sisi, who won election in a landslide in 2014 after the army's ouster of Muslim Brotherhood's Mohamed Morsi a year earlier, submitted documents to become the first candidate to register for the March 26-28 vote.
Any other candidates have only until January 29 to register before a final list is announced on February 20, according to election rules.
Sisi's popularity has been damaged by austerity reforms, security problems and a crackdown on dissidents and political opponents, his critics say.
But his supporters counter that security measures are needed to stabilise the country rocked by a 2011 uprising and unrest that followed and he is expected to win reelection comfortably.
Candidates challenging Sisi have described sweeping efforts to kill off their campaigns before they begin, with media attacks, intimidation of supporters, and a nomination process stacked in favour of the former general.
In the last such move, authorities detained Sisi's last serious rival, former military chief of staff Lieutenant General Sami Anan on Tuesday after the army accused him of breaking the law by running for office without permission. His campaign was halted in its tracks.
Anan's son, Samir, said police had raided the family home late on Tuesday. "They took everything they found in his office ... they stayed until about 1 am," he said.
Amnesty International said on Wednesday this was a "brazen attack" on freedom of expression and political participation.
"Anan is among a growing number of candidates arrested or convicted on trumped up charges by the Egyptian authorities," the London-based rights group said in a statement.
Egypt was "hell-bent" on arresting and harassing anyone who stood against Sisi, Amnesty said.
'Stick to the goal'
The country faces a years-long Daesh terror group insurgency in the North Sinai region which has expanded to include civilian targets in the past year. Egypt this month renewed its state of emergency for three more months, broadening the power of authorities to crack down on what it calls enemies of the state.
Sisi on Wednesday addressed police officers on the eve of annual Police Day, which is also the date that Egypt's 2011 uprising began.
"Stick to the goal ... we are talking about construction and development. No one [should] make us go astray," he said.
Sisi has focused on trying to improve Egypt's battered economy, introducing tough fiscal reforms tied to a $12 billion loan from the International Monetary Fund, and implementing mega-projects that include an expansion to the Suez Canal and a new administrative capital.
The electoral commission has said it will ensure the vote is fair and transparent.
Khaled Ali, a rights lawyer who may be disqualified over a pending court case centred on his alleged use of an obscene hand gesture, remains one of the only presidential hopefuls still pursuing a bid. Ali's campaign said it would on Wednesday announce its "final position" on the elections.
Related Articles
Feb 24,2018
CAIRO — Campaigning began in Egypt's presidential election on Saturday with incumbent Abdel Fattah Al Sisi likely to romp to victory in the
Jan 29,2018
CAIRO — An Egyptian politician emerged just ahead of a deadline on Monday as the sole challenger to President Abdel Fattah Al Sisi in a Marc
Jan 23,2018
CAIRO — The last challenger seen as a potential threat to the reelection of Egyptian President Abdel Fattah Al Sisi was detained on Tuesday,
Newsletter
Get top stories and blog posts emailed to you each day.