You are here
Egypt students jailed for 4 years over protests
By Agencies - May 11,2014 - Last updated at May 11,2014
An Egyptian court on Sunday sentenced 36 students from the prestigious Al Azhar University to four years in prison each over violent protests backing ousted president Mohamed Morsi, Agence France-Presse reported quoting judicial sources.
Students supporters of the deposed Islamist regularly stage protests calling for his release at universities, in particular at Cairo's Al Azhar University, a prestigious seat of Sunni Islamic learning.
All 36 were found guilty of holding a violent protest in December, rioting, blocking roads in front of the university and showing aggression against the security forces, the sources said, according to AFP.
Each was also fined 30,000 Egyptian pounds (about $4,250, or 3,100 euros).
Another court has handed down life sentences to seven Morsi supporters after violent protests in mid-August in Qaliubiya province north of Cairo, a statement from the prosecution's office said on Sunday. The sentence was on Saturday.
The group was accused of shooting passersby, resisting security forces, cutting off a main highway and burning cartyres.
The violence erupted on August 14 after security forces dispersed two protest camps set up in Cairo by Morsi supporter to call for his reinstatement. Hundreds of people were killed that day.
Morsi was ousted by the army last July 3 after mass street protests against his divisive year-long rule.
Since his overthrow, a crackdown targeting his supporters has seen more than 1,400 people killed in street clashes, upwards of 15,000 jailed and hundreds sentenced to death after speedy mass trials.
Morsi, Egypt's first freely elected president, himself faces three trials on various charges, including colluding with militant groups.
Meanwhile, security officials said suspected militants have attacked an army convoy in the restive Sinai Peninsula, killing one soldier and wounding another, The Associated Press reported.
The officials said Sunday's attack took place south of the town of Sheikh Zuwayed. They say militants believed to be members of an Al Qaeda-inspired group opened fire and fled the scene.
The group, Ansar Beit Al Maqdis, or Champions of Jerusalem, has carried out attacks across Egypt in recent months that have killed dozens of people, mostly police officers and soldiers.
Related Articles
May 20,2014
Gunmen travelling in a car opened fire on Tuesday on a group of Egyptian policemen outside Cairo's Al Azhar university, killing three and wounding nine others, the interior ministry said.
Nov 23,2014
An Egyptian appeals court on Sunday confirmed jail terms for at least 85 students convicted of illegal demonstrations and vandalism in protests backing ousted Islamist president Mohamed Morsi, officials said.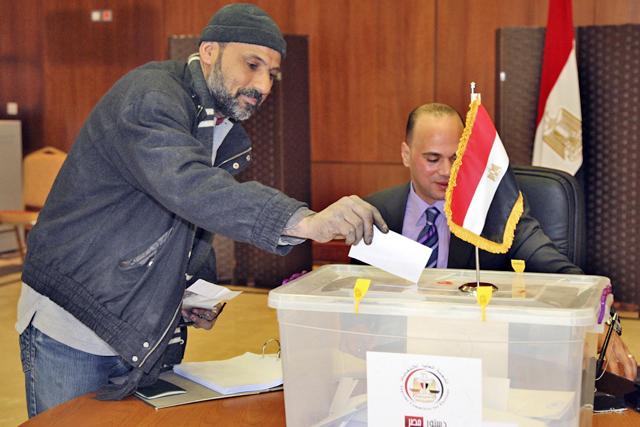 Jan 09,2014
Courts on Thursday jailed 113 supporters of Egypt's deposed Islamist president Mohamed Morsi to up to three years for taking part in unauthorised and violent protests, judicial sources said.
Newsletter
Get top stories and blog posts emailed to you each day.