You are here
'Erdogan hints Turkey may ban some Israeli goods because of Gaza violence'
By Reuters - May 22,2018 - Last updated at May 22,2018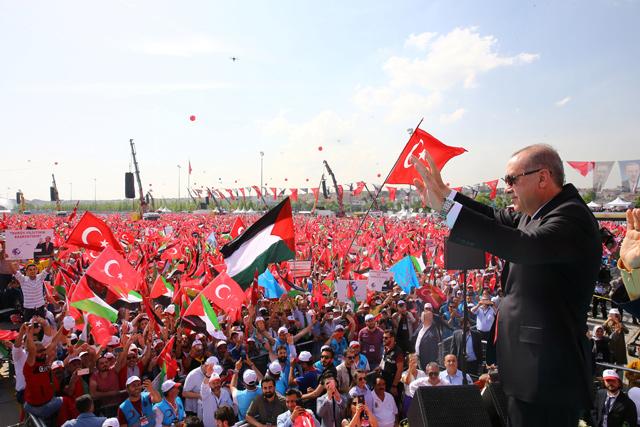 Turkish President Recep Tayyip Erdogan greets the crowd as he takes part in a protest against the recent killings of Palestinian protesters on the Gaza-Israel border and the US embassy move to Jerusalem in Istanbul, Turkey, on Friday (Reuters photo)
ISTANBUL, Turkey — President Recep Tayyip Erdogan has hinted that Turkey might consider imposing a ban on imports of some Israeli goods over the killing of more than 60 Palestinian protesters by Israeli forces on the Gaza border, media reported on Tuesday.
Erdogan, who is campaigning for reelection in June, last week hosted Muslim leaders who condemned the events in Gaza and the controversial opening of the United States embassy in Jerusalem.
Speaking to reporters on a return flight from Bosnia on Sunday, Erdogan said the 57-member Organisation of Islamic Cooperation (OIC) had recommended that a boycott be imposed on Israeli goods.
"I hope that OIC member countries implement a boycott decision in line with the recommendation. Consequently, no product should be brought from there any more. Naturally we will assess this situation in the same way," Hurriyet newspaper reported Erdogan as saying.
A declaration by the OIC on Friday repeated a call for countries to ban "products of the illegal Israeli settlements from entering their markets", referring to goods produced in the Israeli-occupied West Bank and Golan Heights.
It did not seek a ban on all Israeli goods.
The declaration also called for "economic restrictions [on] countries, officials, parliaments, companies or individuals" who followed the United States and moved their embassies to Jerusalem.
US President Donald Trump's move to recognise Jerusalem as Israel's capital and shift the US embassy there reversed decades of US policy, upsetting the Arab world and Western allies.
Erdogan said last week that Trump's move had emboldened Israel to put down the protests at the border with Gaza with excessive force.
The violence in Gaza led to Turkey and Israel expelling each other's senior diplomats. Erdogan also traded barbs on Twitter with Israeli Prime Minister Benjamin Netanyahu.
Israel was the 10th-largest market for Turkish exports in 2017, buying some $3.4 billion of goods, according to IMF statistics.
Data from Turkey's statistics institute showed that trade volume between the two was at $4.9 billion in 2017. Turkey, which has a trade surplus with Israel, imports plastics and mineral oils among other goods from there.
Erdogan said Turkey would reconsider its ties with Israel.
"We will put our relations on the table, in particular our economic and trade relations. We have an election ahead of us. After the election we will take our steps in this direction," Erdogan was quoted as saying.
Related Articles
Sep 14,2015
ISTANBUL — Turkish police on Monday raided a liberal news magazine and detained one of its senior editors over a photomontage on its cover p
May 20,2018
ISTANBUL, Turkey — Turkish President Recep Tayyip Erdogan said on Friday he would raise the violence in Gaza at the United Nations General A
May 17,2018
AMMAN — His Majesty King Abdullah is scheduled on Friday to head the Jordanian delegation participating in the extraordinary summit of the O