You are here
Extremists counter attack in fight for Syrian airbase
Gov't fighters have seized string of villages in Idlib
By AFP - Jan 11,2018 - Last updated at Jan 11,2018
An opposition fighter fires a missile from a village near Al Tabanah during ongoing battles with government forces in Syria's Idlib province on Thursday (AFP photo)
BEIRUT — Syrian regime forces faced fierce resistance from extremists Thursday as they fought to capture a key airbase in Idlib, the last province beyond the government's control, a war monitor said.
Russia-backed government forces battled their way into the Abu Duhur military airport on Wednesday night as they pressed a weeks-long offensive in the northwestern province.
Idlib province is almost entirely held by Hayat Tahrir Al Sham, an extremist outfit dominated by Al Qaeda's former Syrian affiliate.
Government fighters have seized a string of villages in the southeast of the province since launching their offensive on December 25.
After entering the Abu Duhur airbase, regime forces faced "fierce resistance", the Syrian Observatory for Human Rights said.
And on Thursday, Hayat Tahrir Al Sham and its extremist allies led a counterattack, retaking several villages from the regime, said the Britain-based war monitor.
The goal of the extremists was to cut off regime forces at the airport from their rear bases and "relieve the pressure" on them at the airbase, said the observatory.
The battle, which was punctuated by air strikes from Syria's regime and its ally Russia, claimed the lives of 19 extremists and rebels and 12 pro-government fighters.
On Wednesday, 35 soldiers were killed at the airport, said the observatory, which relies on a network of sources on the ground in the war-torn country.
The regime lost control of the Abu Duhur base in 2015 after a two-year siege by extremists, with only the Shiite-populated villages of Fuaa and Kafraya remaining under its control in the whole province.
Fear among displaced
Idlib's few rebel groups and Hayat Tahrir Al Sham have set aside their differences to fight President Bashar Assad's forces.
The regime hopes to seize control of southeast parts of Idlib province to secure a main road between the capital Damascus and the northern city of Aleppo.
Some rebel groups still have a foothold in Idlib, and despite their differences with the extremists they have teamed up to fight against President Bashar Al Assad's forces.
The fighting in the area has forced nearly 100,000 people to flee since early December, the United Nations says.
The UN's humanitarian coordination office OCHA said on Wednesday that the situation in Idlib was "extremely chaotic", with newly displaced people reportedly scattered across open areas.
"Due to the large numbers of people moving, many are left with no shelter, which could expose them to various risks, especially as the winter temperatures continue to drop," it said in a statement.
The International Rescue Committee said it had received hundreds of people newly displaced from the latest fighting in Idlib, many of them housed in makeshift tents.
One, a mother of twins, said she had initially left one of her children behind in the panic to escape the air strikes.
"We couldn't think properly. The fear affected our brains," said the mother, quoted by the IRC.
Ninety-six civilians, including 27 children, have been killed since December 25 in Syrian or Russian air strikes on Idlib, according to the observatory.
The violence comes as UN humanitarian chief Mark Lowcock wraps up a visit to Syria during which he met with authorities.
Idlib, which borders Turkey, is one of four "de-escalation" zones in Syria covered by a deal meant to reduce violence that was struck last year by Turkey, Russia and government-backer Iran.
The regime's Russian-backed offensive has angered Ankara, which on Wednesday called on Moscow and Tehran to "fulfil their responsibility" and halt the operation.
Turkey on Tuesday summoned the Russian and Iranian ambassadors to Ankara in order to convey its "uneasiness" about their actions in Idlib.
"Regime forces are striking moderate opposition with the pretext of fighting against Al Nusra [Front)] ," Foreign Minister Mevlut Cavusoglu said, referring to the former Al Qaeda affiliate.
More than 340,000 people are estimated to have been killed in the Syrian war, which began in 2011 as the regime brutally crushed anti-government protests. Millions have been displaced.
Related Articles
Jan 14,2018
BEIRUT — Syrian troops have recaptured dozens of towns and villages from extremist fighters, a monitor said Sunday, bringing them closer to
Oct 05,2017
MOSCOW — Russia on Thursday said its air strikes in Syria had destroyed a huge underground arms depot belonging to the Hayat Tahrir Al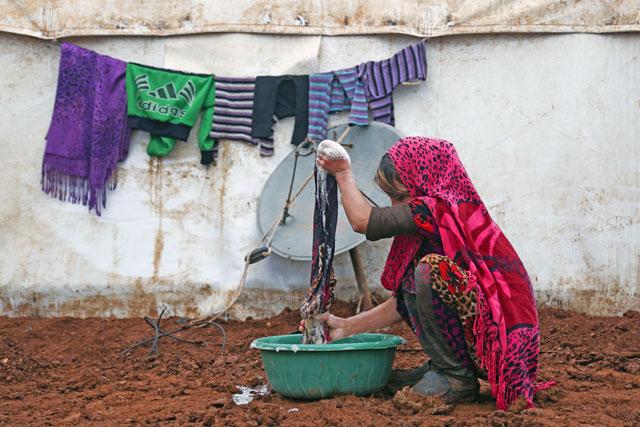 Jan 07,2018
BEIRUT — Syria's army and its allies pressed further into the country's largest remaining rebel stronghold on Sunday, capturing a town and s
Newsletter
Get top stories and blog posts emailed to you each day.