You are here
Fuel enters Gaza to ease humanitarian crisis — Hamas
By AFP - Oct 10,2018 - Last updated at Oct 10,2018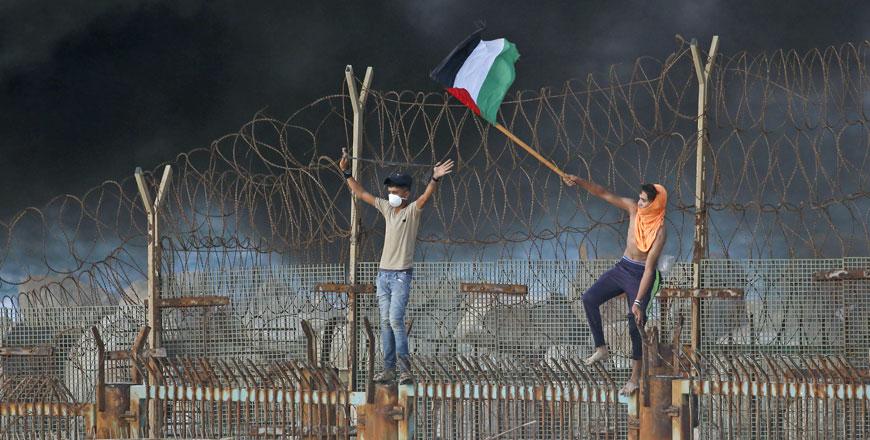 Palestinian protesters place their national flag on a metal structure during a demonstration on the beach near the maritime border with Israel, in the northern Gaza Strip, on Monday (AFP photo)
GAZA — Qatari-bought fuel arrived at the Gaza Strip's only power station after entering through Israel-controlled territories on Tuesday in a bid to alleviate conditions in the Palestinian enclave, a Hamas spokesman and sources said.
The delivery could help ease months of protests and clashes along the border between Israel and Hamas-run Gaza, which has been under a crippling Israeli blockade for more than a decade.
But it was met with criticism by officials close to Palestinian president Mahmoud Abbas, whose rival administration was not involved.
UN officials and Egypt have in recent weeks pursued indirect talks between Islamist movement Hamas and Israel. Israeli officials, however, refused comment on the delivery.
A Palestinian source at the Kerem Shalom crossing in southern Gaza — the only goods crossing to Gaza — said six trucks carrying 450,000 litres of fuel crossed Tuesday.
AFP journalists saw at least one truck arriving at the power station in Gaza City.
"The Qatari fuel to the Gaza Strip's power plant today is aimed at partially improving electricity [supply] in Gaza," Hamas spokesman Hazem Qassem told AFP.
For months residents of the strip have been receiving only four hours of mains electricity a day on average.
The United Nations has warned that Israel's 11-year blockade of the strip has resulted in a "catastrophic" humanitarian situation.
Under the UN-brokered deal, Qatar pays for the fuel which is then delivered through Israel with United Nations monitoring, a diplomatic source said.
In a statement Tuesday Azzam Al Ahmad, a senior official close to Abbas, threatened retaliatory measures if the fuel deliveries continued.
Hamas seized control of Gaza from Abbas's Palestinian Authority in a 2007 near civil war.
Multiple reconciliation attempts aimed at restoring the PA to power in Gaza have failed.
Qassem said that the deliveries were facilitated "through the United Nations because of the vacuum left by the PA".
Abbas says that making deals with Hamas amounts to recognising their control over Gaza in place of the PA.
They lash out
Israeli Prime Minister Benjamin Netanyahu said on Tuesday that Abbas was exacerbating Gaza woes and thereby fuelling its residents' aggression toward Israel.
"Abu Mazen is strangling them economically and they lash out at Israel," he told a press conference in his Jerusalem office, referring to Abbas by his Arabic nickname.
Netanyahu did not specifically refer to the oil shipment but spoke of "attempts to reach a practical solution so that he will stop this strangulation".
He said that if Gaza tension reached boiling point and brought an uptick in attacks on neighbouring southern Israel "the price they will pay will be very great".
"I'm not looking to launch unnecessary wars," he said. "But if there's no alternative you wage war with all your strength."
Israeli occupation troops launched three onslaughts on the Palestinians in Gaza and the Hamas resistance group since 2008.
The recent unrest has raised fears of yet another conflict.
But there have been attempts in recent weeks by UN officials and Egypt to reach a long-term truce between the sides through indirect talks.
The Israelis say the blockade on Gaza is necessary to isolate Hamas.
Newsletter
Get top stories and blog posts emailed to you each day.