You are here
Iran president eyes better ties with Gulf Arabs during trip
By Reuters - Feb 15,2017 - Last updated at Feb 15,2017
BEIRUT — Iranian President Hassan Rouhani said his country sought good relations with its Gulf Arab neighbours as he began a one-day trip to Oman and Kuwait on Wednesday, his first since taking power in 2013.
Relations between predominantly Shiite Iran and the mainly Sunni Arab countries of the Gulf, particularly Saudi Arabia, remain strained over their support for opposing sides in the conflicts in Syria and Yemen.
"The basis of the policy of the Islamic Republic of Iran is always good neighbourly relations with neighbours and the security of the Gulf," Rouhani said, according to the Islamic Republic News Agency (IRNA).
Rouhani also said there should be greater unity between Shiites and Sunnis, saying they had "coexisted side by side peacefully for hundreds of years", IRNA reported.
Omani state news agency ONA reported that the country's ruler, Sultan Qaboos, welcomed Rouhani with a 21-gun salute when he arrived at the Al Alam Palace in the capital Muscat. Omani media showed Qaboos receiving Rouhani outside the palace, the sultan's second public appearance since he returned from medical checks in Germany in April last year.
The agency said the two sides discussed ways for enhancing bilateral cooperation but gave no further details. Oman helped to mediate secret US-Iran talks in 2013 that led to the historic nuclear deal signed in Geneva two years later.
Qaboos became the first Arab head of state to visit Iran after Rouhani took office.
In 2013, the two countries signed an agreement to supply Iranian gas to Oman through a pipeline to be built under the Gulf in a deal valued at $60 billion.
Saudi Arabia and Bahrain cut diplomatic relations with Iran in January 2016 after protesters torched the Saudi embassy in Tehran. Kuwait, Qatar and the United Arab Emirates recalled their envoys in a show of solidarity with Riyadh, but Oman only expressed regret over the attack, highlighting its better ties.
Rouhani was due in Kuwait later on Wednesday for talks with the emir, Sheikh Sabah Al Ahmad Al Sabah, expected to include efforts to ease tensions between Tehran and Riyadh.
Kuwait's foreign minister made a rare visit to Tehran in late January and called for frank dialogue between Iran and its regional neighbours.
Related Articles
Feb 14,2017
TEHRAN — Iranian President Hassan Rouhani is to visit Oman and Kuwait on Wednesday, state television reported, amid efforts by Kuwait to men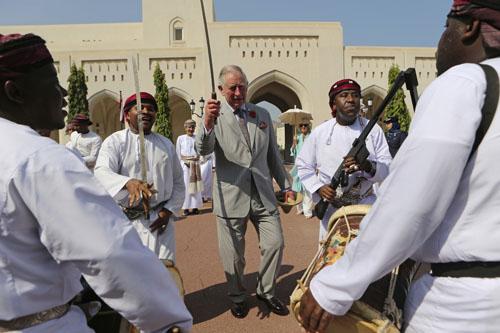 Nov 06,2016
MUSCAT — Oman's Sultan Qaboos held talks with Britain's Prince Charles and his wife Camilla, in his first announced meeting with foreign dig
Mar 12,2014
Iranian President Hassan Rouhani held talks in Muscat with Sultan Qaboos Wednesday as he kicked off a two-day Oman visit aimed at boosting economic ties between the longtime allies.
Newsletter
Get top stories and blog posts emailed to you each day.