You are here
Israel advances plans for 770 settlement units
By AFP - Jul 26,2016 - Last updated at Jul 26,2016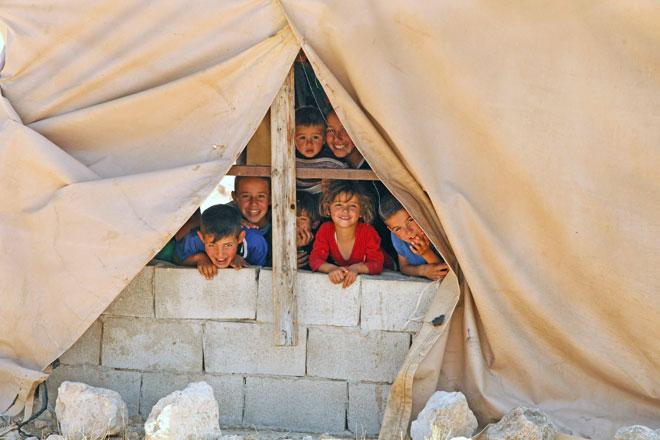 Palestinian children look out from a window in the Palestinian village of Khirbet Zanuta, located in the hills south of the West Bank city of Hebron, on May 30 (AFP photo)
OCCUPIED JERUSALEM — Israeli authorities have advanced plans for 770 new settlement units in occupied East Jerusalem, officials and rights groups said Monday, drawing condemnation from Palestinian leaders and the United Nations.
The units would expand the Gilo settlement on the southern perimeter of East Jerusalem. They are part of a larger plan for around 1,200 units approved some three years ago, said Ir Amim, an NGO that monitors Israeli settlement activity.
The land where they are to be built requires technical approval known as "reparcelisation" by Jerusalem's local planning and building committee in order for the process to advance, according to Ir Amim.
The committee has now deposited the plans for public objections ahead of possible approval.
"The plans in question are not new, and were approved three years ago," a statement from Jerusalem Mayor Nir Barkat's office said.
"Recent deliberations in the municipal planning committee concerned technical details of plot distribution within the previously approved project."
The move to further advance the plans drew condemnation both from UN and Palestinian officials.
Israeli settlements in East Jerusalem and the occupied West Bank are viewed as illegal under international law.
They are also considered major stumbling blocks to peace efforts as they are built on land Palestinians view as part of their future state.
A recent report by the diplomatic Quartet — the United States, European Union, Russia and the UN — said settlement expansion was eroding the possibility of a two-state solution to the conflict.
"I strongly condemn the recent decision by Israeli authorities to advance plans to build some 770 housing units in the settlement of Gilo, built on the lands of occupied Palestinian towns and villages between Bethlehem and East Jerusalem," Nickolay Mladenov, UN special coordinator for the Middle East peace process, said in a statement.
Saeb Erekat, secretary general of the Palestine Liberation Organisation, said the decision "further reflects the failure of the international community to stop Israel's settlement expansion".
Israel occupied the West Bank and East Jerusalem in 1967. It later annexed East Jerusalem, which Palestinians view as their future capital.
The status of Jerusalem has been among the most contentious issues in peace negotiations, which have been at a standstill since April 2014.
Related Articles
Jul 28,2016
WASHINGTON — The United States is deeply concerned about Israel's reported plans to build an additional 323 units in settlements in East Jer
Nov 23,2016
OCCUPIED JERUSALEM — Jerusalem's municipality has proposed building 500 more housing units in an area of the city occupied by Israel after t
Jan 26,2017
OCCUPIED JERUSALEM — Israeli officials gave final approval Thursday to 153 East Jerusalem settler housing units, the deputy mayor said, addi
Newsletter
Get top stories and blog posts emailed to you each day.