You are here
Israel denies visits to Palestinian hunger strikers — lawyer
By AFP - Apr 25,2017 - Last updated at Apr 25,2017
Palestinians stage a protest to show solidarity with detainees on hunger strike held at Israeli prisons in Ramallah, West Bank, on Monday (Anadolu Agency photo)
RAMALLAH, Palestinian Territories — Israel has forbidden contact with the 1,500 Palestinian prisoners on hunger strike for the past eight days, the lawyer wife of protest leader Marwan Barghouthi told AFP on Tuesday.
"International organisations like the Red Cross, Israeli Arab parliamentarians and lawyers are forbidden from visiting the prisoners on strike," said Fedwa Barghouthi, who, like her husband, is a senior member of President Mahmoud Abbas' Fateh Party.
"These Israeli measures are illegal and contravene the most basic of human rights," she said.
Lawyers had got Israel's supreme court to declare the ban illegal, but "were surprised to find they were still not permitted to visit detainees on the pretext that their health did not allow it", Barghouthi added.
Her 57-year-old husband, who is serving five life sentences over his role in the second Palestinian Intifada or uprising, went on hunger strike on April 17 to demand better conditions.
He was joined in the protest by more than 1,000 other Palestinian prisoners who say they will go without food until their demands ranging from better medical care to phone access are granted.
On Monday, Palestinian NGO the Palestinian Prisoners' Club said Barghouthi's health had declined seriously since the protest began.
Palestinian officials warned that if he gets worse, this could spark an "explosion".
Barghouthi is popular among Palestinians, with polls suggesting he could win the Palestinian presidency.
Palestinian leaders have denounced Israel's refusal to negotiate with the hunger strikers, warning of a "new Intifada" if any of them die.
On Tuesday, the committee that backs the hunger strikers called for a boycott on Israeli products and for trucks to be blocked from entering occupied Palestinian territory.
"Not buying Israeli products is the least every citizen can do to support the strike," it said in a statement.
Related Articles
Apr 19,2017
RAMALLAH, Palestinian Territories — Palestinian leaders on Wednesday denounced Israel's refusal to negotiate with Palestinians on hunger str
Apr 18,2017
RAMALLAH — Hundreds of Palestinians in Israeli jails launched a hunger strike Monday following a call from leader and prominent prisoner Mar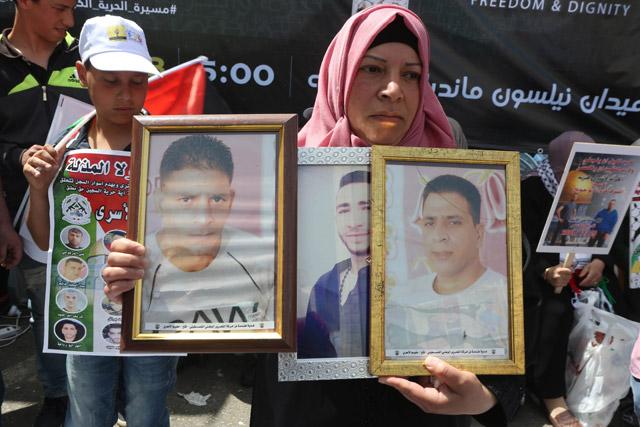 Apr 27,2017
RAMALLAH, Palestinian Territories — Palestinians held a general strike Thursday in solidarity with hundreds of prisoners in Israeli jails on
Newsletter
Get top stories and blog posts emailed to you each day.