You are here
Israeli demolitions leave 27 homeless in West Bank
By AFP - Aug 09,2016 - Last updated at Aug 10,2016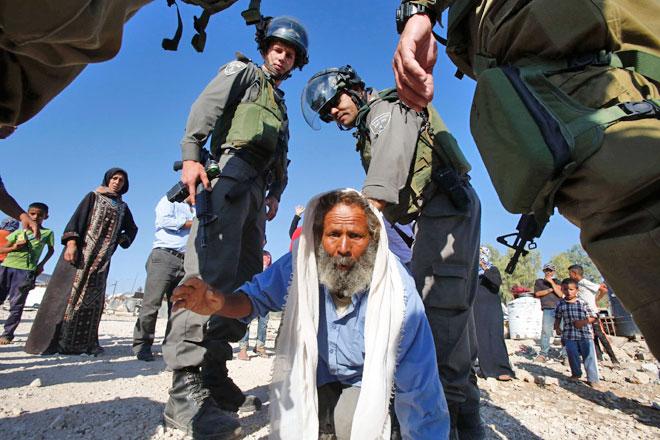 Palestinian Suleiman Hadhalin (centre) is surrounded by Israeli troops as he tried to prevent Israeli occupation authorities from destroying his house that they said was built without permission, on Tuesday, in the village of Um Al Kheir, south of the West Bank city of Hebron (AFP photo by Hazem Bader)
Um Al Kheir, Palestinian Territories — Israel demolished five homes in the occupied West Bank on Tuesday, leaving 27 Palestinians homeless, more than half of them children, residents and an Israeli rights group said.
Israeli bulldozers destroyed the prefabricated shelters in the village of Um Al Kheir, some of them built with European Union funding, early on Tuesday, said the B'Tselem NGO.
Israeli forces forcibly evacuated residents who attempted to prevent the demolitions, said the group, which campaigns against Israel's occupation of the West Bank and regularly criticises abuses in the Palestinian territories.
An AFP photographer at the site saw children playing amid twisted iron sheets and personal belongings, under searing heat.
B'Tselem said the demolitions had left 16 children homeless.
The structures had been built with EU aid after houses in the village, on the southern tip of the West Bank, were demolished at least eight times, Palestinian Prime Minister Rami Hamdallah said in a statement.
"Israel is relentlessly destroying Palestinians' homes and livelihoods in order to make way for more illegal settlements," he said.
About 600,000 Israeli settlers live in the West Bank and East Jerusalem, Palestinian territories occupied by Israel since 1967.
The international community sees the settlements as a major obstacle to the creation of a Palestinian state and therefore to peace between the two sides.
Settlement construction has gone hand-in-hand with demolitions of Palestinian homes.
Um Al Kheir lies close to the Israeli settlement of Carmel.
Israel argues that most of the buildings it demolishes have been constructed without building permits. But the necessary permits are rarely given to Palestinians.
COGAT, the department of Israel's defence ministry in charge of the occupied territories, did not immediately comment on the Um Al Kheir demolitions.
Related Articles
Aug 22,2015
OCCUPIED JERUSALEM — Aid groups Friday denounced Israeli demolitions of homes in the West Bank where the UN said 63 houses and other structu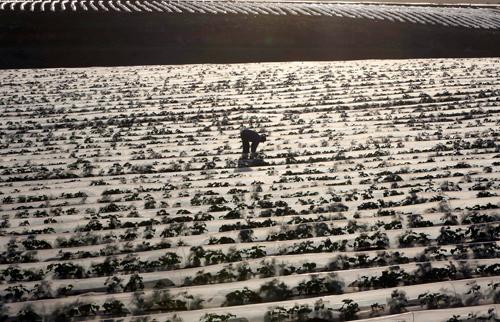 Mar 05,2016
OCCUPIED JERUSALEM — Israeli forces demolished dozens of structures including a school in the northern West Bank last week, leaving 10 famil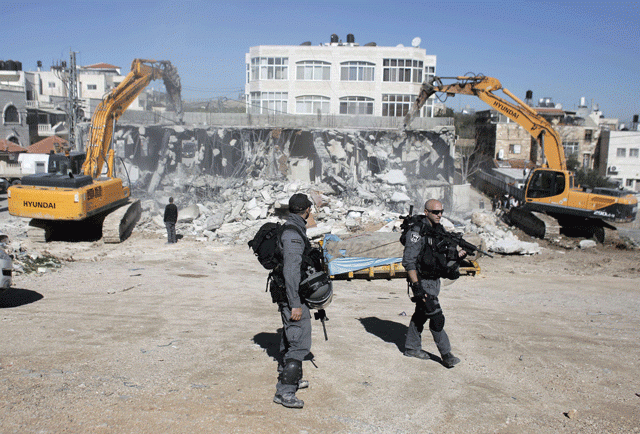 Jan 24,2015
The United Nations has accused Israel of illegally demolishing the homes of 77 Palestinians, mostly children, last week in annexed East Jerusalem and the occupied West Bank.
Newsletter
Get top stories and blog posts emailed to you each day.