You are here
Israeli shelling kills Gaza woman
By AFP - May 05,2016 - Last updated at May 05,2016
Smoke rises following an Israeli air strike in Rafah, in the southern Gaza Strip, on Thursday (AFP photo)
GAZA CITY — A Palestinian woman was killed when Israeli tank shells hit her home in the southern Gaza Strip on Thursday, the second day of exchanges of fire with Hamas fighters.
They were the first direct confrontations between Israeli soldiers and Hamas fighters since the devastating 2014 Israeli aggression on Gaza, and come as a new tunnel reaching into Israel was discovered.
Since the confrontations broke out, Hamas and other groups have fired bullets and mortar rounds on at least 10 occasions, and the Israeli air force has carried out at least three bombing raids.
Israeli tanks stationed on the border have also fired multiple times at what the army said were Hamas targets.
Late on Thursday afternoon, tank shelling that followed a mortar attack from the Khan Yunis area in southern Gaza killed Zeina Al Amour, 54, according to the Nasser hospital that pronounced her death.
A 21-year-old was also wounded in artillery shelling in the area.
The shelling came after a night in which air raids wounded four people, three of them children, medical and security officials said.
The Palestinian attacks were targeting Israeli forces working near the border fence searching for tunnels crossing under the border, like those whose destruction it cited as one of the main achievements of the 2014 conflict.
The army announced a new tunnel was found on Thursday, after a first one was discovered in mid-April.
The flare-up has raised concerns over the fate of a ceasefire between Israel and Hamas, the Islamist rulers of Gaza, that has held since the Israeli aggression left more than 2,251 Palestinians and 73 Israelis dead, mostly soldiers.
Hamas's armed wing, the Ezzedine Al Qassam Brigades, accused Israeli forces of encroaching into Gazan territory and said it was ready to respond.
'Breakthrough' in tunnel finding
Israeli army spokesman Lieutenant Colonel Peter Lerner said the new tunnel discovered Thursday had been about 30 metres deep.
Lerner did not say how far into Israel the tunnel stretched or when it was built, but confirmed the discovery was made by Israeli forces on the Gazan side of the border.
The army would continue to act along the disputed border region.
"We see Hamas are continuing to try and build this infrastructure into Israel and it is something we are not prepared to tolerate," said Lerner.
Israeli media have reported a major technological advance in Israel's ability to detect Hamas tunnels, with Prime Minister Benjamin Netanyahu last month hailing the "breakthrough in the ability to locate tunnels".
The army has kept the nature of the alleged technology secret and Lerner refused to elaborate.
However the Shin Bet security service said Thursday a Hamas tunnel expert was arrested in the weeks before the first discovery.
Mahmud Atawnah, 29, from Jabalia area of northern Gaza, was taken into custody at the beginning of April after crossing the border fence into Israel, it said, adding he had provided "a lot of information on the Hamas tunnel industry".
The army also established a closed military zone around the small Israeli border town of Nahal Oz on Wednesday, saying troops had been fired on in the area.
Gaza has been devastated by three conflicts between Israel and its Hamas rulers and other Palestinian factions since 2008, and reconstruction has been painstakingly slow amid an Israeli blockade on all imports that could have military purposes.
'No interest in escalation'
Although renewed violence has raised fears of a fresh conflict, sources on both sides downplayed the danger.
"Israel has no interest in escalation whatsoever," Lerner said.
Mustafa Al Sawaaf, former editor at the Hamas-affiliated Palestine newspaper, said the Islamist movement was not looking for a wider conflict.
"What happened are feelers and will not lead in the near future to a showdown between the resistance and the occupation," he said, saying Hamas was sending a message to Israel to stop its incursions.
"I think the message has been delivered."
On Thursday, Israeli General Yoav Mordechai denied reports about a cease-fire agreement between the sides.
"The army intends to maintain its activities against Hamas as it continues to breach Israeli sovereignty and build tunnels," he said in a statement.
The border region has remained relatively quiet since 2014, despite allegations by the army that Hamas is building new tunnels from the enclave that could reach into Israel.
Most of the sporadic rocket fire from Gaza has been attributed to fringe Islamist groups challenging Hamas's authority, although Israel holds Hamas responsible for all fire from the territory and routinely responds with attacks on its positions.
Related Articles
Aug 21,2016
OCCUPIED JERUSALEM — Israel targeted Hamas positions in the Gaza Strip by air and with tank fire on Sunday after a rocket fired from the Pal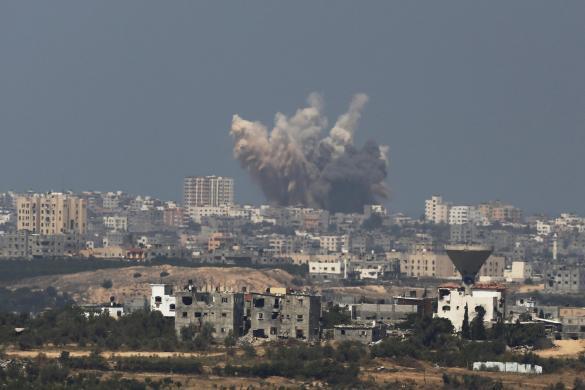 Aug 08,2014
Israel launched air strikes across the Gaza Strip on Friday in response to Palestinian rockets fired after Egyptian-mediated talks failed to extend a 72-hour truce in the month-long war.
May 05,2016
GAZA CITY — Israel launched air raids Wednesday on the Gaza Strip after a day of tensions along the border of the Palestinian territory whos