You are here
Mass grave of victims of Daesh found in Syria's Palmyra
By AFP - Apr 02,2016 - Last updated at Apr 02,2016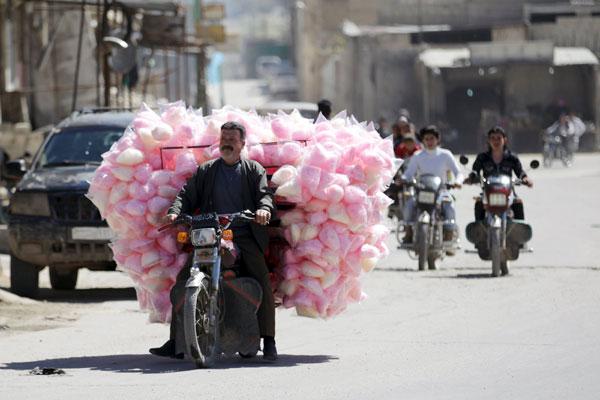 A man rides a motorbike as he sells cotton candy along a street in the rebel-controlled area of Maaret Al Numan town in Idlib province, Syria, on Friday (Reuters photo)
DAMASCUS — Syrian troops have found a mass grave containing the bodies of 42 people executed by Daesh militants in Palmyra, as Washington warned the group's leader will eventually "taste justice".
Daesh has in recent months claimed responsibility for deadly attacks in Brussels and Paris, but has lost ground in Syria and Iraq.
Days after Syrian troops backed by Russian forces recaptured Palmyra and its ancient ruins, the army "uncovered a mass grave of officers, soldiers, members of the popular committees [pro-regime militia] and their relatives," a military source told AFP on Saturday.
Twenty-four of the victims were civilians, including three children, he said, asking not to be named.
"They were executed either by beheading or by shooting."
The bodies, which were found on Friday, have been transferred to a military hospital in the provincial capital Homs and some have been identified.
In a major symbolic and strategic coup for President Bashar Assad, the Syrian army on Sunday recaptured Palmyra and its UNESCO World Heritage Site, which Daesh had overrun in May 2015.
During their nearly 10-month occupation of Palmyra, the extremists executed at least 280 people, according to the Syrian Observatory for Human Rights, Britain-based monitor which confirmed the discovery of the mass grave.
Soon after Daesh stormed Palmyra, it shot dead 25 soldiers in the ancient Roman theatre.
It later released a video of the mass killing in which the executioners appeared to be children or teenagers.
Syria's five-year war has left at least 270,000 people dead. Few mass graves have been found, however.
Nearly a week on, few of Palmyra's up to 70,000 residents have returned.
"People fear reprisal by the regime, and also the mines planted all over the city by IS [Daesh]," Observatory director Rami Abdel Rahman told AFP.
"In addition, many houses were flattened by Russian air strikes before Palmyra was reclaimed," he added.
Daesh chief 'to taste justice'
About 70 kilometres to the west, Syrian troops on Saturday pounded the Daesh-held city of Sukhna, which the army wants to take back in order to consolidate its grip over Palmyra.
"If the regime takes Sukhna, it will use it as a launching pad for an operation against Deir Ezzor province," in eastern Syria, along the Iraqi border, which is mostly controlled by Daesh, Abdel Rahman said.
The Syrian army has previously said the takeover of Palmyra would allow it to extend operations against Daesh in the east and around Raqqa, the extremists' de facto capital in the north.
A five-week-old ceasefire imposed by the United States and Russia, which back opposing sides in Syria's war, has seen Damascus focus its firepower on the extremists, as the truce does not apply to them.
At least 40 mostly foreign Daesh members, including 18 child soldiers, were killed in raids Thursday on a village in Deir Ezzor province, the observatory said.
It was one of the single highest tolls that Daesh has suffered in a single strike since it emerged in Syria in 2013, the monitor said.
Daesh has lost a string of high-ranking commanders in the past few weeks, mainly to strikes by the US-led coalition which launched a campaign against the militants in 2014.
On Wednesday, a drone strike near Raqqa, likely by the US-led coalition, killed Abu Al Haija, a Tunisian commander summoned by Daesh leader Abu Bakr Al Baghdadi from Iraq.
On Friday, the Pentagon warned that Baghdadi himself, who in 2014 appointed himself "caliph" of swathes of Iraq and Syria, would eventually be hunted down and killed.
"Just like we found his mentor, [Abu Musab] Al Zarqawi and killed him. Just like we found the grand master of terrorism, Osama Bin Laden, we killed him. We are going to find Baghdadi, and he will taste justice," military spokesman Colonel Steve Warren said.
The US military is also working with "dozens" of Syrian rebels under a revamped train-and-equip programme implemented after a much-criticised initiative collapsed last year, Warren said.
And while the truce has largely held, there have been reports of violence. The observatory said regime air strikes on a rebel-held town east of Damascus Thursday left 33 dead including 12 children.
Qatar condemned the raids with its foreign ministry warning that Syrian air strikes could "torpedo" the fragile ceasefire.
up
11 users have voted, including you.
Related Articles
Jul 27,2017
BEIRUT — Syrian government forces are nearing the last major town held by the Daesh terror group in Homs province, part of their multi-prong
Mar 30,2016
MOSCOW/BEIRUT — President Bashar Assad said it would not be difficult to agree a new Syrian government including opposition figures, but his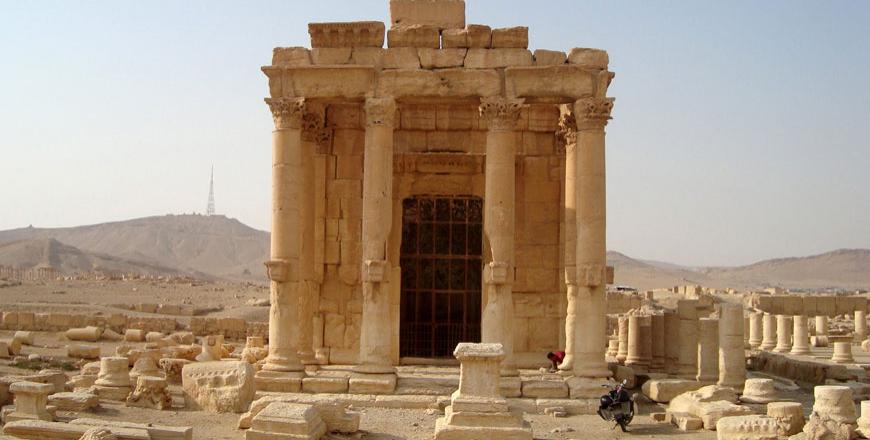 Aug 24,2015
BEIRUT — The Daesh terror group has blown up a famed temple in Syria's ancient Palmyra, in an act the UN condemned as a war crime and an "im
Newsletter
Get top stories and blog posts emailed to you each day.