You are here
Morsi, secular camp in dock for 'insulting' Egyptian judiciary
By AFP - May 24,2015 - Last updated at May 24,2015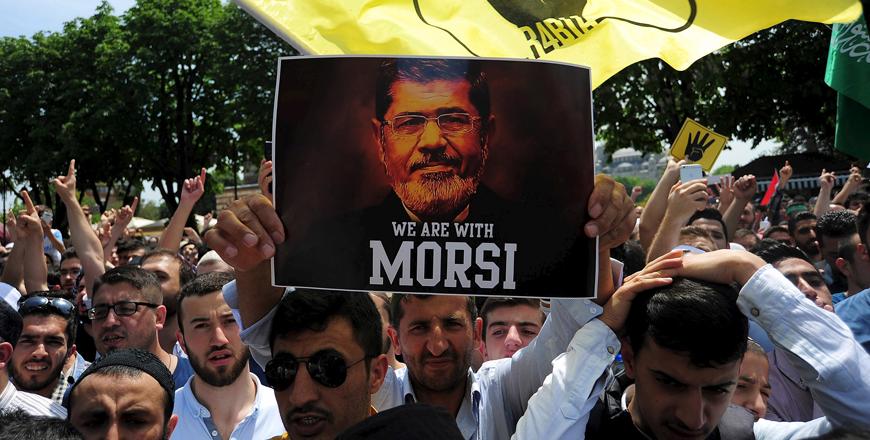 Pro-Islamist demonstrators hold a poster of former Egyptian president Mohamed Morsi during a rally in support of him in front of the Haghia Sophia Museum at Sultan Ahmet Square in Istanbul, Turkey, on Sunday (Reuters photo)
CAIRO — Ousted Islamist president Mohamed Morsi went on trial Saturday alongside several secular figures behind Egypt's 2011 uprising, underlining a crackdown on all forms of dissent.
The trial for "insulting the judiciary" is the fifth for Morsi, who was sentenced to death last week on charges connected with a mass prison break during the uprising that toppled longtime autocrat Hosni Mubarak.
Bringing together all forms of opposition for the first time, Morsi and other Islamist opponents of President Abdel Fattah Al Sisi were back in the dock along with several liberal and secular opposition leaders.
Twenty-five defendants — including even some Sisi supporters — stand accused of contempt of court in comments made in parliament, speeches, on social media or in interviews.
The judge struck off the name of a 26th defendant.
Morsi was brought to court in the blue prison uniform of a convict and was separated from the other defendants in the courtroom, standing alone in a metal cage.
"I refuse to be tried because this court has no jurisdiction to judge me," said Morsi, who has defiantly disputed the legitimacy of all the courts that have tried him so far.
"Since November 2013, my family and my lawyers have been prevented from visiting me."
The seven other defendants in custody — secular as well as Islamist activists — appeared in a separate metal cage.
"The crackdown against the opposition is only intensifying and the judiciary is very much at the forefront of this crackdown," said Shadi Hamid, a fellow at the Brookings Centre for Middle East Policy.
"The trial will be kind of a test case of what the regime is thinking, not just of Islamists but also of the liberal and secular opposition as well."
Among the defendants is Alaa Abdel Fattah, a top secular activist behind the protests that led to the downfall of Mubarak.
Already in prison for participating in an "illegal protest" in November 2013, he has been charged over comments on Twitter on 2011 raids on the offices of foreign civil society groups.
Other defendants in court included Muslim Brotherhood leaders Mohamed Beltagy and Saad Al Qatatni.
Amr Hamzawy, a well-known political science professor and former MP, and human rights lawyer Amir Salem are also among the accused but were not in court.
Like Abdel Fattah, they had called for Morsi's ouster.
'Political revenge'
Defendant Essam Sultan, an Islamist, said at Saturday's hearing that prison authorities were "not giving us food, medicines or blankets".
"Farid Ismail died in the cell I am in because they did not give him medical treatment," he said, referring to a senior Brotherhood leader who died in custody earlier this month.
The trial was adjourned to July 27.
Morsi was toppled by then army chief Sisi in July 2013 after mass street protests against his turbulent year in power.
A sweeping crackdown overseen by Sisi has seen hundreds of Morsi supporters killed in clashes with security forces, thousands jailed and many more sentenced to death after speedy mass trials which the UN has said were "unprecedented in recent history".
Human rights groups accuse the authorities of using the judiciary as a tool to crush all kinds of opposition — Islamist as well as secular.
While Morsi and some leaders of his blacklisted Muslim Brotherhood have been sentenced to death in other trials, the judiciary has also sentenced several secular activists to long jail terms.
The latest trial is an example of "political revenge", said Abdel Fattah's defence lawyer Gamal Eid.
Defendant Mostafa Al Naggar, a former MP, is being tried for criticising a June 2012 court judgement sentencing Mubarak to life in prison over the deaths of 800 protesters during the 2011 revolt.
The judgement triggered angry protests demanding the death penalty for the veteran autocrat.
An appeals court overturned the ruling and ordered a retrial, which saw murder charges dropped against Mubarak.
"What I said in parliament was not an insult to the judiciary, but a call for judicial independence and reform," Naggar told AFP.
up
49 users have voted, including you.
Related Articles
Oct 22,2016
CAIRO — An Egyptian appeals court upheld on Saturday a 20-year sentence for ousted president Mohamed Morsi, the first final ruling in a stri
Jul 09,2015
CAIRO — An Egyptian court Thursday sentenced to death 10 men for killing a security guard for one of the judges hearing a case against ouste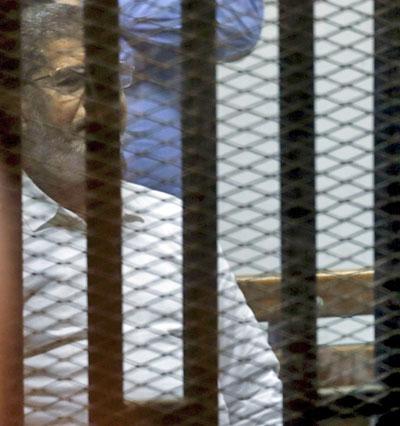 Apr 21,2015
Muslim Brotherhood leader Mohamed Morsi was sentenced to 20 years in prison without parole on Tuesday on charges arising from the killing of protesters, nearly three years after he became Egypt's first freely elected president.
Newsletter
Get top stories and blog posts emailed to you each day.