You are here
One dead as clashes rock Palestinian camp in Lebanon
By AFP - Feb 28,2017 - Last updated at Feb 28,2017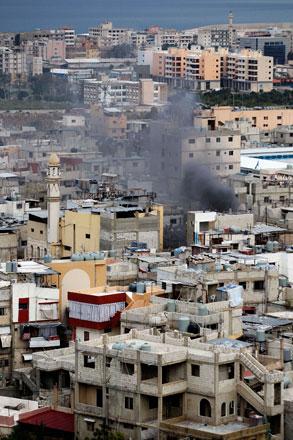 Smoke rises during the clashes between Fateh members and some Palestinian Islamist groups at Ain Al Hilweh refugee camp in Lebanon's southern port city of Sidon on Monday (Anadolu Agency photo)
SIDON, Lebanon — One civilian was killed and four wounded on Tuesday in fierce clashes that rocked Lebanon's largest Palestinian refugee camp for the sixth day, a medical source told AFP.
The fighting in Ain Al Hilweh near Lebanon's southern port city of Sidon has pitted members of Palestinian President Mahmoud Abbas' Fateh movement against Islamist groups.
Even as factions declared a ceasefire from the Palestinian embassy in Beirut, plumes of smoke could be seen rising from the camp on Tuesday, AFP's correspondent said.
The sharp crackle of gunfire was partly drowned out by the Muslim call to prayer from nearby mosques in Sidon, where hundreds of people displaced from the clashes had sought refuge.
"A 23-year-old civilian was killed in the fighting," a medical source at the Rai hospital in Sidon told AFP.
"We also treated four people including a young boy who was hit by a stray bullet and who is in critical condition," the source added.
Intermittent fighting broke out on Thursday after Fateh pulled out of a joint committee that maintained security in Ain Al Hilweh, but the violence later intensified, AFP's correspondent said.
Palestinian factions meeting at their embassy in Beirut on Tuesday announced that they had agreed on a ceasefire to end the fighting.
According to Lebanon's National News Agency, the groups said they would reestablish the joint security apparatus.
By long-standing convention, Lebanon's army does not enter Palestinian refugee camps, where security is managed by joint committees of Palestinian factions.
In recent years, tensions have risen between Fateh and the Jund Al Sham Islamist group in the camp.
The UN's Palestinian refugee agency said on Tuesday it had halted all services in the camp for the second day because of the unrest.
"Due to the violent clashes that erupted in Ain Al Hilweh and taking into consideration security considerations, all UNRWA services were suspended yesterday and today," the agency's statement said.
Ain Al Hilweh is an impoverished, overcrowded camp near the coastal city of Sidon, and is home to some 61,000 Palestinians, including 6,000 who have fled the war in Syria.
Related Articles
Aug 19,2017
SIDON, Lebanon — Palestinian security forces on Saturday battled radical Islamist gunmen in Lebanon's largest Palestinian refugee camp near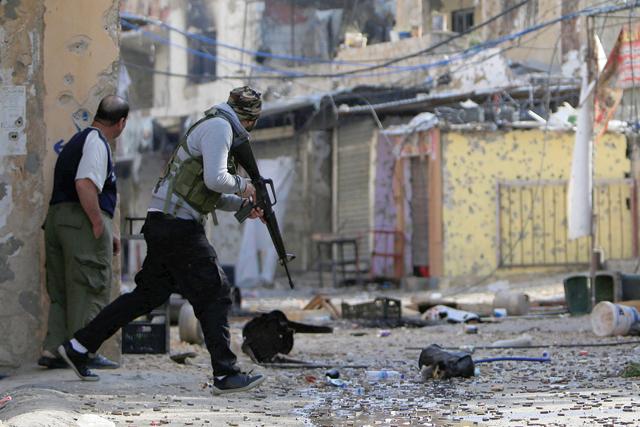 Apr 10,2017
SIDON, Lebanon — Sporadic clashes that have killed eight people continued in the Palestinian Ain Al Hilweh camp in southern Lebanon on Monda
Apr 08,2017
SIDON, Lebanon — Palestinian factions battled an extremist group in a refugee camp in southern Lebanon on Saturday in a second day of clashe
Newsletter
Get top stories and blog posts emailed to you each day.