You are here
Palestinians bury their dead after Israeli occupation forces kill nine
Israelis 'intentionally' kill a journalist, wound five others
By AFP - Apr 07,2018 - Last updated at Apr 07,2018
The funeral ceremony of Yassser Murtaja, 30, a Palestinian news reporter who was shot by Israeli occupation forces while covering a rally within the 'Great March of Return' on the Gaza border, is held in Gaza on Saturday (Anadolu Agrncy photo)
GAZA CITY — Palestinian mourners in the Gaza Strip on Saturday buried their dead, including a journalist, after Israeli troops killed nine on Friday during demonstrations at the border.
Thousands of protesters approached the border fence around Gaza for a second Friday in a row calling for the right of return for Palestinian refuges who were forced to flee their homes during events surrounding the "creation of Israel". Israeli occupation forces responded with tear gas and live ammunition.
In addition to the nine dead, at least 491 were wounded by Israeli gunfire, the health ministry in the Hamas-run enclave said.
Israel claimed that demonstrators were "seeking to breach the border".
Numbers were down from the previous Friday, when tens of thousands approached the border in demonstrations that saw Israeli occupation forces kill 19 Palestinians, making it the bloodiest day in Gaza since a 2014 war.
No Israelis were injured on either day, and the latest deaths have sparked fresh calls for an investigation.
Among those killed on Friday was Yasser Murtaja, 30, a photographer with the Gaza-based Ain Media agency, who died from his wounds after being shot, the health ministry said.
Murtaja's company confirmed his death, with witnesses saying he was close to the front of the protests in southern Gaza when he was hit.
An AFP picture taken after he was wounded showed Murtaja wearing a press vest as he received treatment.
His brother Motassem, also a journalist, said he was next to him when he was shot. "The target was very clearly journalists," he said.
'Intentional shot'
In the West Bank political capital of Ramallah, around 50 Palestinian journalists held a vigil for Murtaja.
Christophe Deloire, secretary general of watchdog Reporters Without Borders (RSF), said Murtaja was "obviously the victim of an intentional shot" and that his organisation "condemns with indignation the deliberate shootings of the Israeli forces against journalists".
Deloire urged an independent investigation of the incident.
The Palestinian Journalists' Syndicate said five other reporters were also shot and wounded by the Israeli forces during Friday's protests, despite wearing clothes clearly identifying them as journalists.
A group of over 70 international NGOs operating in the occupied Palestinian territories meanwhile condemned Friday's "unlawful killing of civilians in Gaza", calling for "an independent and transparent investigation".
'Fence not crossed'
Weeks of border protests have been called to demand the return of Palestinians to the homeland they were forced from or fled after the founding of Israel 70 years ago.
They come with tensions high as the United States gears up to shift its embassy in Israel to Jerusalem after recognising the occupied city as the capital of the Israeli state.
Protesters on Friday said economic woes were also fuelling frustration in Gaza, which has been under an Israeli blockade for a decade.
Egypt has mostly closed its border with the territory in past years, leaving the cramped area of 2 million people largely sealed off.
Late Friday, Kuwait called on the Security Council to investigate the deaths, but the US is likely to veto such a probe.
Israel rebuffed international calls for investigation into last Friday's killings, with the army saying occupation forces opened fire "in accordance with the rules of engagement".
Late Friday Israeli army spokesman Brigadier General Ronen Manelis classified the operation along the border as a "success".
"None of our troops were wounded, the fence was not crossed," he said, noting that what happened last week had "deterred Hamas, which prevented the masses from approaching the fence".
Related Articles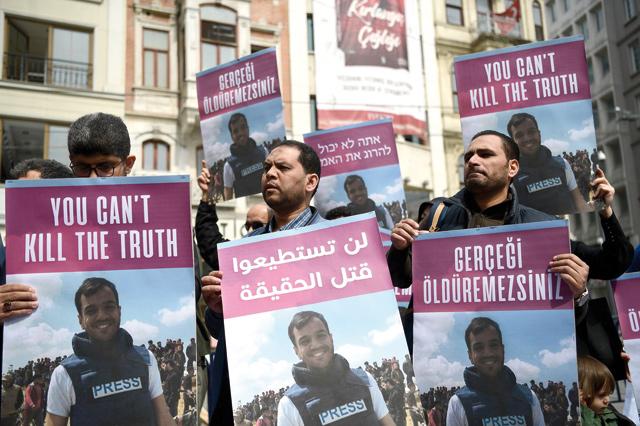 Apr 11,2018
RAMALLAH, Palestinian Territories — A Palestinian reporter killed last week by Israeli occupation force fire was detained and beaten by Hama
Apr 14,2018
GAZA CITY, Palestinian Territories —Thousands protested for a third consecutive Friday along Gaza's border with Israel amid violence in whic
Apr 05,2018
GAZA CITY, Palestinian Territories — A Palestinian was killed by an Israeli air strike on the Gaza border early on Thursday, the health mini
Newsletter
Get top stories and blog posts emailed to you each day.