You are here
Rebels seek ceasefire with Syrian army closer to retaking Aleppo
City gripped by humanitarian disaster, fear
By Reuters - Dec 07,2016 - Last updated at Dec 07,2016
Syrian residents fleeing the violence in the eastern rebel-held parts of Aleppo evacuate from their neighbourhoods through Bab Al Hadid district after it was seized by government forces, on Wednesday (AFP photo)
BEIRUT — Syrian rebels in besieged eastern Aleppo called on Wednesday for an immediate five-day ceasefire and the evacuation of civilians and wounded, but gave no indication they were ready to withdraw as demanded by Damascus and Moscow.
The Syrian army and allied forces have made rapid gains against insurgents in the past two weeks and look closer than ever to restoring full control over Aleppo, Syria's most populous city before the war, and achieving their most important victory of the conflict now in its sixth year.
In a statement calling for the truce, the rebels made no mention of evacuating the several thousand fighters who are defending an ever shrinking area of eastern Aleppo.
Syria and Russia, which supports Syrian President Bashar Assad, have said they want rebels to leave Aleppo and will not consider a ceasefire unless that happens.
"It's been a tragedy here for a long time, but I've never seen this kind of pressure on the city — you can't rest for even five minutes, the bombardment is constant," a resident said.
"Any movement in the streets and there is bombardment [on that area] immediately," said the east Aleppo resident contacted by Reuters, who declined to be identified. Fear gripped the remaining residents as food and water supplies were cut off.
Retaking Aleppo would also be a success for President Vladimir Putin who intervened to save Moscow's ally in September 2015 with air strikes, and for Shiite Iran, whose elite Islamic Republic Guard Corps has suffered casualties fighting for Assad.
The Syrian government now appears closer to victory than at any point in the five years since protests against Assad evolved into an armed rebellion. The war in Syria has killed hundreds of thousands of people, made more than half of Syrians homeless and created the world's worst refugee crisis.
Outside of Aleppo, the government and its allies are also putting severe pressure on remaining rebel redoubts.
Army retakes old city
The Syrian army now controls all of the Old City of Aleppo, a UNESCO World Heritage Site including the Umayyad Mosque, which had been held by rebels, the observatory said.
Explosions and artillery fire could be heard on Syrian state television in districts around the citadel which overlooks the Old City as the army pressed its offensive. More neighbourhoods were expected to fall but rebels were fighting ferociously.
Rebels have lost control of about 75 per cent of their territory in eastern Aleppo in under 10 days, Director of the Syrian Observatory for Human Rights Rami Abdulrahman said.
The "humanitarian initiative" published by rebels called for the evacuation of around 500 critical medical cases.
The Kremlin said on Wednesday that a potential US-Russia deal to allow Syrian rebels to leave Aleppo safely was still on the agenda.
Damascus and Moscow have been calling on rebels to withdraw from the city, disarm and accept safe passage out, a procedure that has been carried out in other areas where rebels abandoned besieged territory in recent months.
Russia and China vetoed a UN Security Council resolution on Monday calling for a week-long ceasefire. Moscow said rebels used such pauses in the past to reinforce.
The Syrian army's advance is a "strategic victory" that will prevent foreign intervention and alter the political process, Reconciliation Minister Ali Haidar told reporters in Damascus.
"Those who believed in the Syrian triumph, know that [the rebels'] morale is at its lowest and that these collapses that have begun are like domino tiles," he said. An official with an Aleppo rebel group, who declined to be named, told Reuters the United States appeared to have no position on the Syrian army assault on Aleppo, just weeks before US President-elect Donald Trump takes office.
"The Russians want the fighters out and they [the Americans] are ready to coordinate over that", said the Turkey-based official, citing indirect contacts with US officials.
While rebels say they could fend off the offensive for some time to come, the fighting is complicated by tens of thousands of fearful civilians trapped in the rebel-held area, many of them related to the fighters, the official said.
"The civilian burden is very heavy, in a small area."
The east Aleppo resident who has lived in the city through the war, said: "I shelter in the basement of the house I'm staying in; but in a bombardment that happened the day before yesterday a missile hit a five-storey building and drilled right into the basement."
As winter sets in, siege conditions are increasingly desperate, exacerbated by increasing numbers of displaced residents and food and water shortages.
"The weather's very cold, dangerously so, yesterday it went below zero. And when people were fleeing ... they came under shelling, many people were killed," the Aleppo resident said.
"There is no electricity at all, no drinking water. People who have bottles of water are drinking from that, others drinking from wells ... There are families who have not had bread for three days."
A UN official said on Wednesday about 31,500 people from east Aleppo have been displaced around the entire city over the past week, with hundreds more seen on the move on Wednesday.
With hospitals, clinics, water and food cut off, UN chief Ban Ki-moon said the situation was "heart-breaking... a serious humanitarian crisis".
Very few rebels had quit Aleppo so far, said Kremlin spokesman Dmitry Peskov, who described those who were left there as "terrorists" who were uniting around fighters from the group formerly known as Al Qaeda-linked Nusra Front.
But eastern Aleppo is widely seen by analysts of the Syria conflict as a bastion of the moderate opposition to Assad, which has maintained that extremists have little presence in the city.
Civilians wanting to leave east Aleppo should be evacuated to the northern Aleppo countryside, rather than Idlib province, the rebel document said. Idlib is dominated by Islamist groups include Fateh Al Sham, the group formerly known as the Nusra Front, and is facing intense bombardment by Russian warplanes.
Fighters and civilians from rebel-held areas around Syria have previously been transferred to rebel-held Idlib under agreements reached with the Syrian army. But the rebel document said Idlib was too dangerous due to intense air strikes, and was unable to cope with more displaced persons.
up
7 users have voted, including you.
Related Articles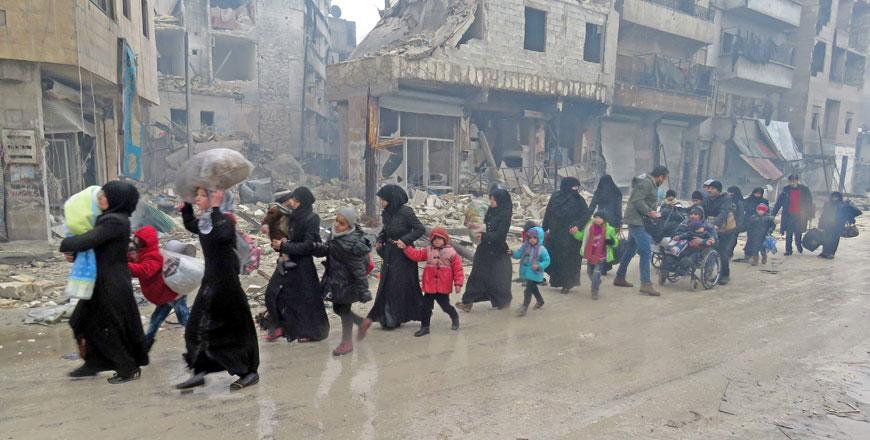 Dec 13,2016
ALEPPO/BEIRUT/GENEVA — Rebel resistance in the Syrian city of Aleppo ended on Tuesday after years of fighting and months of bitter siege and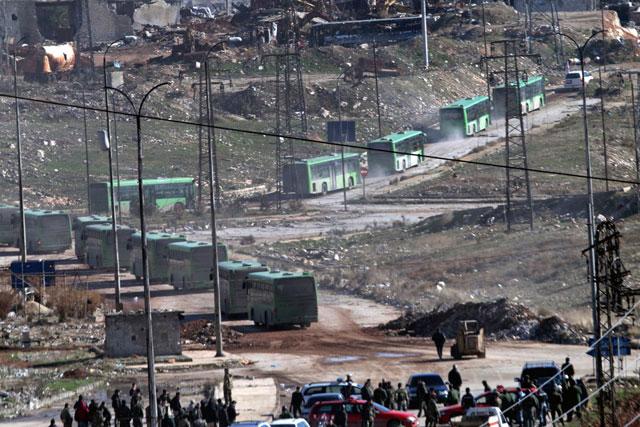 Dec 15,2016
ALEPPO/BEIRUT — An operation to evacuate thousands of civilians and fighters from the last rebel bastion in Aleppo began on Thursday, part o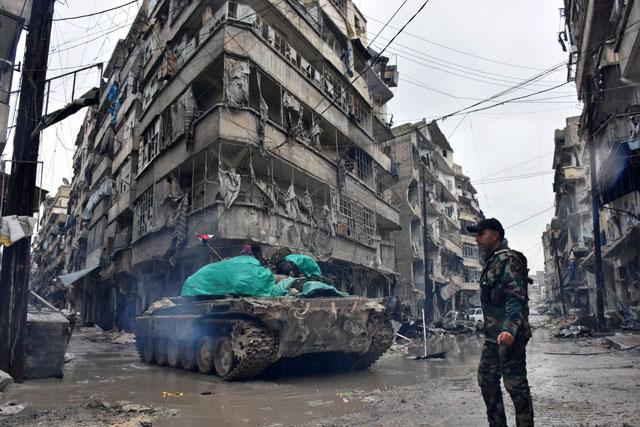 Dec 14,2016
ALEPPO/BEIRUT — Plans to evacuate besieged rebel districts of Aleppo were under threat on Wednesday as renewed air strikes and shelling rock
Newsletter
Get top stories and blog posts emailed to you each day.