You are here
Rival assaults on Daesh stronghold deepen Libya's chaos
By AP - May 07,2016 - Last updated at May 07,2016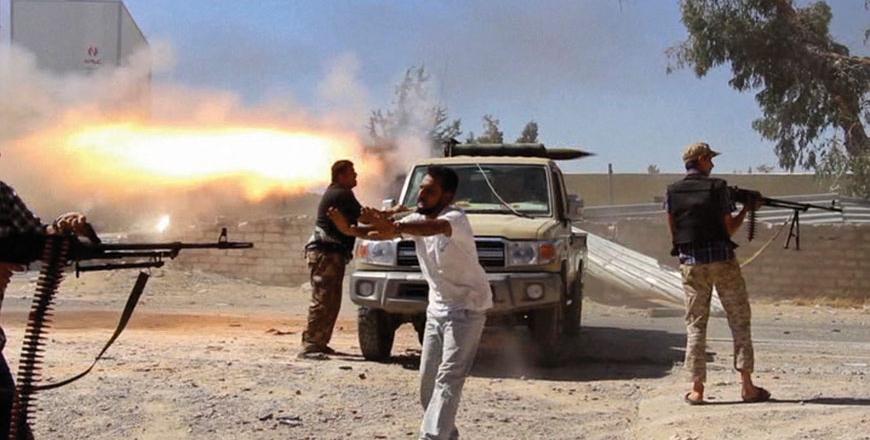 In this July 26, 2014, file frame grab from video obtained from a freelance journalist travelling with the Misrata Brigade, fighters from the Islamist Misrata Brigade fire towards Tripoli airport in an attempt to wrest control from a powerful rival militia, in Tripoli, Libya. On May 3, 2016, warplanes from Misrata struck fighters loyal to Khalifa Hifter, the army chief based in the east, who were guarding oil installations in the Zallah area, 300 kilometres south of Sirte. Hifter sent reinforcements that battled with fighters allied to Misrata and drove them out (AP photo)
CAIRO — From east and west, the forces of Libya's rival powers are each moving on the city of Sirte, vowing to free it from the hold of the Daesh terror group. The danger is they could very well fight each other as well.
Rather than becoming a unifying cause as the United States and Europe have hoped, the fight against the extremist group threatens greater fragmentation in Libya, which has been torn apart among rival militias, tribes, governments and parliaments since the 2011 downfall of longtime autocrat Muammar Qadhafi in a NATO-backed rebellion.
Each of the rival powers see capturing Sirte from the militants as a way to gain advantage over the other, seize control of vital oil facilities nearby and gain legitimacy in the eyes of the international community.
One of the two rivals is Khalifa Hafter, the army chief based in the east whose forces have been battling Islamists the past two years in the eastern cities of Benghazi and Darna. Backed by Egypt and the United Arab Emirates, he is considered a hero in the east. But he is widely despised in western Libya, where his opponents depict him as a would-be dictator along the lines of Qadhafi.
The other power are the militias of Misrata, Libya's third largest city, which have been the dominant force in the west since Qadhafi's fall and are bitterly opposed to Hifter.
"It's now clear Misrata and Hifter will compete over Sirte in order to establish who rules really in Libya," Mattia Toaldo, a Libya specialist at the European Council on Foreign Relations, told The Associated Press in an e-mail interview.
The moves on Sirte threaten to further undermine Fayez Sarraj, head of what is meant to be a national unity government envisaged under a UN-brokered deal reached after months of negotiations. So far, with only patchy support from some factions, Sarraj has been ensconced in a naval base in Tripoli since his return to the country in March, unable to exercise much power beyond his office walls — much like his predecessors.
In a televised speech last week, Sarraj condemned any unilateral assault on Daesh stronghold, insisting any move to retake Sirte should be led by his administration. "We will not let the battle to liberate Sirte turn into a political bargaining," he said.
But Sarraj has no real forces under his control. So he appears to be aligning with Misrata to thwart Hifter, who rejects Sarraj's government because the UN-brokered deal requires Hifter's removal as head of the military.
On Thursday, Sarraj ordered formation of a command that would nominally lead any Sirte operation, most of them army officers from Misrata.
More than a year ago, Daesh militants captured Sirte, located at around the midpoint of Libya's long Mediterranean coast. Though the extremists — many of whom are from Tunisia — have had little success at expanding their territory, their presence has raised alarm that they could take advantage of Libya's chaos to create a foothold.
The US, Europe and United Nations hope the creation of Sarraj's administration can unite Libya's factions against Daesh and provide a legitimate body that can receive foreign military assistance. His government is supposed to replace two rival governments that have fought for two years. One, based in Tripoli, was dominated by Islamists. The other is based in the eastern city of Tobruk, backed by Hifter, who commands a force made up of army units and eastern tribal fighters.
While Tripoli militias have supported him, the Tripoli-based government has refused to recognise Sarraj's administration. The parliament in Tobruk has been too divided to hold a required vote of confidence in Sarraj, in part because Hifter's allies are blocking it.
Whoever succeeds in capturing Sirte would be in a prime position to shape the unity government.
"The race for Sirte is on," the intelligence think tank Stratfor wrote in an analysis last week. "The victor will secure greater bargaining power in the ongoing high-stakes negotiations" to put together the national accord government.
The UN envoy to Libya, Martin Kobler, warned of civil war, saying on his Twitter account Thursday, "Libyans must not fight each other, they should jointly fight the common enemy," referring to Daesh.
Already the two sides have clashed, raising concerns of an all-out fight.
On Tuesday, warplanes from Misrata struck fighters loyal to Hifter who were guarding oil installations in the Zallah area, 300 kilometres south of Sirte. Hifter sent reinforcements that battled with fighters allied to Misrata and drove them out.
The Misrata militias were once the backbone of the Islamist-led government in Tripoli. But Misrata neighbours Sirte and has been highly concerned over Daesh control there. Because Tripoli's rulers have been reluctant to fight Daesh, Misrata's politicians and militias have expressed support for the UN unity deal as a way to both fight Daesh and remove Hifter.
Hatred between Misrata and Sirte runs deep. Sirte was the birthplace of Qadhafi and many of its residents were his diehard supporters. Misrata suffered heavily from Qadhafi's crackdown early in the 2011 uprising against his rule. Then when the tide turned and the autocrat was deposed from Tripoli, Misrata fighters attacked Sirte, eventually finding Qadhafi there and killing him along with many of his loyalists.
On Thursday, Daesh suicide bombers hit three checkpoints manned by the Misrata militiamen south of the city, killing eight and then seizing the area. Misrata warplanes responded with air strikes, as authorities put Misrata on alert.
Hifter's forces could have a better chance of taking Sirte, since he has supporters there. The general hails from one of Sirte's major tribes, Farjan.
His commanders announced Wednesday that his forces were starting to advance towards Sirte.
In a sign of how violence may be further stoked by the assault, mortars hit a rally of hundreds of Hifter supporters in Benghazi on Friday as they cheered the Sirte offensive. Three were killed, including one woman. Suspicion fell on Daesh pockets in Benghazi.
On route to Sirte, Hifter's forces will likely face clashes with allies of Misrata. Hifter's opponents are convinced he intends to use the Sirte operation to capture nearby oil infrastructure currently in the hands of Ibrahim Jedran, a militia commander who backs Sarraj's government.
Hifter's army spokesman Ahmed Al Mesmari said oil infrastructure is not the objective and that the advancing forces would avoid them.
But Jedran's brother, Salem Jedran, who is mayor of Ajdabiya town near the oil terminals, accused Hifter of aiming to control the oil.
"This could end up with a new civil war," he said. "All forces here are waiting for the right moment to attack ... There is no trust among any of the parties."
Related Articles
Jul 11,2016
SIRTE — When Western officials cajoled Libya's warring factions to support a unity government this year, they said it was a chance for the r
Jul 01,2016
TRIPOLI — On March 30, Libya's prime minister-designate Fayez Al Sarraj sailed into Tripoli under naval escort and set up the headquarters o
Aug 29,2016
SIRTE, Libya — Libya's pro-government forces on Monday cornered Daesh extremists in their last holdouts in the coastal city of Sirte, after
Newsletter
Get top stories and blog posts emailed to you each day.