You are here
Shiite pilgrims in Iraq's Karbala hail 'revenge' against Daesh
By AFP - Nov 10,2017 - Last updated at Nov 10,2017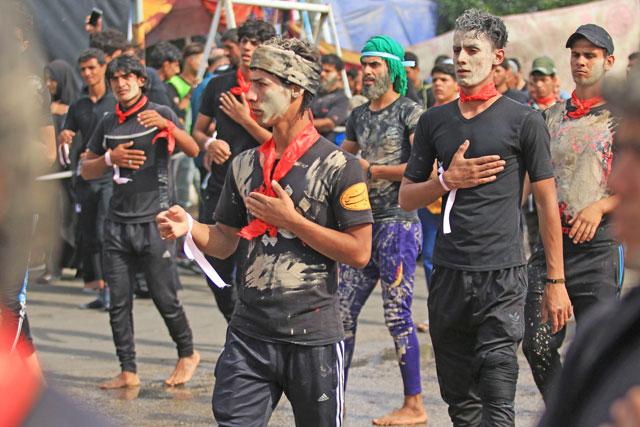 Shiite Muslim pilgrims gather in the southern Iraqi city of Karbala on Wednesday ahead of the Arbaeen religious festival, which marks the 40th day after Ashura, commemorating the seventh century killing of Prophet Mohammed's grandson, Imam Hussein (AFP photo)
KARBALA, Iraq — Like millions of other Shiite pilgrims, Arkan Al Husseini travelled to Iraq's shrine city of Karbala for the Arbaeen commemoration on Thursday of Imam Hussein's killing in battle — but this time also to celebrate the Daesh group's battlefield defeats.
"God has taken his revenge" against the extremist group, he said, after Iraqi security forces backed by mainly Shiite paramilitary units this year swept to victory after victory, leaving Daesh confined to a sliver of territory on the Syrian border.
The annual commemoration of Arbaeen marks the end of the 40-day mourning period for the 7th-century killing of Imam Hussein by the forces of the Caliph Yazid — a formative event in Shiite Islam.
The expulsion of Daesh extremists from Iraqi cities has added an extra dimension to this year's pilgrimage to Imam Hussein's shrine in Karbala, about 80 kilometres southwest of Baghdad.
"Thanks to God, Imam Hussein has overcome the tyrants. We've crushed them with the force granted to us by God," said 68-year-old Husseini, his face framed by a white beard and black headband.
Imam Hussein's killing in 680AD was part of a fierce dispute over who should succeed the Prophet Mohammed, which eventually developed into a bitter schism between the Sunni and Shiite branches of Islam.
"Today we have defeated the children of Yazid," said the pilgrim from northern Iraq as he made his way towards the golden-domed mausoleum of the imam killed in the Battle of Karbala.
Almost 20 million Shiites converge on Karbala each year for Arbaeen, many on foot and others on chartered buses, from across Iraq and abroad, especially neighbouring Iran.
"These millions of people in Karbala are proof of our victory" over the jihadists, said another pilgrim, Mahmud Mohammed, 62.
Daesh swept across swathes of Iraq in 2014 and has regularly targeted Shiite pilgrims in devastating bomb attacks.
But the extremist group has seen its self-styled "caliphate" disintegrate on the battlefield this year, losing its key northern Iraqi bastion of Mosul in July.
'Victory of
good over evil'
"Today, we are celebrating the victory of good over evil," said Mohammed, a member of Iraq's Shabak minority from near Mosul.
Abdel Hussein Farah, a resident of Karbala, said: "Now that we've finished with the [Daesh] people, we feel safe."
But just like all the other black-robed pilgrims, he had to cross five checkpoints to reach the mausoleum.
Tens of thousands of security personnel have been deployed, as in past years, around the perimeters of the sanctuary as well as on all roads leading to Karbala.
Tents flying different coloured flags have been erected along the routes for volunteers to hand out food and drinks to pilgrims, as Iraqis mix with visitors from Iran, Yemen, Oman, Bahrain, Pakistan and Lebanon.
Against a backdrop of religious chants, men and women weep and beat their chests in mourning, some of the younger men using swords that leave blood dripping down their robes.
Arbaeen, which means 40 in Arabic, also marks the return to Karbala of companions of Imam Hussein held prisoner in Damascus for 40 days, and who had been presented with his head as a trophy by the Caliph Yazid.
The mausoleum was built at the site of the head's burial.
Related Articles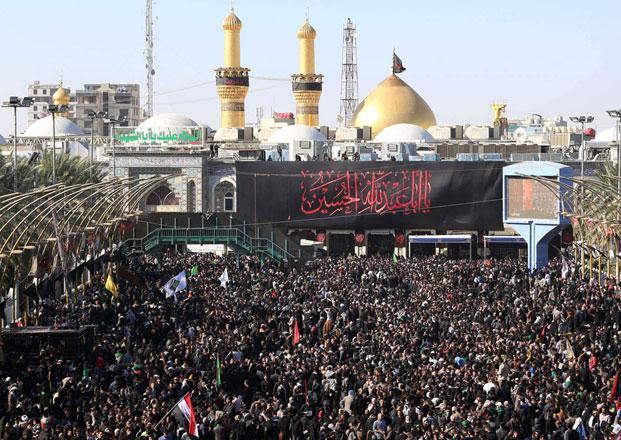 Dec 03,2015
KARBALA, Iraq — Millions of Shiite Muslims, beating their heads and chests in mourning, packed the Iraqi city of Karbala Thursday for the cu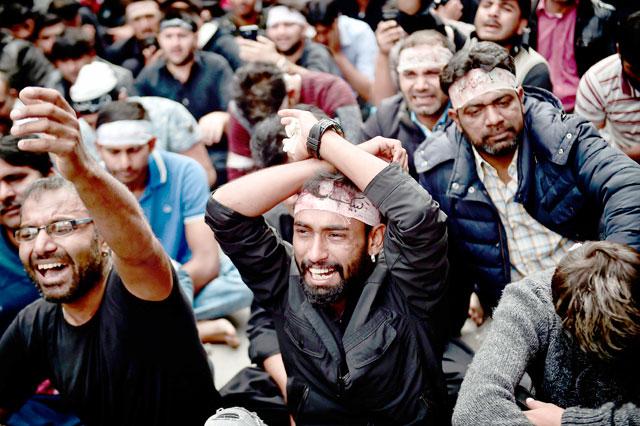 Oct 01,2017
KARBALA, Iraq — Hundreds of thousands of Shiite Muslim pilgrims gathered in the Iraqi shrine city of Karbala on Sunday for ceremonies markin
Nov 08,2017
TEHRAN — More than 2 million Iranian pilgrims have crossed the border into Iraq for the annual Arbaeen Shiite pilgrimage to be celebrated on
Newsletter
Get top stories and blog posts emailed to you each day.