You are here
Shiite rebels capture central Yemeni city
By AFP - Oct 29,2014 - Last updated at Oct 29,2014
SANAA — Shiite rebels seized a city in central Yemen Wednesday seen as a strategic link to the south, further widening their territory following deadly clashes with tribesmen, security and tribal sources said.
Yemen has been sliding into turmoil since an Arab Spring-inspired uprising ousted strongman Ali Abdullah Saleh in 2012, with armed rivals including the Houthi Shiite rebels and Al Qaeda battling each other.
The Houthis took control of Radmah — located on a road linking the capital Sanaa with the main southern city Aden — on Wednesday after 24 hours of fighting against local tribesmen, a security official told AFP.
Radmah is part of Ibb province, where the rebels have been locked in deadly battles with mostly-Sunni tribesmen this month.
The Houthis easily overran the capital in September before moving on to the Red Sea port city of Hudeida as well as Shiite-populated Dhamar and the provincial capital of Ibb.
The rebels, from the mountainous north, are seeking greater political clout in impoverished Yemen, which is located next to oil kingpin Saudi Arabia and key shipping routes in the Gulf of Aden.
Yemen is a key US ally that has allowed Washington to conduct drone strikes against Al Qaeda on its territory, and the fighting has raised fears of it collapsing into a failed state.
Radmah is a stronghold of the Muslim Brotherhood-linked Al Islah (Reform) Party, whose supporters have been resisting the Houthi advance.
Tribal sources said that nine fighters from both sides were killed during the battle for the city.
In the provincial capital Ibb further southwest, dozens of armed rebels stormed the main security headquarters overnight and members of the security forces fled, an official said.
With the fall of Radmah, the Houthis now control Ibb province with the exception of Udain, which is in the hands of Al Qaeda and allied tribesmen, a local official said.
In Rada, in the neighbouring province of Baida, 12 Houthis were killed in an attack by Al-Qaeda suspects, tribal sources said.
The Houthis, who had long been concentrated in their northern highlands where Shiites form a majority, have been facing fierce resistance from local tribesmen as well as Al Qaeda.
The rebels appear undeterred by a weekend speech by President Abed Rabbo Mansour Hadi who urged the Houthis to "immediately pull out" of all seized areas including the capital.
But political sources in Sanaa told AFP that tribes allied to the Shiite rebels were expected to meet in Sanaa on Friday following calls by rebel leader Abdulmalik Al Houthi to discuss ways to return the country to normality.
Related Articles
Oct 26,2014
Yemeni troops and a US drone struck positions held by Al Qaeda suspects and Sunni tribes on Sunday killing over a dozen insurgents who have been battling Shiite rebels, tribal sources said.
Feb 09,2014
Shiite rebels and Yemeni tribesmen agreed a ceasefire on Sunday after deadly clashes between the two sides in the Arhab district near the capital Sanaa, state news agency Saba said.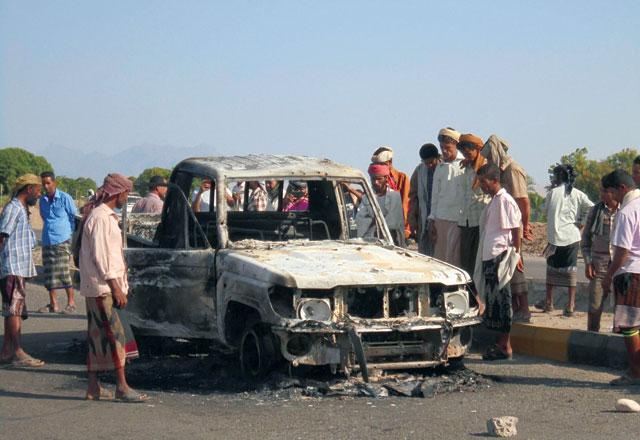 Oct 18,2014
Shiite rebels seeking to expand their territory across Yemen have clashed with Sunni tribesmen and Al Qaeda fighters in violence that has left dozens dead, officials said Saturday.
Newsletter
Get top stories and blog posts emailed to you each day.