You are here
Syria rebels in south announce return to talks with Russia
Over 30 towns in southern Syria have agreed to surrender
By AFP - Jul 05,2018 - Last updated at Jul 05,2018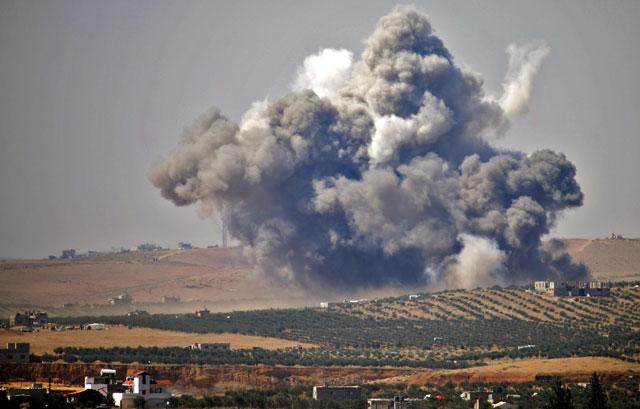 Smoke rises above rebel-held areas of the city of Daraa, during reported airstrikes by Syrian regime forces on Thursday (AFP photo)
DARAA/BEIRUT/UNITED NATIONS — Rebels in Syria's battered south are returning to talks with government ally Russia, an opposition spokesman said on Thursday, after nearly a full day of unprecedented bombing on their positions.
Hussein Abazeed, spokesman for the rebels' southern operations, told AFP the "talks will resume".
The announcement came as the Syrian Observatory for Human Rights monitor said both Russian and Syrian government air strikes had stopped over the south, after a nearly 24-hour bombing blitz.
Waves of air strikes pounded rebel-held areas of southern Syria on Thursday, as pro-regime forces unleashed their most intensive bombing campaign yet in a two-week-old offensive.
The renewed assault came after the failure on Wednesday of Russian-brokered talks to end the offensive in Daraa province, which has killed dozens and forced tens of thousands from their homes.
Several members of the UN Security Council on Thursday were putting pressure on Russia to obtain humanitarian access to southwest Syria which is facing heavy bombardment by the Moscow-backed regime of President Bashar Assad.
Olof Skoog, Swedish ambassador to the UN, called on Russia's counterparts to "urge parties to intensify efforts to enable cross border convoys from Jordan and urgently step up the protection for civilians" ahead of an emergency meeting called by Kuwait and Sweden, which holds the council's rotating presidency this month.
It came as UN Secretary-General Antonio Guterres issued a new statement about the regime offensive in southern Syria that began on June 19, which he said was having a "devastating impact on civilians".
Little concrete action is expected out of the meeting. Asked why it was being held behind closed doors and not in public, Skoog said: "The world is aware of the situation there. What we need to work out between ourselves is what the council can do about it. Sometimes that is better done in the closed chamber."
"It is important that the cross border humanitarian assistance from Jordan is able to reach the refugees," said Dutch Ambassador Karel Van Oosterom, who emphasised the "grave responsibility for Russia, they are guarantor for the de-escalation zone".
Throughout the day on Thursday, hundreds of missiles, crude barrel bombs, and air strikes by Russia and Syria slammed into rebel-held towns.
An AFP correspondent on the edge of the rebel-held south of the city of Daraa, the divided provincial capital, said the bombing was the heaviest since the launch of the Russian-backed offensive on June 19.
"From last night until now, Russian airplanes are pursuing a scorched earth policy," said Hussein Abazeed, spokesman for the joint rebel command for the south.
The Britain-based Syrian Observatory for Human Rights said bombing hit the town of Tafas in the northwest of Daraa province and areas near the Jordanian border.
Six civilians, including a woman and four children, were killed in strikes on the town of Saida.
Hours later, regime forces fully retook the town and also seized control of a security checkpoint on the Jordanian border for the first time in more than three years, the monitoring group said.
State television showed footage of columns of smoke and said air strikes were aiming to cut rebel access routes in the southernmost parts of the province.
The regime's main prize, the Nasib border crossing, remains in rebel hands.
After retaking large parts of the country with Russia's help, regime forces set their sights on the southern provinces of Daraa and Quneitra, bordering Jordan and the Israeli-occupied Golan Heights.
Moscow has been brokering talks with rebel towns for negotiated surrenders in a carrot-and-stick strategy that it and the regime have used to retake other territory, including the Eastern Ghouta region near Damascus earlier this year.
More than 30 southern towns have already agreed to surrender, expanding the regime's control of Daraa province to more than 60 per cent, double what it held before the offensive.
Russian threats
The talks this week focused on remaining rebel territory in Daraa province's western countryside and the southern half of the provincial capital.
At a meeting between rebel and Russian negotiators on Wednesday, Moscow insisted opposition factions hand over their heavy weapons in one go, while rebels wanted to do so in several phases.
Moscow also reportedly refused requests from some rebels for safe passage to opposition-held territory in other parts of Syria, as was done in Eastern Ghouta and Aleppo.
The rebel spokesman for the south, Abazeed, told AFP that during Wednesday's meeting a Russian negotiator who identified himself as Alexander had threatened renewed strikes from Russian's airbase in northwestern Syria.
"He threatened that if we didn't agree to the deal, 40 planes would leave Hmeimim Airport to bomb the south."
Daraa is considered the cradle of the 2011 uprising against President Bashar Assad that triggered Syria's devastating civil war.
Nearly 150 civilians have died since the assault in the south began, according to the observatory.
The offensive has also displaced 320,000 people, according to the United Nations, many south to the border with Jordan or west to near the Israeli-occupied Golan Heights.
Both countries have kept their borders closed, despite mounting calls to let Syrians escape to safety.
The International Rescue Committee said displaced families were struggling to cope with 45oC heat, dry desert winds and scorpions and snakes.
Children were reported to be hit with cases of diarrhoea and lice after spending more than a week on the border.
World powers have criticised the operation for violating a ceasefire announced last year by Washington, Amman and Moscow.
UN High Commissioner for Refugees Filippo Grandi said that the hostilities were hindering UN efforts to provide cross-border aid from Jordan.
"Thousands of innocent lives are going to be lost, once again, if urgent action is not taken," he warned.
Related Articles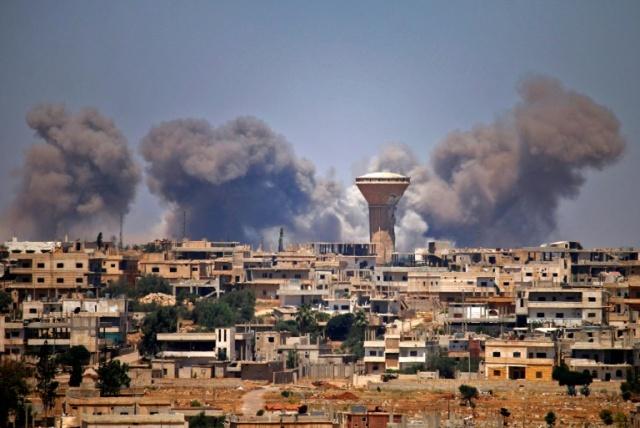 Jul 07,2018
DARAA — The Syrian regime on Friday reached a deal with rebels for the surrender of the remaining opposition-held cities and towns in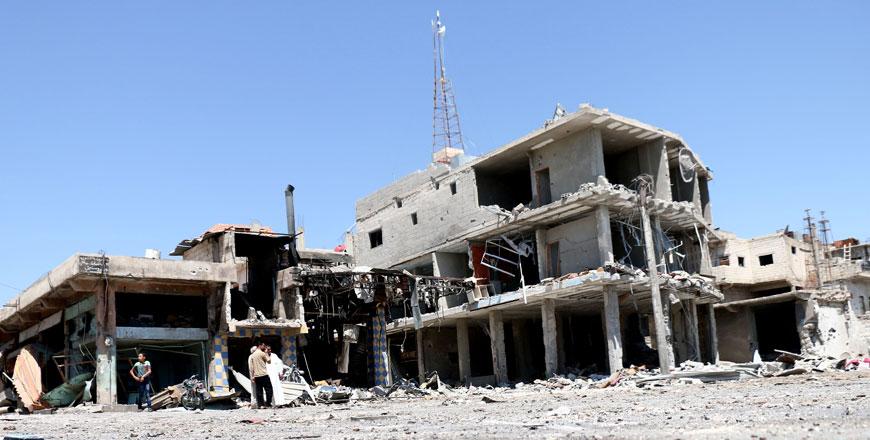 Jul 18,2018
BEIRUT — Air strikes have killed 15 civilians in a rebel-held pocket of southern Syria as regime ally Russia presses talks for Damascus to r
Jul 08,2018
DARAA, Syria — Thousands of displaced Syrians were heading home on Saturday after rebels and the government reached a ceasefire deal in the
Newsletter
Get top stories and blog posts emailed to you each day.