You are here
Turkey-backed Syria rebels seize battleground town from Daesh
By AFP - Feb 23,2017 - Last updated at Feb 23,2017
Members of Free Syrian Army patrol in the Syrian town of Al Bab after the town centre has been entirely freed from Daesh terrorists as part of the operation 'Euphrates Shield', Aleppo, Syria, on Thursday (Anadolu Agency photo)
AL BAB, Syria — Turkish-backed Syrian rebels said on Thursday they had fully captured the town of Al Bab from the Daesh terror group, marking a key defeat for the extremist after weeks of heavy fighting.
As Ankara said its allies now had "near complete control" of the town, a fresh round of peace talks opened between the Syrian opposition and regime in Geneva.
Al Bab, just 25 kilometres south of the Turkish border, was the last Daesh stronghold in the northern Syrian province of Aleppo.
"We are announcing Al Bab completely liberated, and we are now clearing mines from the residential neighbourhoods," said Ahmad Othman, a rebel commander.
"After hours of fighting, we chased out the last remaining Daesh rank and file that were collapsing after the fierce shelling of their positions," he added.
Turkish Defence Minister Fikri Isik said rebels had "near complete control" of Al Bab.
"When the search and combing operations are over, we will be able to say that Al Bab has been completely cleared of Daesh elements," he said, quoted by state-run Anadolu news agency.
Isik reaffirmed that Turkey was now ready to join any operation by international coalition forces to take the Syrian city of Raqqa, the extremist group's de facto capital.
Rebels dance in streets
An AFP correspondent could hear intermittent gunfire on Thursday afternoon as rebel units continued to clear the heavily damaged town.
Most rebel fighters appeared relieved, with some dancing in the streets and others munching on a late breakfast after hours of clashes.
But others were on edge, nervously discussing three bombs that had detonated that morning in areas under their control.
Several corpses of alleged Daesh militants lay crumpled under a destroyed building.
One rebel poached a weapon from a dead Daesh militant.
The Syrian Observatory for Human Rights said Daesh militants were still present in parts of the town and that rebels were in control of less than half of it.
Rebels launched an offensive to capture Al Bab last year with the support of Turkish ground troops, artillery and air strikes.
Al Bab was Daesh's last remaining stronghold in Aleppo province, after a US-backed alliance of Kurdish and Arab fighters seized the town of Manbij in August.
The extremist group still controls a scattering of villages and towns in the province.
Field commanders from two other rebel factions in the town also claimed the capture of Al Bab to AFP, including Abu Jaafar, who said he expected clearing up operations would be wrapped up within hours.
"Dozens of Daesh militants were killed and we evacuated more than 50 families from inside Al Bab," he said.
Turkey sent troops into Syria in August last year in an operation it said targeted not only Daesh but also US-backed Kurdish fighters whom it regards as terrorists.
The battle for Al Bab has been the bloodiest of the campaign with at least 69 Turkish soldiers killed.
The town was also seen as a prize by Syrian President Bashar Assad's forces, who had advanced to just 1.5 kilometres from Al Bab in recent weeks.
"Al Bab is important, insofar as its taking from Daesh will deprive the group of a tax base and an area where it was able to congregate and plot attacks against Syrians and the West," said Aaron Stein, a senior fellow at the US-based Atlantic Council.
"For Turkey, the mission, as was defined back in 2016, is now complete: Turkish forces have forced Daesh from the border and cut the overland route between the two Kurdish cantons" in northern Syria, he told AFP.
Syria's Kurds have managed autonomous administrations in swathes of the country's north since 2012, and Al Bab falls between the "cantons" of Kobane and Afrin.
"However, Turkey will now have to grapple with the questions of prolonged occupation of a foreign country and help to oversee the transition to civilian rule, a tall task for any foreign military," Stein added.
More than 310,000 people have been killed since Syria's conflict broke out in March 2011 with protests against Assad that spiralled into all-out war.
Related Articles
Feb 23,2017
ISTANBUL — The Syrian town of Al Bab was for three years a key extremist stronghold in northern Syria, whose capture Ankara hopes will give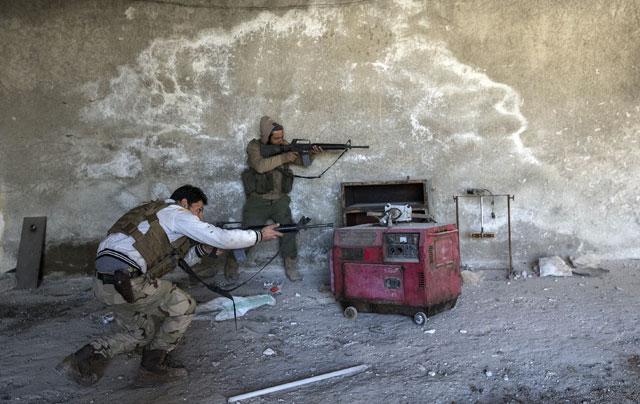 Feb 22,2017
ISTANBUL — Turkey said on Wednesday fewer than 100 extremists were still holed up in the flashpoint Daesh terror group Syrian town of Al Bab
Aug 25,2016
BEIRUT — Turkey's decision to send troops into Syria is a last-ditch bid to prevent the realisation of its worst nightmare: the creation of
Newsletter
Get top stories and blog posts emailed to you each day.