You are here
UN insists two-state solution remains 'only way'
Security Council discusses Mideast conflict after Trump drops commitment to two-state solution
By AFP - Feb 16,2017 - Last updated at Feb 17,2017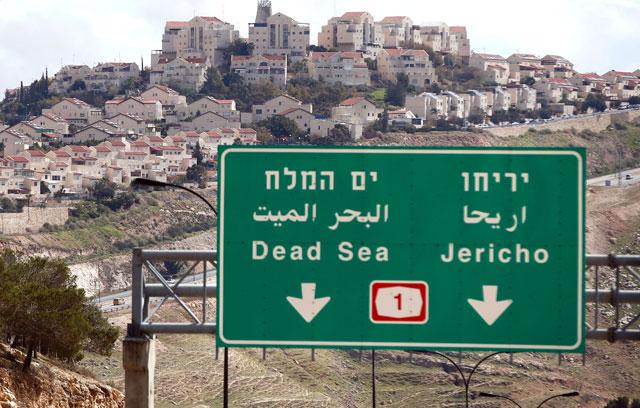 A photo taken on Wednesday shows part of the Israeli settlement of Maale Adumim, east of Jerusalem, in the occupied West Bank (AFP photo)
UNITED NATIONS — The two-state solution remains "the only way" to meet the aspirations of the Palestinians and Israelis, the UN envoy for the Middle East peace process told the Security Council on Thursday.
The council met to discuss the Israeli-Palestinian conflict a day after President Donald Trump stepped back from the US commitment to a two-state solution as part of a final peace deal.
"The two-state solution remains the only way to achieve the legitimate national aspirations of both peoples," Nickolay Mladenov told the council.
"Some may hold the illusion that the conflict can be 'managed' indefinitely," Mladenov said. "That the absence of a clear strategy to advance peace is a strategy in itself."
The envoy urged Israeli and Palestinian leaders to "carefully contemplate the future", which he warned could be one "built on perpetual conflict, rising extremism and occupation".
Trump announced Wednesday that the United States would not insist on a two-state solution to the conflict, in a break from Washington's decades-old policy and from the international consensus on the peace process.
"I'm looking at two-state and one-state, and I like the one that both parties like. I'm very happy with the one that both parties like," Trump said. "I can live with either one."
Trump's comments were welcomed by Israel's rightwing government but the Palestinians reacted with alarm.
Britain, France and Sweden reaffirmed their support for a two-state solution.
"It is very dangerous to move away from the two-state solution idea, especially before you have something viable as an alternative," Sweden's Ambassador Olof Skoog warned.
"We don't see any viable alternative right now," Skoog told reporters ahead of the meeting. Sweden has recognised Palestinian statehood.
British Ambassador Matthew Rycroft said his government "continues to believe that the best solution for peace in the Middle East is the two-state solution".
French Ambassador Francois Delattre echoed Mladenov's comments, saying: "should the prospect of a Palestinian state disappear, it would open the door to more extremism and more terrorism".
Related Articles
Mar 30,2017
RAMALLAH, Palestine — President Donald Trump is "serious" about solving the Israel-Palestinian conflict, Palestinian President Mahmoud Abbas
Feb 16,2017
OCCUPIED JERUSALEM — Donald Trump's shelving of the decades-long goal of a two-state solution to the Middle East conflict has excited Israel
Apr 03,2017
OCCUPIED JERUSALEM — Three months after a landmark UN resolution condemning Israeli settlement units, the measure has changed little on the
Newsletter
Get top stories and blog posts emailed to you each day.