You are here
UN welcomes Russian words on Aleppo truce, trucks 'ready to move'
By Reuters - Aug 18,2016 - Last updated at Aug 18,2016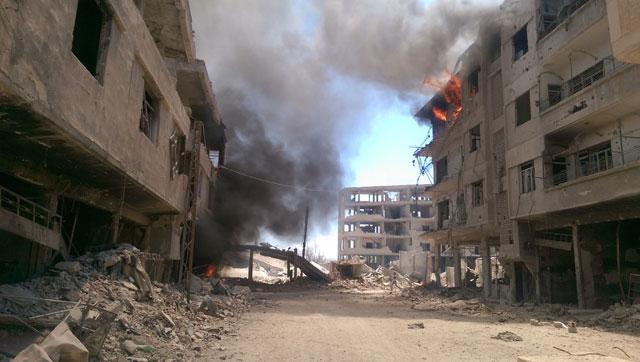 Fire and smoke gush out of buildings following reported air strikes on the Syrian besieged rebel-held town of Darayya, near the capital Damascus, on Tuesday (AFP photo)
GENEVA —Russia said on Thursday it would support a 48-hour ceasefire in Aleppo, a move the UN Syria envoy said would allow aid to reach besieged areas soon, as long as all sides respect the temporary truce.
As pictures of a dazed child pulled from the rubble in heavily bombarded rebel-held eastern Aleppo reminded the world of the plight of the city's civilians, Moscow said it was ready to start the first "humanitarian pause" next week.
UN Special Envoy Staffan de Mistura has long called for a 48-hour halt in fighting each week to allow aid delivery and medical evacuations from both rebel-held eastern and government-controlled western Aleppo.
He welcomed the Russian defence ministry tweet and said the UN humanitarian team "is now set to mobilise itself to respond to this challenge".
"Our plan is to collectively work out the operational details, and be ready for delivery as soon as possible," de Mistura's office said in a statement.
Moscow must ensure that its allied Syrian government forces adhere to the pause, while the United States and regional powers must ensure that the opposition fighters are also on board, he said.
Aleppo, Syria's most populous pre-war city and its commercial hub, has become the focus of fighting in the five-year-old civil war. Up to 2 million people on both sides lack clean water after infrastructure was damaged in bombing.
Escalating violence there, where Russia and Iran are supporting bombing campaigns against the rebels, some of whom are backed by Arab and Western powers, has caused the breakdown of Geneva peace talks overseen by de Mistura.
The Syrian opposition has said it wants to see a credible pause in the bloodshed and improved humanitarian aid access, before peace talks can resume.
"Trucks with food, water and medicine are ready to move immediately and ambulances to evacuate urgent medical cases are on standby," Jens Laerke, the spokesman for the UN Coordination of Humanitarian Affairs, said.
A diplomat said it was important for the United Nations to lead the aid effort.
"It is not a Russian operation, it has to be a UN operation to be a good and credible operation," the diplomat told Reuters.
"It would start at the beginning of next week on condition that there is an agreement between the UN, Russia and the [Syrian] regime on modalities."
Related Articles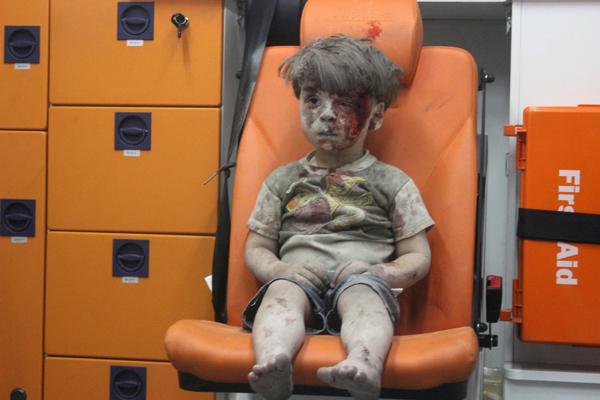 Aug 19,2016
ALEPPO, Syria — A shocked Syrian boy pictured sitting in an ambulance covered in blood and dust after an air strike became a symbol of civil
Jul 25,2016
UNITED NATIONS — Britain, France and the United States on Monday backed a UN call for a humanitarian truce in Aleppo after four hospitals we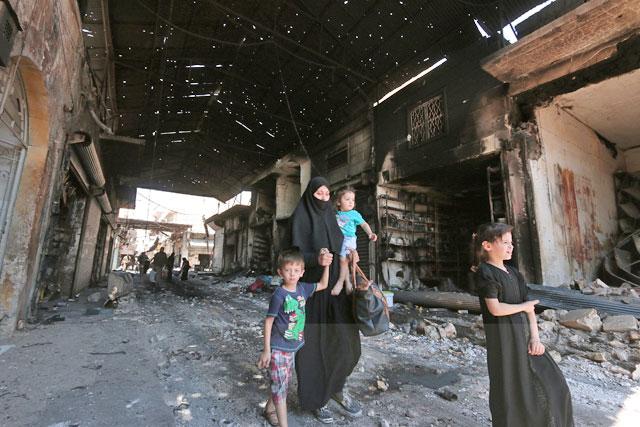 Aug 10,2016
UNITED NATIONS — The United Nations' top aid official on Wednesday said a three-hour truce announced by Russia to deliver aid to Aleppo woul
Newsletter
Get top stories and blog posts emailed to you each day.