You are here
US does not want to see Syrian regime 'collapse' — CIA
By AFP - Mar 14,2015 - Last updated at Mar 14,2015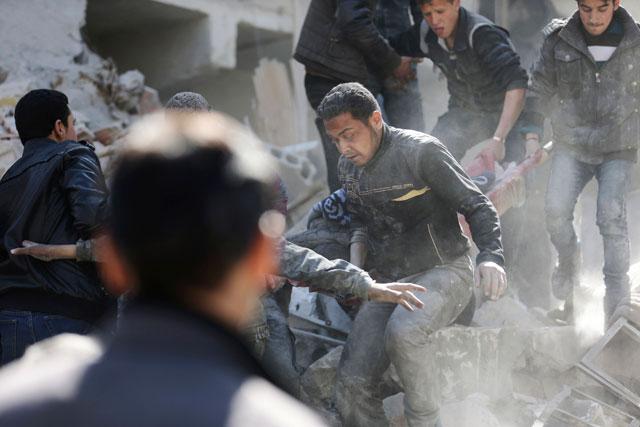 NEW YORK — CIA Director John Brennan said Friday the United States does not want to see a chaotic collapse of the Syrian regime as it could open the way to Islamist extremists taking power.
The spy agency chief said Washington had reason to worry about who might replace President Bashar Al Assad if his government fell, given the rise of the Daesh terror group and other jihadists in Syria.
"I think that's a legitimate concern," Brennan said when asked if the US government feared who might succeed Assad.
Speaking at an event at the Council on Foreign Relations, he said that "extremist elements" including Daesh terror group and Al Qaeda veterans are "ascendant right now" in some parts of Syria.
"The last thing we want to do is allow them to march into Damascus."
"That's why it's important to bolster those forces within the Syrian opposition that are not extremists," Brennan said.
The US military is funding the training and arming of "moderate" Syrian rebel forces but the effort is only now getting off the ground.
Washington's stance is that Assad should have no role in Syria's future but President Barack Obama's administration and other governments wanted to see a political solution that would ensure a representative government, he said.
"None of us, Russia, the United States, coalition, and regional states, wants to see a collapse of the government and political institutions in Damascus," Brennan said.
Daesh exploits digital media
Interviewed before a live audience by PBS television journalist Charlie Rose, the CIA chief also described the viral nature of the threat posed by Daesh, saying it represented a change from previous terror organisations.
Daesh is skilled at exploiting social media to spread its propaganda and recruit, enabling it to extend its reach in a way that was difficult to track and deter, according to Brennan.
"ISIL [Daesh] demonstrates a very worrisome development. It has been a phenomenon that has snowballed in terms of its resonance and appeal," he said.
The emergence of the Daesh extremists in Iraq has seen Washington and Tehran waging war against the same common adversary.
Asked about possible coordination between Iran and the United States against Daesh, Brennan suggested the two arch-foes are cooperating indirectly through Iraqi partners to defeat the jihadists.
"There's an alignment of some interests between ourselves and Iran when it comes to fighting the IS [Daesh] jihadists in Iraq", he said.
"We work closely with the Iraqi government. The Iranians work closely with the Iraqi government as well," he said.
Brennan also defended negotiations with Iran over its nuclear programme, saying the US government has weighed key aspects of a potential agreement with great care.
The talks between world powers and Iran have raised a political firestorm in Washington, with Republican opponents of Obama accusing his administration of preparing to make damaging concessions to Tehran.
But the CIA chief insisted there was no reckless push for a deal.
"This is not something that's being done in any haphazard way," he said.
He added he was confident that the United States and other powers taking part would insist on "minimum requirements that we are not going to reduce".
Related Articles
Sep 08,2016
WASHINGTON — Iraq and Syria have been so thoroughly damaged by warfare, sectarian conflict and killing that it is unclear they "can be put b
Jun 16,2016
WASHINGTON — Daesh militants have tens of thousands of fighters around the world, a far greater number than Al Qaeda at its height, John Bre
Mar 22,2015
The United States is confident it can prevent Iran from developing nuclear weapons even if the Islamic republic pulls out of talks, CIA Director John Brennan said in remarks broadcast Sunday.
Newsletter
Get top stories and blog posts emailed to you each day.