You are here
'Yemen ex-president amassed $60b, colluded with rebels'
By Reuters - Feb 25,2015 - Last updated at Feb 25,2015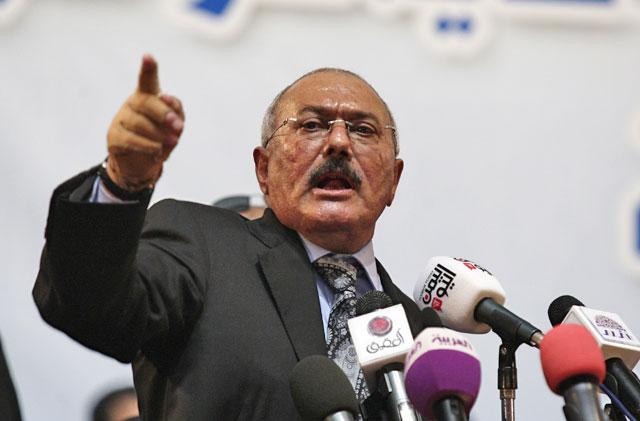 DUBAI — Yemeni ex-president Ali Abdullah Saleh is suspected of corruptly amassing as much as $60 billion, equivalent to Yemen's annual GDP, during his long rule, and colluding in a militia takeover last year, UN-appointed investigators have told the Security Council.
The report by the world body's panel of experts on Yemen echoes criticism by his opponents that Saleh's rule from 1978 to 2012 was marred by graft, and that even out of office he is fomenting instability — allegations he has consistently denied.
Presented with the experts' 54-page findings, the Security Council voted unanimously on Tuesday to extend sanctions on Saleh and two top militia leaders, first targeted by the world body in November for their alleged role in destabilising the country.
Repeated calls to a spokesman for Saleh were not immediately returned.
In an interview with Reuters last year, Saleh denied any corruption during his tenure.
His party has also rejected allegations by Saleh's critics that he or his son Ahmad Ali, once one of Yemen's top military commanders, had had a hand in the fall of the capital Sanaa.
"[Saleh] is alleged to have amassed assets between $32 billion and $60 billion... partly from his corrupt practices as president of Yemen, particularly relating to gas and oil contracts where he reportedly asked for money in exchange for granting companies exclusive rights to prospect for gas and oil," write the experts, who monitor violations of UN sanctions on Yemen.
Most of this wealth was believed to have been transferred abroad under false names or the names of others holding the assets on his behalf, the report said. It took the form of property, cash, shares, gold and other valuable commodities, and was believed to spread across at least 20 countries.
Saleh was ousted in the wake of the 2011 Arab Spring protests, after 33 years at the head of one of the Arab world's most fractious and — despite modest energy reserves — impoverished countries.
Saleh has remained a power-broker, and frequently criticised his successor, Abed Rabbo Mansour Hadi, in the months running up to the invasion of Sanaa in September by a Shiite Muslim rebel group that eventually swept Hadi from power and opened up a political vacuum.
Describing the Houthis' armed surge into the capital in September, the UN experts cited "the loyalty of large parts of the army to elements of the old regime, in particular Ahmad Ali Saleh and former president Saleh, who colluded with the Houthis in what resulted in a coup d'état".
Related Articles
Dec 05,2017
SANAA — Yemen's ex-president Ali Abdullah Saleh, who was killed on Monday, ruled the Arabian Peninsula country for more than three decades,
Feb 11,2015
Yemenis in the capital Sanaa and the central city of Taiz held the largest protests yet against a takeover by a Shiite Muslim militia group on Wednesday after the United States, Britain and France shut their embassies over security fears.
Sep 06,2017
DUBAI — Yemen's ex-president Ali Abdullah Saleh appears to have patched up a violent rift with his allies in the armed Houthi movement, but
Newsletter
Get top stories and blog posts emailed to you each day.