You are here
Celtics beat Mavericks in overtime
By Reuters - Nov 21,2017 - Last updated at Nov 21,2017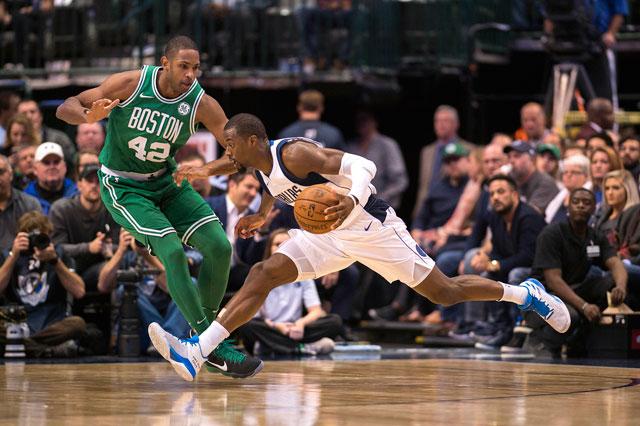 Boston Celtics forward Al Horford guards Dallas Mavericks forward Harrison Barnes during their NBA game in Dallas, Texas, on Monday (Reuters photo by Jerome Miron)
Kyrie Irving scored a season-high 47 points as the Boston Celtics ran their winning streak to 16 games with a 110-102 overtime win over the Dallas Mavericks on Monday.
Irving produced the fourth-highest scoring game of his career, as the Celtics (16-2) rallied from 13 points down in the final 7:47 of regulation. He shot 16-of-22, made five three-pointers and 10 free throws.
Jaylen Brown added 22 for Boston, which tied the fourth-longest win streak in team history. The Celtics can tied for the third longest when they go for 17 in a row Wednesday at Miami.
Cavaliers 116, Pistons 88
Kevin Love collected 19 points and 11 rebounds as Cleveland routed Detroit for its fifth straight win.
LeBron James added 18 points in 27 minutes as Cleveland led by as many as 39 and shot 52.5 per cent. Jae Crowder also scored 18 points for Cleveland.
Stanley Johnson scored 11 points for Detroit, but Andre Drummond finished with eight points and eight rebounds. Drummond failed to get at least 12 rebounds for the first time this season.
Knicks 107, Clippers 85
Kristaps Porzingis led six players in double figures as New York handed Los Angeles their ninth straight loss.
Reserve Doug McDermott added 16 points, Tim Hardaway Jr contributed 13 while Enes Kanter totaled 12 points and 16 rebounds.
Blake Griffin scored 21 points before fouling out as Los Angeles also dropped to 1-11 in their last 12 games.
76ers 107, Jazz 86
Rookie Ben Simmons posted his 11th double-double with 27 points and 10 rebounds as Philadelphia beat Utah.
Simmons made 13-of-24 shots as Philadelphia shot 51.8 per cent. JJ Reddick added 20 and Joel Embiid contributed 15 for the 76ers.
Rookie Donvan Mitchell led the Jazz with 17 points.
Pacers 105, Magic 97
Victor Oladipo scored 29 points as Indiana beat Orlando.
Bojan Bogdanovic added 26 points and Thaddeus Young contributed 17 as Indiana won their fourth straight.
Nikola Vucevic totaled 25 points and 13 rebounds as Orlando dropped their fifth straight.
Spurs 96, Hawks 85
LaMarcus Aldridge scored 22 points and grabbed 11 rebounds as San Antonio beat Atlanta.
Manu Ginobili added 16 points as San Antonio overcame 18 turnovers. Danny Green added 14 and Kyle Anderson posted a double-double with 13 and 10 rebounds.
Hornets 118, Timberwolves 102
Dwight Howard collected 25 points and 20 rebounds as Charlotte dominated the fourth quarter and beat Minnesota.
Frank Kaminsky added 24 points off the bench as Charlotte outscored Minnesota 34-22 in the fourth quarter. Nicolas Batum added 17 points and Jeremy Lamb contributed 16.
Trail Blazers 100, Grizzlies 92
CJ McCollum scored 24 points as Portland beat Memphis.
McCollum hit a key jumper with 35.3 seconds left and Damian Lillard added 21 as Portland won despite shooting 39.8 per cent.
Pelicans 114,
Thunder 107
Anthony Davis scored 36 points in 44 and-a-half minutes as New Orleans rallied from a 19-point deficit to beat Oklahoma City.
Davis played the entire second half and helped New Orleans withstand the ejection of DeMarcus Cousins. He scored 18 points before getting tossed for elbowing Russell Westbrook in the third quarter.
Paul George led the Thunder with 26 points. Westbrook posted his fifth triple-double with 22 points, 16 rebounds and 12 assists.
Wizards 99, Bucks 88
Bradley Beal scored 23 points as Washington beat Milwaukee.
John Wall added 15 points and six assists as Washington shot 52.7 per cent.
Giannis Antetokounmpo led Milwaukee with 23 points and eight rebounds. Khris Middleton added 15 and Eric Bledsoe finished with 14.
Nuggets 114, Kings 98
Will Barton scored 25 points and made five three-pointers as Denver beat Sacramento.
Gary Harris added 20 points and Nikola Jokic posted a double-double with 16 points and 14 rebounds.
Related Articles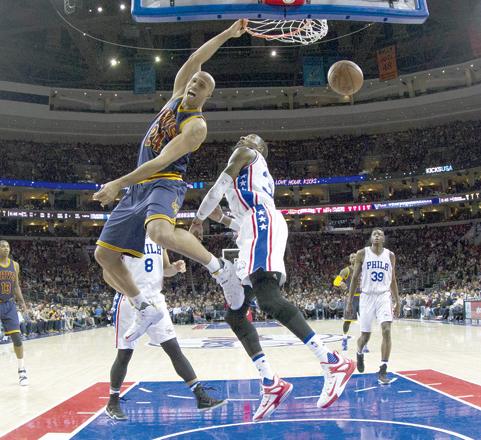 Jan 12,2016
Forward LeBron James scored 12 of his 37 points in a decisive 14-0 fourth-quarter run, as the Cleveland Cavaliers beat the Philadelphia 76er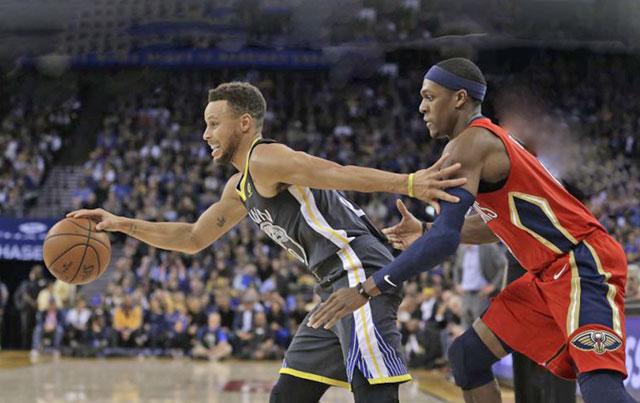 Nov 28,2017
Bogdan Bogdanovic hit a driving banker over Draymond Green with 12.6 seconds remaining Monday night to break a tie and lift the Sacramento K
Oct 31,2017
Kyrie Irving played his best game with his new team, finishing with 24 points and six assists to lead the Boston Celtics to their fifth stra
Newsletter
Get top stories and blog posts emailed to you each day.