You are here
Nissan Patrol V6 Platinum: Appealing to a broader base
By Ghaith Madadha - Feb 07,2018 - Last updated at Feb 07,2018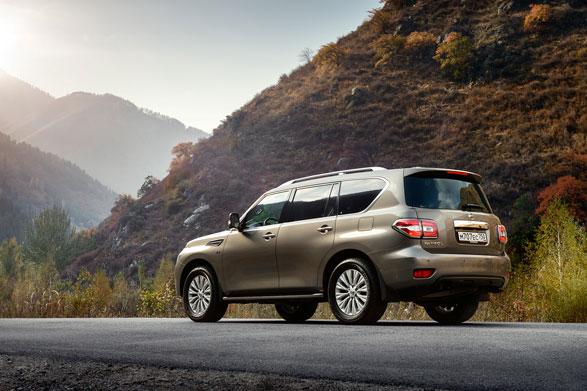 Photos courtesy of Nissan
Logically introduced first in the Middle East markets, where Nissan's full-size SUV enjoys high levels of popularity and cache in general and in the Gulf in particular, the Nissan Patrol V6 broadens the model's appeal and accessibility. Arriving as a 2017 model year, the V6 is a slightly lighter, more economical and rationalised starting point for the Patrol nameplate. Powered by a tried, tested and familiar 4-litre engine, the Patrol V6 replaces an outgoing lower output entry-level version of the V8 model.
Imposing and assertive
A large, well-equipped and comfortable SUV, the Y62 generation Patrol is the most road-friendly and most refined model to date, it remains a rugged and highly off-road capable vehicle. Traditionally competing with the Toyota Land Cruiser, the Patrol is similarly built using tough body-on-frame construction, but offers more power and an additional two forward gears. Offered in several trim levels from basic XE to range-topping Platinum, as tested, the Patrol V6 is comfortably luxurious, yet is unpretentiously utilitarian rather than overstated or ostentatious in character.
Designed to carry people in comfort over inhospitable terrain, the Patrol is bother a refined daily driver and reliably capable off-road companion. A huge vehicle with commanding presence and driving height, the 5,165mm long, 1,995mm wide and 1,940mm tall Patrol look big even next European competitors, and features muscular surfacing, bumpers and wheel-arches. Its heavily chrome-laden grille and lower headlight bulge lend it an assertive presence, while vast 275/60R20 footwear makes the V6 Platinum model driven indistinguishable from the range-topping 400BHP V8 model.
Refined and responsive
Developing 125BHP short of top of the line direct injection 5.6-litre V8 model and 45HP less than the outgoing 320BHP lower output entry-level V8 it replaces, the Patrol V6' naturally-aspirated multi-point fuel injection engine is a thoroughly proven unit. Previously used for smaller Xterra and previous generation Pathfinder Nissan SUVs, the Patrol's 4-litre V6 gains 9BHP and 2lb/ft for this application, for a total of 275BHP at 5,600rpm and 290lb/ft torque at 4,000rpm, which allows it to carry its approximately 2.7-tonne mass from standstill to 100km/h in around 11-seconds and onto a 190km/h maximum.
Smooth, responsive, refined and willing to rev easily to its redline, the Patrol V6' reduced power and some 103lb/ft torque compared to the outgoing entry-level V8 yields improved fuel efficiency, but is to a significant extent compensated by a more modern, smooth and quicker shifting 7-speed automatic gearbox, in place of 6-speed auto and 5-speed manual options. With more aggressive lower gears, closer ratios and four-wheel-drive fraction from off the line, the Patrol launches responsively, overtakes confidently and accumulates speed fluently and at a good pace.
Adjustable ability
Effective and versatile in driving the Patrol, the V6 may not quite as effortlessly muscular as the top-line V8 version, but it can still move at a brisk pace when necessary, albeit by downshifting more often and revving the engine more aggressively to extract more output. With more shifts and high revs applied, the Patrol V6 was surprisingly entertaining and rewarded one for well-timed shifts and throttle inputs. And without the range-topping model's hydraulic suspension and taut body control, the V6 version's weight shifts were more exaggerated, but could be more easily manipulated.
With more pronounced squat, dive and body lean, one was better able to shift and re-direct the Patrol V6's weight to tighten a cornering line through corners by throttle lift off, mid-corner braking and early turn-in, and at lower speeds. More adjustable in its handling characteristics — in not as taut, smooth, refined and level — the Patrol V6 proved to be an engaging drive for a vehicle so tall, large and heavy. Smooth and forgiving, the patrol's ride quality is comfortable despite its big alloy wheels, while road imperfections are well absorbed.
Generous giant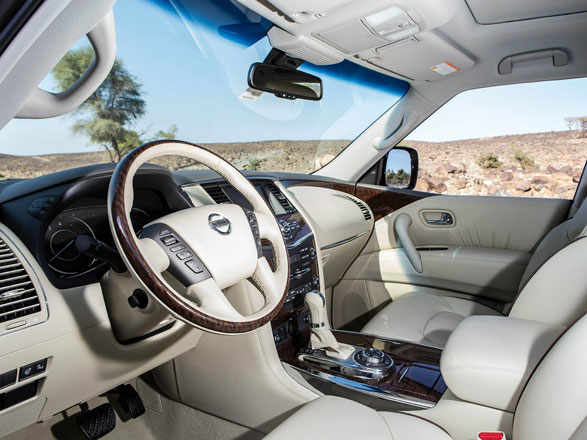 Stable at speed, refined and settled in ride, the Patrol V6 features light intuitive steering, reassuring brakes and a lighter front end than the V8. In terms of ability, it retains the same 2000kg towing capacity. Highly capable off-road, the Patrol's rear-biased four-wheel-drive features a locking rear differential for even torque distribution in low traction situations and low gear ratios for more extreme off-road and towing. Double wishbone suspension allows good wheel articulation, while generous 275mm ground clearance, and 26.6° approach and 25.9° departure angles are complemented electronically optimised off-road driving modes.
Though vast in size, the Patrol's dual angle reversing camera and sensors make reversing much easier, but a blindspot warning would be a welcome addition to the V6. Well-constructed, user-friendly and vastly spacious, the Patrol's comfortable cabin accommodates eight occupants and features highly adjustable seating and generous luggage space. With a warm ambiance and plenty of quality materials and soft textures, the Patrol V6 Platinum's thoroughly well equipped features rear DVD screens, but could do with more USB ports.
TECHNICAL SPECIFICATIONS
Engine: 4-litre, in-line V6-cylinders
Bore x stroke (mm): 95.5 x 92mm
Valve-train: 24-valve, variable valve timing, DOHC
Gearbox: 7-speed automatic, four-wheel-drive
Drive-train: Locking rear differential and low gear transfer case
Gear ratios: 1st 4.887:1 2nd 3.17:1 3rd 2.027:1 4th 1.412:1 5th 1:1 6th 0.864:1 7th 0.775:1
Reverse/final drive ratios: 4.041:1/3.692:1
Power, BHP (PS) [kW]: 275 (278) [205] @5600rpm
Torque, lb/ft (Nm): 290 (394) @4,000rpm
0-97km/h: 11-seconds (est.)
Top speed: 190km/h
Fuel capacity: 100 + 40-litres
Height: 1,940mm
Width: 1,995mm
Length: 5,165mm
Wheelbase: 3,075mm
Tread: 1,705mm
Minimum Ground clearance: 275mm
Approach/departure angles: 26.6°/25.9°
Kerb weight: 2,700kg (est.)
Towing capacity: 2,000kg
Seating capacity: 8
Steering: speed-sensitive power assisted rack and pinion
Turning radius: 12.1-metres
Suspension: Independent, double wishbone
Brakes, F/R: Ventilated discs, 4-/2-piston calipers
Tyres: 275/60R20
Price, as driven: JD75,000 (on-the-road, no insurance)
Related Articles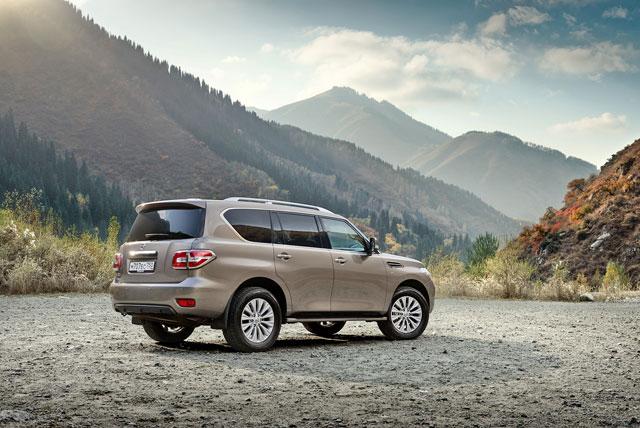 Nov 27,2017
A big beast on the regional automotive scene, the Nissan Patrol is a rare car developed and pitched with Middle East customers foremost in m
Jan 27,2014
With an indelible link to the Middle East and Gulf region in particular, the latest "Y62" generation Nissan Patrol was initially launched in Abu Dhabi back in 2010, while the latest face-lifted and updated 2014 version made its debut at the recent Dubai motorshow. First introduced in 1951, the first two Patrol generations were basic, rugged, capable and utilitarian off-roaders in the vein of the Land Rover or Willys Jeep, but by 1980 became bigger and better kitted; by 1987 adopted coil spring suspension for added refinement and off-road ability and has since become more luxurious.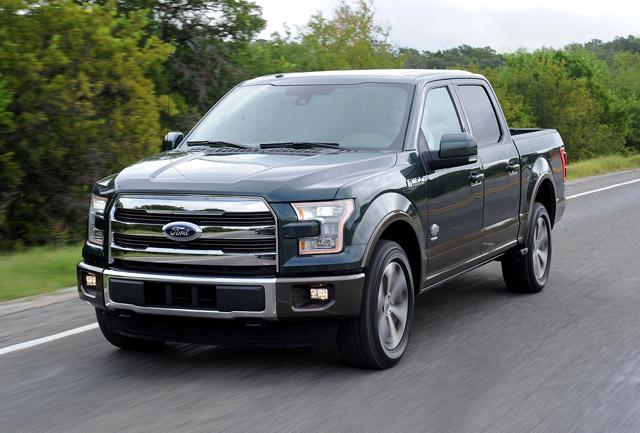 Jul 24,2017
A rugged, well equipped, workhorse and spacious daily driver, the large American pick-up truck segment and its most popular Ford F150 model
Newsletter
Get top stories and blog posts emailed to you each day.