You are here
Samsung Amman Marathon concludes
By Roufan Nahhas - Oct 29,2016 - Last updated at Oct 29,2016
Runners at the start of the 10km race of the Samung Amman Marathon in Amman on Friday (Photo by Amjad Ghsoun)
AMMAN — The 8th edition of the Samsung Amman Marathon, organised by Run Jordan, concluded on Friday with the participation of 10,000 local and international runners in all 42km, 21km and 10km Fun Run Race categories.
The event witnessed a new record registered by Kenyan Benjamin Serem in the 42km marathon after clocking 2h18m15s.
Kenyan Victor Kimeli came second with 2h19m57s and Jordan's Ahmad Muheisen settled in third place with 2h29m48s.
Female overall 42km went to Ethiopia's Yeshumie Ejigu who clocked 2h47m10s, followed by Kenyan Rebecca Tallam in second place with 3h04m33s and Jordan's Safa Hasan in third place with 3h36m40s.
Meanwhile, in the Male Jordanian Category Ahmad Muheisen came first in the 42km race with 2h29m48s, followed in second place by Methqal Al Abbadi with 2h32m15s and Bashar Raheel in third place with 2h35m16s.
In the 42km Female Jordanian Category Sharefah Alsaqqa came first with 3h38m47s, followed by Sabreyeh Al Maradat in second place with 3h42m05s and Hadeel Omar in third spot with 3h56m39s.
In the Visual Impaired 42km Male Category Suhail Nashash won by finishing in 3h28m15s.
In the 21km Male Category Kenyan Eprahim Kimata came first with 1h07m19s, followed in second place by Jordan's Ahmad Samour with 1h08m02s and his countryman Ayman Sardi in third place with 1h12m40s.
Female Overall 21km first place went to Scotland's Georgia Cottle with 1h22m52s, followed in second place by Sudan's Hanoia Hasaballa with 1h24m09s and in third place came Ethiopia's Gedmnesh Yayeh with 1h32m27s.
Male wheelchair 21km First place went to Ali Al Sawalmeh with 1h13m06s, followed in second place by Bilal AbuMansi 1h31m26s and in third place Kamal Al Twalbah with 1h58m18s.
May Abu Nakhleh won the Female Wheelchair 21km in 2h42m25s.
Nabeel Al Maqablah won the Male Visual Impaired 21km in 2h04m45s, followed in second place by Abdulraouf Khateb with 1m26m21s.
Awad Al Shorofat won the Male Overall 10km in 31m20s, followed in second place by Ibrahim Salah with 31m27s and in third place by Hamzeh Alashosh with 32m02s.
Amal Al Matary finished first in the 10km category after clocking 38m33s followed by Naheda Al Bawat in the second place with 45m03s and in the Third place Abeer Zakaria with 48m02s.
Mahmoud Abu Rizeq won the 10km Male Wheelchair in 42m05s and Hasan Tayem finished first in the 10km Visually Impaired Male with 52m13s, while Nowara Hamad won the 10km Visually impaired Female 10km with 1h34m46s.
HRH Prince Firas, who is also Run Jordan chairman of the board, participated in the 10km Fun Run race.
The marathon was followed by the prize awarding ceremony held at the Roman Amphitheatre down town where Prince Firas expressed his pleasure at this year's marathon's resounding success, both in terms of the level of participation and the organisational aspects.
Lina Kurd, Run Jordan general manager, said: "The Samsung Amman Marathon is a remarkable event."
Kurd highlighted this year's event which was unique in the organisation and linkage with a marathon in China.
"We are happy that this year and for the first time the Samsung Amman Marathon was linked online to a marathon in China through the website CODON online; around 150,000 runners from China ran the marathon distance at the same time that the Samsung Amman Marathon took place," she stated.
Related Articles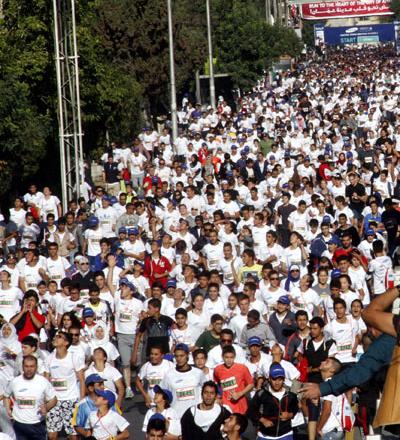 Oct 25,2014
Jordan runner Mithqal Abbadi on Friday was crowned champion of the 42km Full Marathon at the 6th Samsung Amman Marathon while Kenyan runner Sarah Kepasso broke all previous records in the same category for women.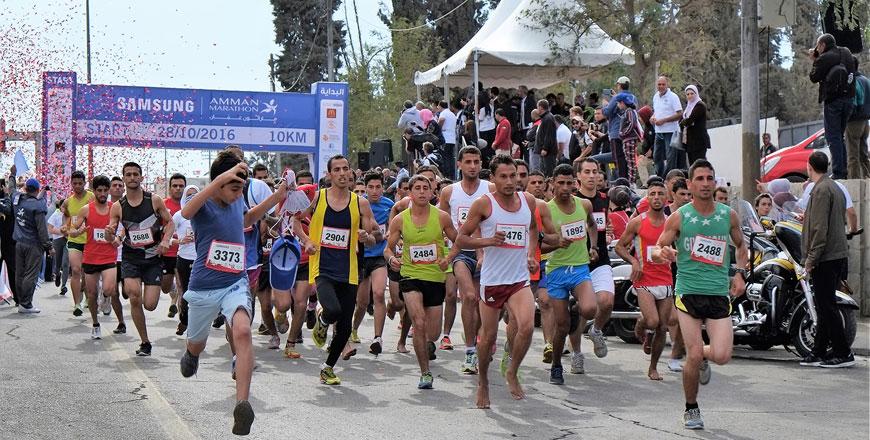 Sep 19,2017
AMMAN — The 9th edition of the Samsung Amman Marathon will be held October 13 under the slogan "Run to The Heart of The City of Amman"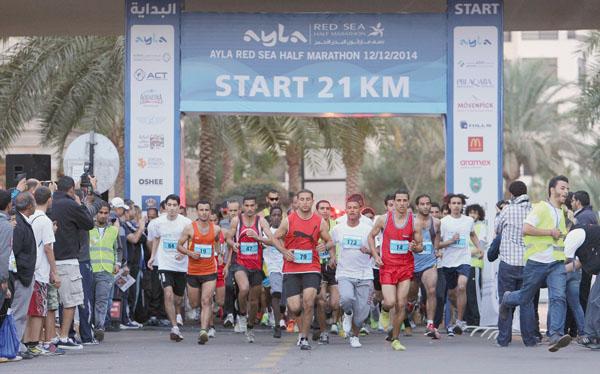 Dec 13,2014
Jordan's Rafat Zboun on Friday was crowned champion of the 21km men's category of the Ayla Red Sea Half Marathon.
Newsletter
Get top stories and blog posts emailed to you each day.