You are here
Vonn warns athletes: Do not underestimate me
By Reuters - Dec 11,2017 - Last updated at Dec 11,2017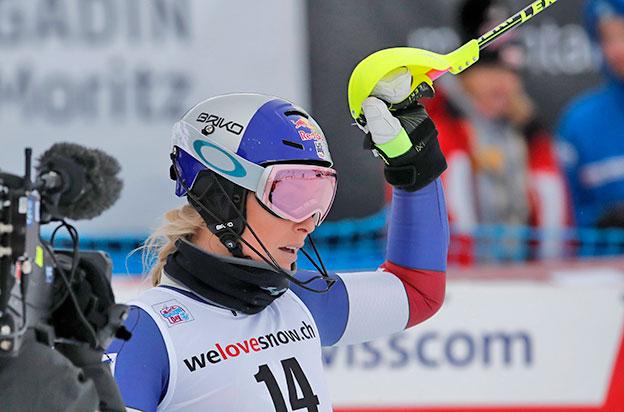 US' Lindsey Vonn reacts at the finish line of the Women's Alpine Combined Slalom World Cup in Switzerland on Friday (Reuters photo)
Olympic gold medallist Lindsey Vonn is warning young athletes in next year's Pyeongchang winter Olympic Games not to underestimate the older competitors.
Vonn, who won gold in the downhill skiing at the 2010 Vancouver Winter Olympics, broke a bone in her arm last year but is training hard for Pyeongchang. She missed the Olympic Games in Sochi through injury.
"I have been anxiously awaiting these Olympic for the last eight years. I have been training especially hard this summer, you know really trying to make sure I don't miss anything from my diet to my travel and of course my workouts, my skiing, everything I have done has been in preparation for these Olympics so right now I am trying to stay healthy going in," she said.
"So far it's not going very well but I feel that I am saving all of my luck for February and hopefully everything will work out how it is supposed to."
Acting as ambassador for the 2020 Youth Olympic Games, Vonn met younger athletes, aged 14 to 18, in Lausanne on Sunday.
She said that young competitors at the Olympic Games should know the older athletes knew how to handle the pressure and had more experience of the sport.
"Most of the time younger athletes, I mean I was the same, underestimate the older athletes but the one thing I have is experience. I know how to handle the pressure and I just know a lot about the sport."
Vonn has four World Cup overall titles in addition to gold and bronze Olympic medals.
She said the Olympic spirit was very important to her and she thought it was a great experience for the young athletes to meet others from different countries and cultures. She is taking the role of ambassador for the Youth Olympic Games for the third time.
"Well I think the Olympic spirit is something very important and I wish that I had had these Olympic Games when I was growing up. I think it is a great experience for the kids to meet other kids from different countries, different cultures. There is so much learning involved with all of these Olympic Games programmes and I think it is very important. So I am proud to be an ambassador and I think Lausanne 2020 is going to be amazing."
The meeting took place in St Moritz where luge, skeleton, bobsled and speed skating events for the Youth Games will be held.
Related Articles
Feb 26,2018
PYEONGCHANG, South Korea — Czech shredder Ester Ledecka and Italian Samurai Sofia Goggia left indelible marks on the Alpine skiing at an Oly
Feb 10,2018
PYEONGCHANG, South Korea — Sweden's Charlotte Kalla won the first gold medal of the Pyeongchang Winter Olympics on Saturday after powering a
Jan 09,2018
LONDON — Two countries, Belarus and China, have dominated the men's aerials at the last three Winter Olympics and look set to do the same th
Newsletter
Get top stories and blog posts emailed to you each day.