You are here
World class tennis draws to a close at the Lexus Tennis Festival in Amman
By Aline Bannayan - Sep 12,2015 - Last updated at Sep 12,2015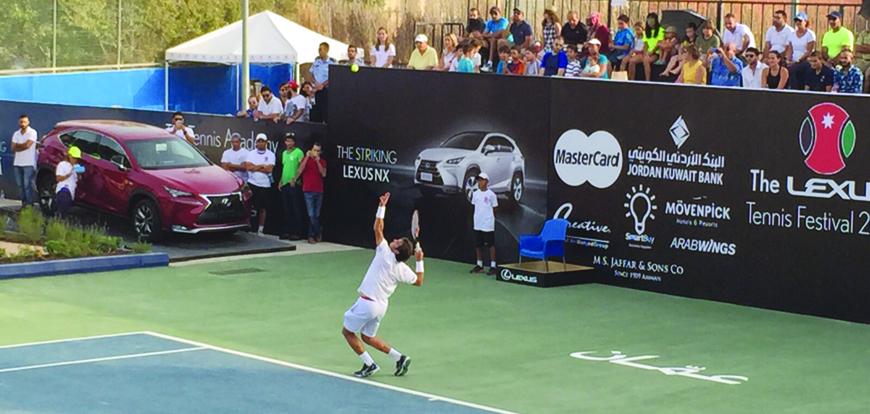 Tunisian champion Malek Jaziri serves at an exhibition match against Finnish star Jarkko Nieminen at the Lexus Tennis Fesival in Amman on Saturday (Photo by Aline Bannayan)
AMMAN — Jordan's tennis players and fans were treated to a fun filled weekend getting to watch and play with professional tennis players in Jordan for the first time.
It will surely be a day to remember especially for young players ages 5 and up. On the other side of the net was legendary French star multiple Grand Slam champion Mary Pierce!
Players got a chance to play and get some tips before receiving their medals on Saturday from Pierce, a French champion, turned pro at the age of 14, who went to win four Grand Slam titles, including the 1995 Singles Australian Open, the 2000 Singles French Open, the 2000 doubles French Open, and the 2005 mixed doubles Wimbledon title.
In the festival's closing match on Saturday, Finnish tennis star Jarkko Nieminen and Tunisian tennis champion Malek Jaziri played an exhibition match capping an action packed week for tennis players of all ages.
Watched by a capacity crowd of parents, players, ex-players and tennis fans, Jaziri beat Nieminen 2-6, 6-3, 7-4. Former World No. 13, Finland's most celebrated tennis star Nieminen won two ATP singles titles and three doubles titles and reached the quarter finals in the 2005 US Open, the 2006 Wimbledon Championships and the 2008 Australian Open.
He has beaten former World No. 1 tennis legend Andre Agassi and current World No. 1 Novak Djokovic. He represented Finland in three separate Olympic games between 2004 and 2012 and he is the first and only Finnish player to have an ATP singles title.
Jaziri has competed in all four Grand Slam events in his career. In 2015, he reached the Round 3 of the Australian Open and came close to beating the legendary Roger Federer in a tight three-set match at the Dubai Open. Jaziri is the first male Tunisian player to reach the semifinals of an ATP event at the 2012 Kremlin Cup in Moscow.
Tennis Academy President Khalid Naffa noted his academy's mission was to create a dynamic and professional environment for young and aspiring Jordanian tennis players to thrive and eventually compete on the global tennis stage.
Hosting international events like the 2015 Lexus Tennis Festival undoubtedly gives players the chance "to be exposed to the highest levels of the game and most importantly, to instil in them a belief that they too can one day become champions", added Naffa.
The 2015 Lexus Tennis Festival attracted more than 200 local tennis players from across the country, competing in 14 different tournaments throughout the eight-day festival.
Related Articles
Sep 07,2015
AMMAN — While it's been an action packed week for tennis players of all ages in Amman, fans have a date with top players who will compete fo
Sep 11,2015
AMMAN — The 2015 Lexus Tennis Festival concludes Friday but not before tennis enthusiasts get a chance to saviour professional calibre tenni
Sep 18,2016
AMMAN — The 2016 Lexus Tennis Festival started in Amman over the weekend with around 240 players participating in tournaments for all catego
Newsletter
Get top stories and blog posts emailed to you each day.