You are here
EU calls mini-summit as Balkans buckle under refugee crisis
By AFP - Oct 21,2015 - Last updated at Oct 21,2015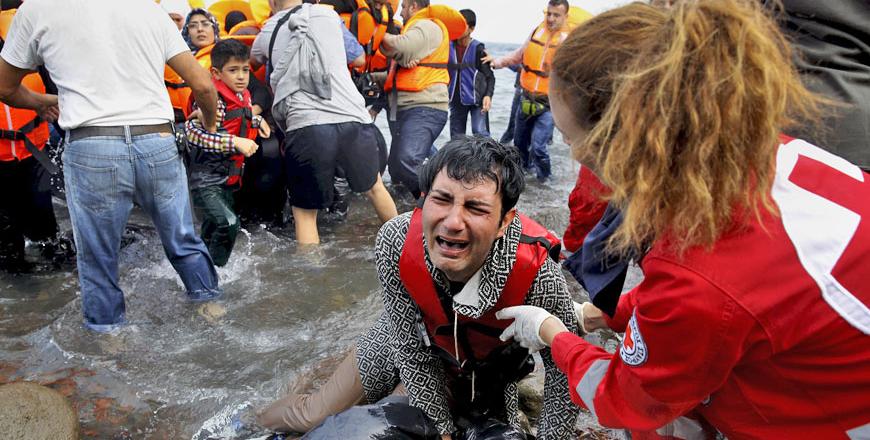 A Greek Red Cross volunteer comforts a crying Syrian refugee moments after disembarking from a flooded raft at a beach on the Greek island of Lesbos after crossing a part of the Aegean Sea from the Turkish coast on an overcrowded raft on Tuesday (Reuters photo)
LJUBLJANA, Slovenia — The EU on Wednesday called a mini-summit with Balkan countries on the migrant crisis, as Slovenia became the latest state to buckle under a surge of refugees desperate to reach northern Europe before winter.
The leaders of Austria, Bulgaria, Croatia, Germany, Greece, Hungary, Romania and Slovenia will meet on Sunday with their counterparts from non-EU states Macedonia and Serbia, the office of European Commission President Jean-Claude Juncker said.
"In view of the unfolding emergency in the countries along the western Balkans migratory route, there is a need for much greater cooperation, more extensive consultation and immediate operational action," a statement said.
The continent has been struggling to find a unified response on how to tackle its biggest migration crisis since 1945.
More than 600,000 migrants and refugees, mainly fleeing violence in Syria, Iraq and Afghanistan, have braved the dangerous journey to Europe so far this year, the UN said.
The goal for many travelling is the EU's biggest economy Germany, which expects to receive up to a million asylum requests this year.
Since Saturday, when Hungary sealed off its border with Croatia, more than 24,455 migrants have arrived in Slovenia, a nation of 2 million people.
In response, the Slovenian parliament amended a law which would allow soldiers to join border police in patrolling the 670-kilometre frontier with Croatia.
The amendment now means troops can detain people and hand them over to the police, as well as issue orders to civilians in the border area.
EU Commissioner for Migration Dimitris Avramopoulos is to visit Slovenia on Thursday to discuss its request for backup from police forces in other EU countries.
"The last 24 hours have been the toughest and most demanding since the start of the crisis," the Slovenian government said, warning it was "delusional" to expect small countries to succeed where larger ones had failed.
Around 11,000 people were still stuck in Slovenian registration centres on Wednesday morning, waiting to continue their journey.
And tensions briefly flared in southern Austria when some 1,000 migrants broke through a police barrier at the Spielfeld border crossing and started marching north, an AFP photographer said.
Police eventually convinced them to return to the checkpoint and wait for buses provided by the government to transport them towards Germany.
Vienna said more than 6,000 migrants had entered Austria since Tuesday night, with most only passing through.
Further south, long lines of several hundred migrants formed near Croatia's border with Slovenia on Wednesday morning, an AFP reporter said.
Progress was slow as police at the Berkasovo checkpoint were only allowing a trickle of people through.
Croatia sent extra security forces to the border to prevent migrants from crossing into fields and entering Slovenia through its green frontier.
Meanwhile, a fire broke out briefly on Wednesday morning at a refugee camp near another Croatian border crossing.
Around 25 tents suddenly caught fire at the Brezice camp, with black smoke billowing into the sky. Firefighters managed to extinguish the blaze, whose origin remained unclear.
Forced to spend hours in freezing temperatures and rain, people often resort to lighting makeshift fires to warm themselves.
Slovenia voiced sharped criticism over Zaghreb's decision to open its borders on Monday night, letting thousands of people into Slovenia.
"I deplore the lack of communication and cooperation with the Croatian authorities," Prime Minister Miro Cerar said in an interview published in German daily Die Welt on Wednesday.
"Croatia doesn't respect border crossing agreements or the number of refugees supposed to enter Slovenia."
With at least 9,000 people landing on Europe's beaches every day, there appeared to be no end to the human tide surging into the bloc.
The Netherlands on Wednesday said it received a record 8,400 asylum seekers in September, the highest-ever number received in one month.
Related Articles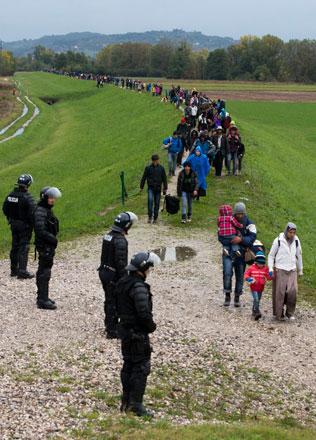 Oct 19,2015
BERKASOVO, Serbia/LJUBLJANA, Slovenia — The Balkans struggled with a growing backlog of migrants on Monday after Hungary sealed its southern
Oct 22,2015
VIENNA — Migrants traded punches and scuffled with police at a Serbian border crossing and a man was stabbed in a similar clash on the Slove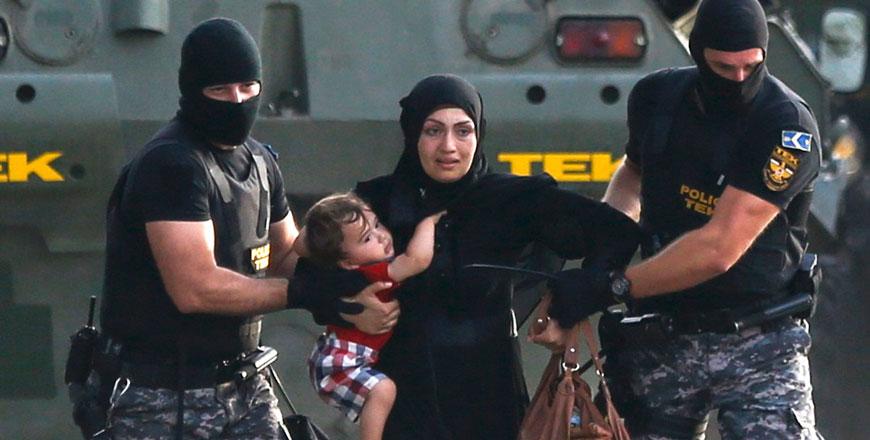 Sep 16,2015
SID, Serbia/ROSZKE, Hungary — Riot police fired water cannon and tear gas on Wednesday at migrants demanding to be let through Hungary's new
Newsletter
Get top stories and blog posts emailed to you each day.