You are here
Hungarian riot police fire tear gas at migrants
By Reuters - Sep 16,2015 - Last updated at Sep 16,2015
Two Hungarian riot policemen escort a migrant woman and her child in Roszke, Hungary, on Wednesday (Reuters photo)
SID, Serbia/ROSZKE, Hungary — Riot police fired water cannon and tear gas on Wednesday at migrants demanding to be let through Hungary's newly shut EU frontier, while refugees at other Balkan frontiers clambered through cornfields in search of new routes.
Hungary's decision this week to shut the European Union's external border with Serbia was the most forceful attempt yet by a European country to reduce the flow of refugees and economic migrants overwhelming the bloc.
The move has left thousands of migrants scattered across the Balkan peninsula seeking alternative ways to reach the EU, and Hungary's prime minister said his country planned to erect a fence along parts of its border with Croatia as well as on the frontier with Romania to stem the flow.
Helmeted Hungarian riot police backed by armoured vehicles took up positions at the now-barricaded border crossing with Serbia, where male migrant youths pelted them with stones, demanding to be allowed through.
At least 20 policemen and two children were injured, a Hungarian security official said.
"It is getting very ugly there," said Ahmad, 58, a shopkeeper from Baghdad who went to the official border crossing at Sid in Serbia but soon realised he may have a better chance of entering the EU via Serbia's border with Croatia.
"As soon as we heard about a route to Croatia we did not wait long. I want to go to Sweden to meet the rest of my family. I hope we will be treated better in Croatia," he told Reuters.
Serbia later said it would send additional police to the border with Hungary and try to distance migrants from the border fence, and three Hungarian military Humvees mounted with guns stepped up security on the other side of the frontier.
UN shocked
UN Secretary General Ban Ki-moon expressed shock and alarm at the treatment of refugees and migrants at Hungary's border with Serbia. The Council of Europe human rights body said it had asked Hungary to explain its new legislation on the crisis.
Antonio Guterres, the UN High Commissioner for Refugees, urged Hungarian authorities to ensure "unimpeded access" for people as they flee wars and persecution.
"UNHCR was especially shocked and saddened to witness Syrian refugees, including families with children who have already suffered so much, being prevented from entering the EU with water cannon and tear gas," it said in a statement.
Serbia's border with Hungary has until now been the main route for migrants, who mainly arrive first by dinghy in Greece and then trek across the Balkan peninsula to reach the EU's frontier-free Schengen zone, most bound for Germany.
Migrants scattered through Balkan countries said they were searching for other routes, possibly through Croatia or Romania, both of which are in the EU though not in Schengen.
"If not Hungary, we will have to find another way. Most probably Croatia and from there we will see," said 43-year-old Mehmed from Damascus, holding his three-year-old daughter after crossing the border north into the former Yugoslav Republic of Macedonia from Greece.
Croatia said it would send landmine experts to its Serbian border to identify minefields left on the frontier from the Balkan wars of the 1990s, the last time hundreds of thousands of displaced people marched across Europe.
The goal for most is Germany, which cut off trains from Austria on Wednesday to slow the flow of arrivals.
Tens of thousands of migrants have reached Austria in recent days, rushing to cross before Hungary shut the frontier. Austria said it would impose new border controls on its frontier with Slovenia, along the likely new route from Croatia.
Hungary has already thrown up a 3.5-metre high fence along nearly the whole of its border with Serbia, and engineers and soldiers were marking a path on Wednesday to extend the barrier along the border with Romania.
In response, Romanian Prime Minister Victor Ponta evoked he continent's darkest era.
"Fences, dogs, cops and guns, this looks like Europe in the 1930s. And did we solve the refugee problem with this? No, we didn't," he said. "Erecting a fence only throws the problem into Serbia, into Croatia, into Romania."
At the Croatian border with Serbia, Reuters reporters saw hundreds of people, some of whom identified themselves as Iraqis, trek through fields near the Sid border crossing.
The biggest flow of immigrants into Western Europe since World War II has sown discord across the continent, fuelling the rise of far-right political parties and jeopardising the 20-year-old achievement of Schengen's border-free travel.
Hungary says it is simply enforcing EU rules by sealing the Schengen zone's external border. It says Serbia is a safe country, so asylum seekers who reach the frontier there can be automatically turned back in a process that should take hours.
Hungarian Prime Minister Viktor Orban said in an interview with Austrian newspaper Die Presse that his former communist country would erect fences "at certain locations on the Croatian border" as well as along the border with Romania.
The United Nations says Serbia lacks the capacity to receive refugees halted at the gates of Europe. Critics say Orban's anti-immigrant rhetoric has crossed the line into xenophobia.
The crisis has pitted countries that are comparatively open, led by Germany, against those, many in former communist eastern Europe, who say the welcoming approach has made the problem worse by encouraging people to make dangerous voyages.
Hungary blames Germany for exacerbating the crisis by announcing in August it would suspend normal EU asylum rules and take in Syrian refugees regardless of where they enter the EU. Thousands have since been trekking across the bloc, mainly through Hungary and Austria, to reach Germany, clogging railway stations and forcing trains to be cancelled.
An emergency meeting of EU ministers failed this week to reach agreement on a Berlin-backed plan to share out 160,000 refugees across the bloc.
A German Cabinet minister said on Tuesday the EU should consider financial penalties against countries that refuse to take their share, drawing angry responses from countries which oppose quotas, such as the Czech Republic and Slovakia.
Related Articles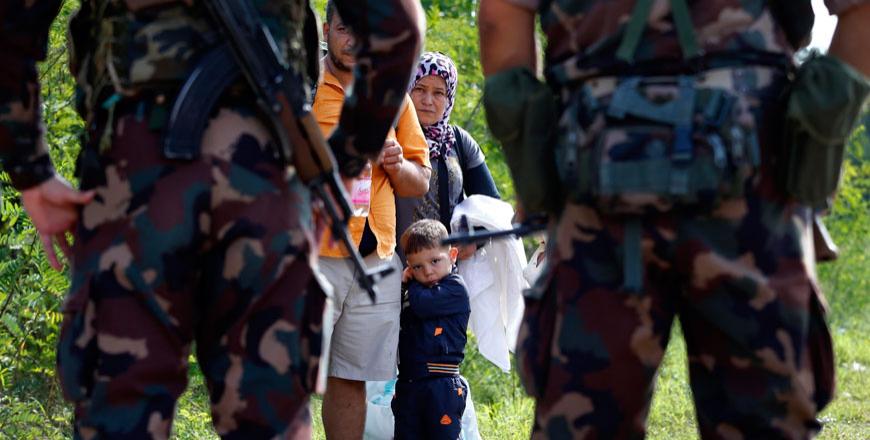 Sep 15,2015
SERBIAN-HUNGARIAN BORDER — Asylum seekers clamouring to enter the European Union were turned back at a razor-wire fence on the Hungarian bor
Sep 29,2015
BERLIN — Germany toughened rules Tuesday for asylum seekers from the Balkans as Europe struggled to cope with a record surge in migrants, wi
Sep 17,2015
TOVARNIK, Croatia — Amid chaotic scenes at its border with Serbia, Croatia said on Thursday it could not cope with a flood of migrants seeki
Newsletter
Get top stories and blog posts emailed to you each day.