You are here
Jittery Spain awaits Catalan independence outcome
By AFP - Oct 10,2017 - Last updated at Oct 10,2017
A man waves a separatist Catalonian flag at a rally in support of independence in Barcelona, Spain, on Tuesday (Reuters photo)
BARCELONA — Spain held its breath on Tuesday ahead of a crucial Catalan parliamentary session, waiting to see if regional leader Carles Puigdemont would defy Europe-wide pleas for unity and follow through on his threat of declaring independence from Madrid.
But just as regional lawmakers started making their way into the parliament in Barcelona, the 54-year-old leader delayed the start of the session.
A regional government official told AFP that the delay was to allow time to explore "contacts for international mediation" in the crisis.
But Madrid immediately responded by saying mediation to settle the nation's worst political crisis in decades was "not on the cards".
Police deployed en masse around the regional parliament, blocking public access to a park that houses the building as crowds watched the session on giant screens, waving Catalan flags and some brandishing signs reading "democracy".
"We came to make sure the government pushes ahead," said Joan Farreras, a 37-year-old technical engineer from the Catalan city of Girona.
"Independence will not be immediate. There will be time for mediation, but we will reach independence."
But in Madrid, the Spanish government issued a blunt warning to Puigdemont.
"We call on Puigdemont not to do anything irreversible, not to pursue a path of no return and not to make any unilateral independence declaration," government spokesman Inigo Mendez de Vigo told reporters.
A source from the central government's representative office in Catalonia said security had been tightened at Catalan airports and railway stations in anticipation of possible protests in the wake of Puigdemont's announcement.
'Dialogue impossible'
EU President Donald Tusk also urged Puigdemont against making a decision that would make "dialogue impossible".
At stake is the future of a region of 7.5 million people deeply divided over independence, one of Spain's economic powerhouses whose drive to break away has raised concern for stability in the European Union.
Political leaders in Catalonia, Spain and Europe have come out against an independence declaration, concerned over the country's biggest upheaval since its transition to democracy in the 1970s.
Prime Minister Mariano Rajoy has vowed to use everything in his legal power to prevent independence and has even refused to rule out imposing direct rule over the semi-autonomous region — an unprecedented move many fear could lead to unrest.
Spain's deputy prime minister, Soraya Saenz de Santamaria, earlier on Tuesday also rejected any mediation.
"There is no room for mediation between legality and illegality, between the law and contempt of the law, between democracy and tyranny," she told the Senate during a tense debate.
But the Catalan president says the independence referendum that took place on October 1 despite a court ban justifies splitting from Madrid.
Around 90 per cent of those who cast ballots voted for independence but the poll was poorly monitored and many Catalans opposed to secession boycotted an illegal plebiscite that was witnessed a violent police crackdown.
"I am very excited, very happy and a little nervous," said a woman outside parliament.
"We are waiting for them to declare independence and we know we will need to be in the streets to defend it."
Anger on both sides
On Monday, Ada Colau, the popular mayor of Barcelona, warned that a unilateral declaration of independence would put "social cohesion" at risk.
Pro-unity and pro-independence supporters have staged mass rallies in Barcelona over the past week, highlighting divisions in Catalonia.
Anger over the police violence during the referendum swung some Catalans over to the independence camp.
But both Madrid and the Catalan executives have come under fire for their dogged response to the crisis and a lack of dialogue.
Carolina Palles, a 53-year-old flower vendor in Barcelona's popular La Ramblas boulevard, said it was "a sad day", almost two months after the seaside city was hit by a deadly terror attack.
Against independence, she was angry at both camps.
"Rajoy's government handled things very badly," she said, accusing the separatists "of persisting until the very end, like martyrs".
Stocks slide
Short of declaring an outright split, the Catalan leader could use his address play for time and call for dialogue, or back down outright from his secessionist demands.
EU nations are watching developments closely amid concern that Catalan independence could put further pressure on the bloc still dealing with the fallout from Britain's shock decision to leave.
The crisis has also caused deep uncertainty for businesses in one of the wealthiest regions in the eurozone's fourth largest economy.
Spain's stock market shed nearly 1 per cent ahead of Tuesday's session and string of companies have already moved their legal headquarters — but not their employees — from Catalonia to other parts of the country.
Demands for independence in Catalonia, which has its own language and cultural traditions, date back centuries.
But a 2010 move by Spain's constitutional court to water down a statute that gave Catalonia additional powers, combined with a deep economic meltdown in Spain, sparked a surge in support for independence.
Related Articles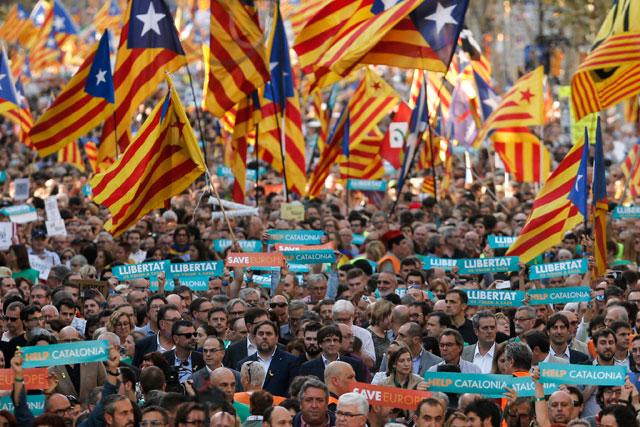 Oct 21,2017
MADRID — Spain announced Saturday that it will move to dismiss Catalonia's separatist government and call fresh elections in the semi-autono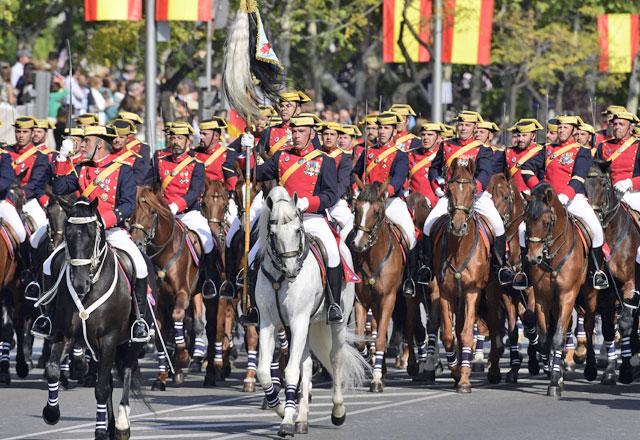 Oct 12,2017
MADRID — Spain celebrated its national day Thursday with a show of unity in the face of Catalan independence efforts, a day after the centra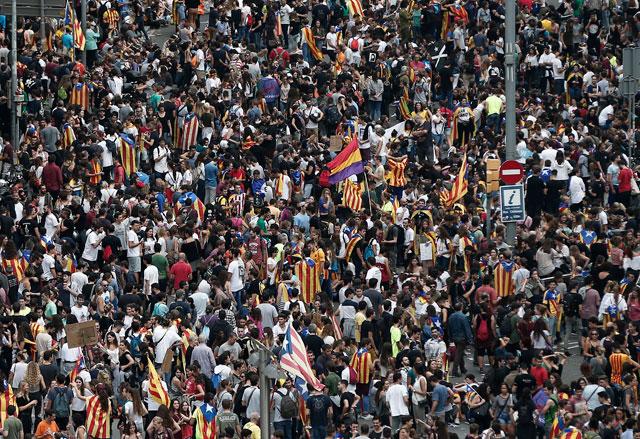 Oct 07,2017
MADRID — Thousands of demonstrators rallied across Madrid on Saturday calling for Spanish unity and demanding action to resolve a volatile p
Newsletter
Get top stories and blog posts emailed to you each day.