You are here
NATO strikes Daesh radio station in Afghanistan, as US ups campaign
By Reuters - Feb 02,2016 - Last updated at Feb 02,2016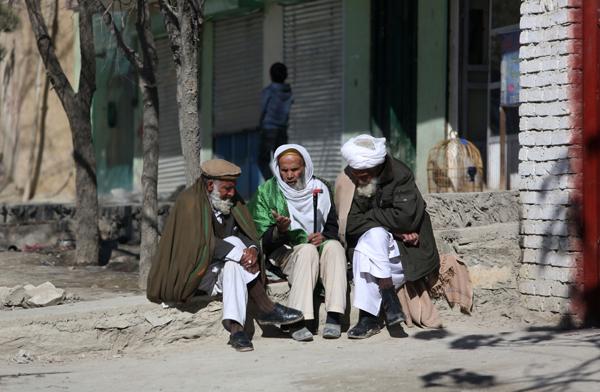 Elderly Afghan men chat on the outskirts of Kabul, Afghanistan, on Sunday (AP photo)
KABUL — Coalition aircraft struck Daesh's new radio station in the eastern Afghan province of Nangarhar late on Monday, part of NATO's escalating campaign to stop the extremist movement taking root in the country.
Attaullah Khogyani, spokesman for the Nangarhar provincial governor, said the overnight raid also involved Afghan ground forces and destroyed a Daesh broadcaster in Achin district, killing 29 militants including eight working on the radio and online operation.
The emergence of fighters loyal to Daesh has introduced a dangerous new element to Afghanistan's long-running civil conflict, with the group violently challenging the much larger Afghan Taliban movement in pockets of the country.
NATO's Resolute Support mission in Kabul, which is led by the US military, confirmed that American forces carried out two counter-terrorism air strikes in Achin district, but declined to provide further details.
Whether the raid succeeds in silencing the transmissions, which have recently increased from an hour a day to 90 minutes, and are now broadcast in Dari as well as the Pashto language, remains to be seen.
But it reflects intensifying efforts by US forces in the fight against Daesh, since a special order gave US forces broader authority to strike at Daesh militants.
"We have increased the pressure, the US has increased the pressure against Daesh in the past few weeks," said Brigadier General Wilson Shoffner, Deputy Chief of Staff for Communications and NATO's top spokesman in Afghanistan.
US officials generally provide only bare details of counter-terrorism operations, but the military has confirmed a series of drone strikes in Nangarhar over recent weeks.
According to the Afghan interior ministry, Afghan and international forces have conducted nearly 20 joint operations against Daesh in Nangarhar over the past month.
"We use airpower of our own and of international forces, which is crucial in defeating Daesh," said Nangarhar police chief Fazel Ahmad Sherzad.
No single Daesh leader
Established mainly in Nangarhar, a province which borders the Federally Administered Tribal Areas of Pakistan, Daesh has raised its profile in Afghanistan over the past year.
General John Campbell, the American commander of international forces in Afghanistan, said in December that the movement was believed to command no more than 1,000-3,000 fighters in the country.
Shoffner added: "What we don't see is Daesh in Iraq or Syria having the ability to control operations here in Afghanistan. We also don't see any one Daesh leader in Afghanistan able to control operations in more than one part of the country at a time."
But he said it had the potential to become a more serious threat if left unchecked.
Combining radical ideology with gruesome tactics including beheadings and at least one instance in which prisoners were killed by being blown up with explosives, it has established a reputation for extreme ferocity and attracted former members of the Afghan Taliban.
Over the past year it has grown in strength, challenging its larger rival for control of lucrative smuggling routes as well as dominance of the insurgency.
That has complicated the search for peace in Afghanistan by fragmenting forces who are fighting the Western-backed government, which, along with the United States, wants to bring the Taliban to the negotiating table.
One senior Western official, speaking on condition of anonymity, said the potential for Daesh to radicalise young people who have known nothing but war was a much greater threat than the absolute size of its forces.
The raid on the radio station appears to have been aimed at eliminating an increasingly influential propaganda tool, which had targeted growing ranks of unemployed young men in the region.
Shoffner said that despite its efforts at propaganda and recruitment, there were doubts about whether Daesh would succeed in communicating its radical message to the traditional tribal culture of Afghanistan.
But he added: "We want to see Daesh contained and not become any more powerful than they currently are."
Related Articles
Jul 27,2016
KABUL — The Daesh terror group presence in Afghanistan is directly linked to the parent organisation in Iraq and Syria, the US Army ge
Sep 29,2015
KABUL — Afghan forces backed by US air support battled Taliban fighters for control of the northern city of Kunduz on Tuesday, after the mil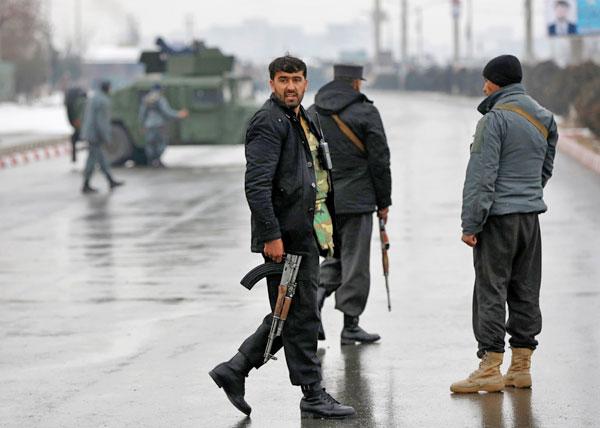 Jan 29,2018
KABUL — Militants on Monday raided a military academy in Kabul, the Afghan capital, killing 11 soldiers, the fourth major attack in a spate
Newsletter
Get top stories and blog posts emailed to you each day.