You are here
Spain's Felipe VI, fresh hope for scandal-hit royals
By AFP - Jun 17,2014 - Last updated at Jun 17,2014
MADRID, Spain — Spain's future King Felipe VI, a tall, blue-eyed former Olympic yachtsman, ascends the throne Thursday rising in popularity despite scandals that battered the reputation of his father and elder sister.
In the first royal succession since the Spanish monarchy was re-established after the death of General Francisco Franco in 1975, Felipe, 46, is being touted as the symbol of a much-needed new generation.
When he stands on the palace's front balcony as the new king alongside his queen, the glamorous 41-year-old Letizia, the royals are no doubt hoping that Spaniards massed below will be cheering on a new reign with a fresh slate.
Felipe's 76-year-old father, King Juan Carlos, who walks with a cane after repeated hip operations, fell foul of public opinion in 2012 when he took a luxury African elephant-hunting in the midst of Spain's recession.
His elder sister, 49-year-old Princess Cristina, has been named a tax crime suspect in a judicial investigation into her husband Inaki Urdangarin's allegedly corrupt business dealings.
Rising popularity
But as others in the family suffered a sharp plunge in popularity and as polls show most Spaniards would like a referendum on the very future of the monarchy, Felipe's approval rating has actually climbed.
Indeed, a poll taken after King Juan Carlos announced his abdication on June 2 showed 76.9 per cent of respondents had a good or very good opinion of the prince.
The new king and queen — a modern, attractive couple with two blonde-haired daughters, eight-year-old Leonor and seven-year-old Sofia — are certain to be fodder for the world's media.
"He has to bring together Spain in all its diversity and get the best political consensus he can," said Enrique Martin, 71, strolling in the sunshine near the palace.
"He has an enormous responsibility but I think he will do as his father did: try to be the king of all the Spanish. I am sure he will manage it. He is very well prepared."
Felipe was schooled for his future role as monarch in the three branches of the armed forces and studies abroad and he comes across as a solid, studious personality.
Wants to serve Spain
"His goal, his only goal, is to serve Spain. It has been deeply ingrained in him that he must be the country's main servant," his mother Queen Sofia once said.
His mission is to guarantee the future of the monarchy, which was restored in 1975 on the death of dictator General Francisco Franco.
Once considered Europe's most eligible bachelor, Felipe wed former television presenter Letizia Ortiz in a glittering ceremony in Madrid's Almudena Cathedral in 2004 after several previous romantic dalliances, including one with a Norwegian lingerie model.
Ortiz, a divorcee, was the first commoner to come in line for the Spanish throne.
The family's lifestyle has at times appeared relatively modest for a pair of royals, with Felipe and his wife spotted at movie theatres in the centre of Madrid and in shopping malls.
Born in Madrid on January 30, 1968, he is the only son of Juan Carlos and Queen Sofia.
He has two older sisters, Elena and Cristina, but under the 1978 constitution Felipe enjoys direct right of ascendency to the crown as the sole male heir.
In 1977, when he was nine years old, he was named Prince of Asturias, the title given to the heir to the Spanish throne. That title passes to his eldest daughter, the new Princess of Asturias, the moment Felipe takes the crown.
An attempted coup
King Juan Carlos kept Felipe at his side in the Zarzuela palace on the night of February 23, 1981 when soldiers seized parliament, firing shots over the heads of lawmakers, in a bid to establish another military regime.
"I wanted him to see what one has to do when one is king," Juan Carlos explained later.
Juan Carlos appeared on live television in full military regalia and ordered the coup plotters back to their barracks, a move that cemented his image as the guarantor of Spain's young democracy.
During a televised interview in January 2013, Juan Carlos called Felipe "the best prepared Prince of Asturias in Spanish history" .
Felipe completed one year of studies in Canada prior to three years' military training at the academies of Spain's army, navy and air force, when he learned to fly a helicopter.
After his military training, he studied for a law degree at the Autonomous University of Madrid before following a two-year master's programme in international relations at Georgetown University in Washington, DC.
Like his father, he is also a keen sailor and appeared in Spain's Olympic squad at the 1992 Games in Barcelona, carrying the country's team flag.
Related Articles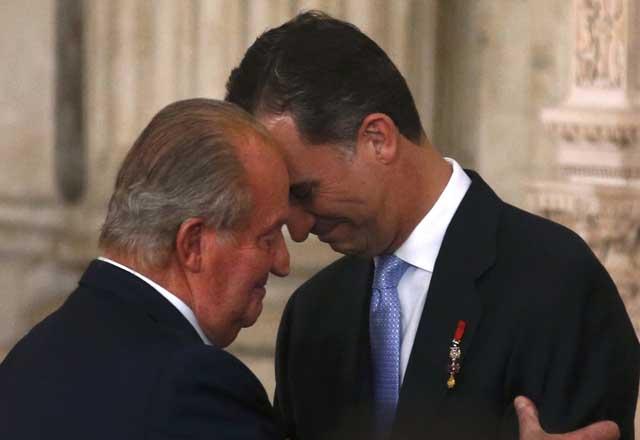 Jun 18,2014
From folk in the street to politicians and sportsmen, Spaniards all want their new king to do something for the country. They just can't agree on where he should start.
Jun 02,2014
Spain's King Juan Carlos said on Monday he would abdicate in favour of his son Prince Felipe, aiming to revive the scandal-hit monarchy at a time of economic hardship and growing discontent with the wider political elite.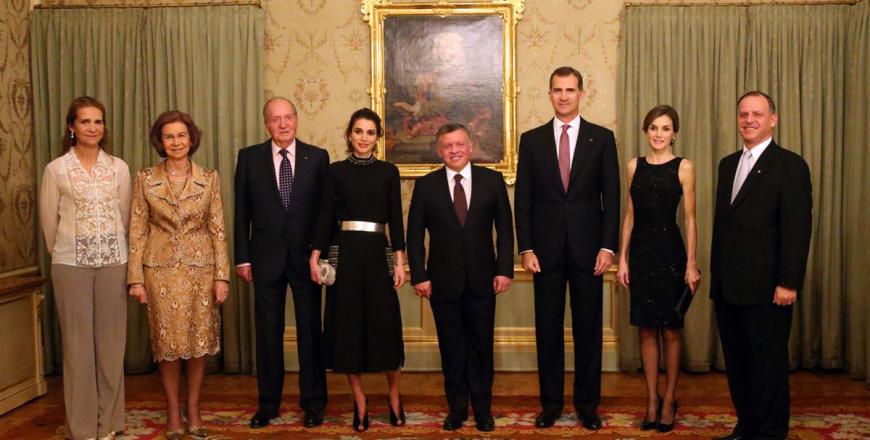 Nov 20,2015
AMMAN — Spanish King Felipe VI and Queen Letizia hosted a dinner banquet in Madrid on Thursday in honour of Their Majesties King Abdullah an
Newsletter
Get top stories and blog posts emailed to you each day.