You are here
Spain sets Felipe on path to throne despite protests
By AFP - Jun 03,2014 - Last updated at Jun 03,2014
MADRID — Spain set its future King Felipe VI on the path to the throne Tuesday, launching an unprecedented handover of the crown in the face of anti-royalist protests.
One day after 76-year-old King Juan Carlos declared an end to a four-decade reign that guided Spain from dictatorship to democracy, the government met to ponder the first succession in post-Franco history.
Prime Minister Mariano Rajoy presided over an extraordinary Cabinet meeting to draw up a draft abdication law, which must then be approved by parliament in a process that could take weeks.
The twilight of the Bourbon king's reign has been dogged by scandal and health woes including repeated hip surgery.
Dressed in a green military uniform at a prescheduled medal-awarding ceremony in the sun-splashed grounds of the El Escorial palace near Madrid on Tuesday, the king could be seen walking with an awkward shuffle.
During the televised ceremony the monarch nevertheless looked relaxed as he spoke occasionally to his son, 46-year-old Crown Prince Felipe, as the pair appeared together for the first time since the abdication was announced.
Not all Spaniards celebrated the impending arrival of Felipe, a tall former Olympic yachtsman more popular than his father, and his 41-year-old wife, the future queen Letizia, a glamorous former television news presenter.
Thousands of anti-royalists took to the streets across Spain in the hours after Juan Carlos' announcement, calling for a vote on the monarchy's survival.
Protesters filled Madrid's central Puerta del Sol square and police closed access to the royal palace just a few minutes' walk from the demonstration for several hours.
"Tomorrow, Spain will be a republic!" chanted crowds of demonstrators, brandishing placards reading: "No more kings, a referendum," "A royal transition... without a king," and "Bourbons up for election".
"I think now would be a good time to proclaim a republic," said Paola Torija, a 24-year-old therapist for the disabled. "He had his moment of glory but today it is a bit archaic, a bit useless, an extra cost especially in the crisis we are living in."
Three small leftist parties — Podemos, United Left and the Equo green Party which together won 20 per cent of the vote in May 25 European Parliament elections — called for a referendum on the monarchy.
Spain's prime minister defended the monarchy and said a referendum would require a change to the constitution.
"I think the monarchy has the support of the great majority in Spain," Rajoy said at a conference Tuesday in Madrid.
"Propose a constitutional reform if you don't like this constitution. You have the perfect right to do so. But what you cannot do in a democracy is bypass the law," he said.
Spain's 1978 constitution, which established a parliamentary democracy and a largely ceremonial monarchy, was supported by a great majority of Spaniards in a referendum at the time, the prime minister said.
Juan Carlos was widely respected for smoothing Spain's transition to democracy after the death of General Francisco Franco in 1975, most famously facing down an attempted military coup in February 1981.
But many Spaniards were outraged when they discovered the king took a luxury elephant-hunting trip to Botswana in 2012 as they struggled to find jobs in a recession.
Resentment grew when the king's younger daughter Cristina was named a suspect in relation to her husband Inaki Urdangarin's allegedly corrupt business practices.
In a televised address to the nation on Monday, Juan Carlos said the economic crisis had awakened a "desire for renewal".
Related Articles
Jun 17,2014
Spain's future King Felipe VI, a tall, blue-eyed former Olympic yachtsman, ascends the throne Thursday rising in popularity despite scandals that battered the reputation of his father and elder sister.
Jun 02,2014
Spain's King Juan Carlos said on Monday he would abdicate in favour of his son Prince Felipe, aiming to revive the scandal-hit monarchy at a time of economic hardship and growing discontent with the wider political elite.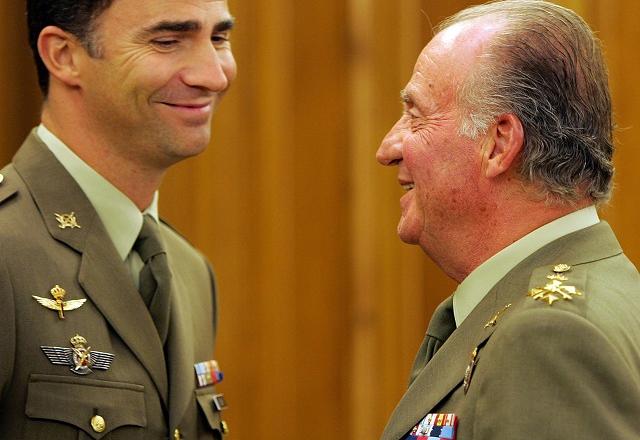 Jun 02,2014
Spain's King Juan Carlos plans to abdicate and pave the way for his son, Crown Prince Felipe, to take over, Spanish Prime Minister Mariano Rajoy told the country Monday in an announcement broadcast nationwide.
Newsletter
Get top stories and blog posts emailed to you each day.