You are here
West mulls Ukraine aid, opposition readies demands
By AFP - Feb 03,2014 - Last updated at Feb 03,2014
KIEV — Europe and the United States on Monday mulled a financial aid plan to help resolve Ukraine's crisis in a boost for the opposition as it prepared to press its demands in parliament.
EU foreign policy chief Catherine Ashton is due in Kiev this week, along with US Assistant Secretary of State Victoria Nuland, as thousands of protesters remain camped out in the capital and across Ukraine.
There is growing international pressure for a swift end to the two-month confrontation, which has set off sparks between Russia and the West and claimed the lives of at least two protesters and two policemen.
EU sources said that Brussels, Washington and the International Monetary Fund were discussing different forms of possible aid for Ukraine, and a more concrete proposal could be put forward in the coming days.
Ashton's spokeswoman Maja Kocijancic said the talks were about "what we can do to help support the Ukrainian economy", but stressed any aid would be linked to political reforms or the naming of a new government.
Asked to comment, Ukrainian Foreign Minister Leonid Kozhara said: "Nobody has discussed this with me".
In a pointed reference to Ashton's upcoming visit, Kozhara added: "Maybe she can clarify the situation".
Opposition leader Arseniy Yatsenyuk has asked for a "Marshall Plan" — a reference to massive post-war US aid for Europe — and said the minimum required was the $20-billion (11 billion euro) promised by Russia in a bailout that is now on hold.
But EU diplomats played down the prospect of big funds.
"It'll be difficult to offer as much as the Russians," said one diplomat, speaking on condition of anonymity.
Ukraine's recession-hit economy is hugely dependent on the Russian credit and Moscow tightened the screws further on Monday by reminding Ukraine it owed $3.3 billion for supplies in 2013 and so far in 2014.
Even as it ups the pressure, Russia has accused the West of massive interference in the internal affairs of Ukraine — Moscow's former Soviet satellite — and has dismissed the protesters as far-right extremists.
Yatsenyuk and other protest chiefs, meanwhile, readied for a parliament session on Tuesday where they are set to request the immediate release of all detained protesters and reforms to reduce presidential powers.
President Viktor Yanukovych and his ruling Regions Party have passed an amnesty law that makes the release of scores of protesters conditional on occupied official buildings such as ministries being vacated in the next few days.
The opposition says this makes the jailed protesters "hostages" and has condemned what it calls a "secret repression" under way in which activists are allegedly taken away and beaten by pro-government vigilantes.
The case of Dmytro Bulatov, a beaten protest leader who said he was kidnapped and tortured for eight days before being dumped in a forest outside Kiev, is a particularly shocking example of these claims of abuse.
In a statement on Monday from the hospital in Vilnius where he is being treated, the 35-year-old father of three vowed to "keep fighting" for democracy — after EU and US leaders expressed shock over his treatment.
Related Articles
Dec 24,2014
Russia's central bank offered on Wednesday to help leading exporters refinance foreign debts next year, expected to be one of the toughest of President Vladimir Putin's 15-year rule for the economy due to Western sanctions and a plunge in oil prices.
Apr 09,2014
Saudi Arabia is considering ending its controversial ban on sports in girls' state schools, after its consultative council recommended the ban be lifted over vociferous opposition from traditionalists.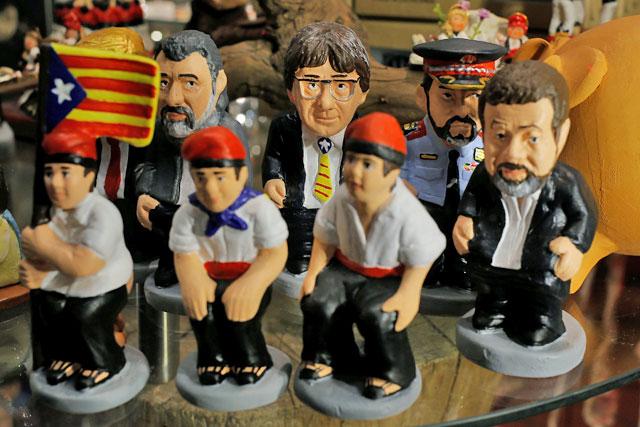 Dec 23,2017
BARCELONA — Ousted Catalan president Carles Puigdemont was weighing up whether to return to the region, where he faces arrest, close aides s
Newsletter
Get top stories and blog posts emailed to you each day.